Recipes
Viewing archives for
"Milk Kefir"
This is a fun and easy way to make lots of little jars of kefir that are ready to serve and handy to take with you on the go. You can even use chocolate milk to make Easy Kefir and kids love this! I like to top these pots with fruit and granola or just a spoonful of jam for a fast and easy breakfast. You can make any size jar, just keep the ratio of 1 tablespoon of
Easy Kefir
to 1 cup of milk. Double and triple the amounts if you want to make a bigger jar. It's super easy and you get all the benefits of kefir without having to strain out the kefir grains. This makes for a thicker curd kefir that is a lot like yogurt only super easy to make with over 50 bacteria!
This is my super fast go to smoothie. It's just frozen fruit and kefir and protein powder. I have found that having a little extra protein at meals balances my hormones in a very effective way. I'm super picky about my protein powders and this is the only one I really use anymore. There are several options:
Plant Based Protein Powder, or Whey Protein
, and they come in
vanilla and chocolate flavors
. When I add this to my smoothies I never have to sweeten it and it gives it a creamy rich flavor that tastes like a milkshake. I buy this so often that the awesome people at Spring of Life have generously given us one time use coupon code for you to get
20% off any of their products!
Just enter this code on the Amazon checkout. page. This is a fast and easy way to enjoy your kefir and get tons of nutrients.
Click here
I love this fast breakfast recipe for many reasons.  Adding berries to kefir means you're getting lots of antioxidants and polyphenols, which help fight chronic disease and they give me tons of energy! They're higher in fiber compared to other fruits and they're rich in vitamin C. Berries may also help regulate your blood sugar and insulin levels. This
protein powder
is my favorite. I love that it's sweetened with stevia and all the quality ingredients that go into making it. I also love that you can use the
plant based protein or whey protein
and they taste the same. The chocolate flavor is good too! I do better when I have some extra protein in my kefir shakes. It gives me tons of energy!
Apples are one of the fruits we eat constantly at our house. They are praised as a "miracle food." In fact, apples were ranked first in Medical News Today's featured article about the top 10 healthy foods. Apples are extremely rich in antioxidants, flavanoids, and fiber; and the phytonutrients and antioxidants in apples may help reduce the risk of developing cancer, hypertension, diabetes, and heart disease. This shake has not only a whole apple, but kefir which is loaded with probiotics, super healthy protein powder, and nut butter that makes for a filling, delicious, bursting-with-nutrients shake. It's my favorite shake to enjoy after a workout!
I have always loved lemon curd, but I didn't like all the sugar. I found a way to make it sugar free and just as delicious. Monk fruit sweetener is made from a small round fruit grown in Southeast Asia. Monk fruit sweeteners are extracted by removing the seeds and skin, crushing the fruit, and collecting the juice. It's much sweeter than regular sugar and I love to use it in recipes so I don't get all the sugar. Lemon curd is the perfect way to sweeten your kefir or kefir cheese. It's my fast morning kefir on many days. I'm just crazy for lemon curd and kefir. It's a summertime favorite.
Just you wait till you try this recipe. I'm not sure if it's dessert or breakfast, but we like to have it in the morning and especially in the summertime. The millet topping is just the best and you'll want to make extra to keep on hand. Millet is gluten free and has lots of magnesium and makes the best crunchy topping! Give this recipe a whirl and wow your family.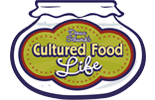 Grapefruits have not only vitamin C but also Vitamin A. A diet high in vitamin A and fiber can fight off the effects of seasonal allergies by boosting your immune system. The fiber in the fruit gives your gut bacteria the fuel they need to make short-chain fatty acids, which help control any allergic reactions. Meanwhile, the vitamin A helps those same fatty acid cells continue to function properly. My daughter came up with this super easy recipe when she wanted a superfast smoothie. She had an abundance of grapefruits from my grapefruit trees so she squeezed some of the juice into her kefir and voila! Delicious and the easiest way to get your morning kefir.
I eat this dish all the time. It tastes and looks like Greek yogurt. I have it often for breakfast with fresh fruit, and it's fun to serve it with pancakes or eat it by itself, it's so so good. Eating kefir and lemons gives me lots of vitamin C and B's. This helps strengthen my adrenals and lemon peels and their zest contain as much as 5 to 10 times more vitamins than the lemon juice itself. Lemons are health rejuvenators in eradicating toxic elements in the body and flooding the body with nutrients it needs to stay healthy..
Kefir cheese makes yummy, fluffy pancakes. Although heat kills the probiotics, I added a blueberry kefir compote topping to add the probiotics back in. Kefir helps pancakes and doughs to rise much like a sourdough starter, and also makes for a nutrient-dense food that will sustain you all morning long.
This is a wonderful way to use your extra kefir whey leftover from making kefir cheese.
You will love Frozen Lemon and Kefir! It's so simple and so yummy, you'll be freezing all your lemons. It works best to grate your lemon with a
microplane grater
, which is a very fine grater that gives you tons of flavor from your lemons. Meyer Lemons hit the supermarkets in the winter and boy are they delicious! Sweeter than regular lemons and deeper in color, I highly recommend trying to find these beauties from December through May. I love them so much and you can freeze a bunch for when they're not in season. In the winter. I love them so much and you can freeze a bunch for when they're not in season.
Consuming vitamin C supplements does not provide the same protective benefits as drinking orange juice, says Italian researchers in the British Journal of Nutrition. Leading researcher Serena Guarnieri says, "It appears that vitamin C is not the only chemical responsible for antioxidant protection." There is a matrix of phytochemicals, for example, cyanidin-3-glucoside, flavanones and carotenoids. You'll get more of what your body needs from the fruit than any supplement. Oranges and kefir are a match made in heaven. I reach for this combination during the spring when lots of pollen is in the air. Your body needs lots of vitamin C to help your adrenals handle the stress.
Check out this article for more info.
Apples are rich in quercetin, a flavonoid with anti-inflammatory properties. In a study done in Crete, the study researchers found that people whose diets incorporated apples as a staple had greater protection against both allergies and asthma. This is a delicious and easy soda to make combining apples and ginger. Ginger has huge anti inflammatory properties that can help you greatly with a myriad of problems! You can make this soda in a couple of days and your kids will love it!
Goat's milk kefir will not thicken like regular cow's milk but rather stay creamy and quite delicious.
Goat milk kefir is different from regular cow milk kefir. It will not thicken like cow milk but rather stays creamy and is quite delicious.
Talk about yummy warm comforting oatmeal with a probiotic topping... this fits the bill! Oatmeal is food for your microbes so this is a prebiotic and a probiotic meal. The perfect way to reset your microbiome — in one meal.
This recipe was inspired by my dad, Don, who loves peppermint. We had peppermint ice cream every year on Christmas and this version is made with kefir. It helps me still feel his spirit and especially at Christmas time. It's love made visible.
Black Strap Molasses is loaded with minerals and gives some of that wonderful classic gingerbread taste to this festive smoothie!
One of my favorite smoothies. It has a secret ingredient (chai tea bag) that gives it loads of flavor. Don't forget the topping. It will have you eating more pumpkin because of the deliciousness.
Dates are packed with vitamins and minerals, but one of the most interesting things about dates is the presence of organic sulfur in them. This is a really hard element to find in a food source. Sulfur is incredibly important and is the third most abundant mineral in the body. Sulfur is essential for life and makes up vital amino acids used to create protein for cells, hormones, enzymes, and antibodies. It's necessary for insulin production and sulfur detoxifies at the cellular level. It also relieves pain and makes for beautiful skin and hair.
Molasses gives these bars their rich flavor. Molasses is a rich source of nutrients, and it contains a number of essential minerals, such as calcium, magnesium, manganese, potassium, copper, iron, phosphorous, chromium, cobalt, and sodium. Blackstrap molasses is the type of molasses I use since it has a low glycemic index. This means the glucose and carbohydrates are metabolized slowly, demanding less insulin production and stabilizing blood sugar.
This recipe can be tweaked and made many ways. You can make it dairy free with coconut kefir cheese and tofutti. It can also be sugar free, which is how I make it, with stevia. It is also gluten free. Any way you decide to do it, you should really make this recipe. It's pretty awesome. And remember, tofu is a fermented food too!
Top with goji berries or a crushed organic candy cane for extra color and flavor. Fresh whipped coconut cream is yummy too.
Spirulina is optional in this smoothie, but it has many benefits. It's considered a superfood made from all-organic and all-fermented ingredients. Spirulina, quinoa, millet, brown rice, chickpeas, and seeds have been fermented with live, naturally-occurring beneficial microflora. All of the nutrients in this amazing food are predigested and are easily utilized by the body. Use Super Spirulina Plus daily to help naturally detoxify your body, maintain a healthy weight, and boost your energy.
Check out my store to find the product
.
You can add small orange slices to this dish after it is already prepared for extra flavor. I love it this way, but I would put oranges in everything if I lived in a perfect world. Orange is one of the happiest colors and flavors. I used frozen cranberries to make this dish, but you can use fresh too.
Fall never tasted so good! The tangerine hue, in butternut squash signifies its many nutrients. It's has very high levels of beta-carotene (which your body automatically converts to vitamin A) and a 1-cup serving, you get nearly half the recommended daily dose of antioxidant-rich vitamin C. If you haven't tried my wisdom kraut you're in for a treat. To find the Wisdom Kraut recipe, click on the words "Wisdom Kraut" in the ingredients below.
No baking and you can make these in a flash! We love to make these when we watch football games. They take just minutes to throw together.
I love to top this with fresh coconut. Toasting the coconut is even more tasty, but I never do this. I'm always in a hurry and hungry and can hardly wait to eat this yummy smoothie. If you don't have coconut kefir, no worries. Use regular kefir and add some extra shredded coconut to the smoothie.
You can add or change the toppings. Here are some I recommend: Granola, flaked coconut, walnuts, chocolate chips, sliced almonds, pecans, goji berries, or fresh fruit like blueberries, cut up bananas and strawberries, or dragon fruit!
You can change the fruit to blueberries or any other yummy fruit of your choosing.
Sometimes we make things too complicated when it comes to the holidays and tend to rely too heavily on familiar old, unhealthy foods from our past.

This 4th you can make one or all of these delicious probiotic and patriotic smoothies for some healthy holiday fun!
Green smoothies are such a great way to start your day. How else would you get 1-1/2 cups of spinach for breakfast? Make a smoothie!
Researchers have found that raspberries contain a phytonutrient called rheosmin, or raspberry ketone. This can raise metabolism in our fat cells by increasing enzyme activity, oxygen consumption, and heat production, thereby burning fat rather than storing it. Eat your raspberries!! You can add granola for an extra topping.
This is a delicious dish that my family loves at Thanksgiving. Creamy cultured custard makes for a yummy treat.
Frozen Lemon is a new thing I am adding to my kefir smoothies, yogurt, and anything else I can find to add it to. It is super yummy and you can grate all the parts of lemon into your yogurt or kefir and, wow, does it taste good!
These get gobbled up at parties and they're fast and easy to make. Kids love them and they get billions of probiotics in each bite. Cultured pickles have properties all their own. They can help with rehydration on a hot day and athletes use the juice to help they stay hydrate during strenuous sport activities. Pickles poppers are great pickups for kids and adults!
Spinach is a superfood and one of my favorite foods to add to foods for some added health benefits. With nutrients that include folate, vitamin c, niacin, riboflavin, and potassium spinach is an incredible food that doesn't change the flavor of the food you add it too. One of my favorite cartoons growing up was Popeye the Sailor and he always ate spinach for extra strength. I suggest you do the same! I love this ice cream maker because it has a compressor and is always ready to make me ice cream whenever I need it.
Click Here to Purchase
You can substitute almond butter, cashew butter, or any nut butter for a great kefir ice cream. I use stevia in place of sugar in the recipe. Nuts and legumes are prebiotics, which is food for your bacteria to make it grow and multiply. These are considered some of the most satiating foods. Studies have found that people who eat nuts (tree nuts like cashews, almonds and pistachios, along with their legume pal, the peanut) live longer and healthier lives, with less risk of chronic ailments like heart disease, respiratory problems and Type 2 diabetes.
This is a baked sweet potato topped with cultured vegetables then topped with a dollop of kefir cheese. It's an easy way to get lots of probiotics and it's super yummy too. This also works on white potatoes, and it's fun to change the type of cultured veggies you top it with. Give it a try, I think you'll love it!
This recipe was created for the
Salad in a fermenting jar
recipe. This creamy Apple Kefir Dressing makes any salad become a probiotic salad.
I love love this salad. It's super easy to make and has lots of sweet and savory flavors going on. You can change it up by adding different cheeses and nuts or extra veggies. You can use any of your favorite dressings or top this salad with
Apple Kefir Dressing
. Click the words to see the recipe. I've found if I make salads in jars ahead of time I will eat them more often. I have a whole book filled with recipes in jars.
Cultured Food in a Jar
was created out of my need to find healthy easy recipes I could make and store in jars. Check out my book;
Cultured Food in a Jar!
I have so many jars I could open an antique store, it's beyond ridiculous!
This recipe takes just a few minutes to put together. It is super versatile with any kind of berries and it is incredibly good for you and really really yummy! You could even use it as a topping for shortcakes. You will love this super simple dessert loaded With Vitamin C, A and probiotics too!
Top with cinnamon toasted pumpkin seeds.
This is one of the first recipes I made almost every day when I first started with kefir. I used regular cottage cheese and then later on I learned to make kefir cottage cheese, which makes this smoothie really creamy and rich.
You got to admit it sure is pretty and it will please the inner world of bacteria and yeast that abide within us all. I love this stuff it has made me well and it gives me great joy to share it with you.
I probably make this smoothie at least once a week for my husband, Ron. It's one of his favorite smoothies. I add a scoop of
Vitality Supergreen
to give him extra goodies and probiotics.
This is a great dish for the holidays. But you can eat this at anytime. It works great packed in a jar for lunch or a snack. Apples and kefir work so well together.
I love this topping and I use it often. It gives everything a little probiotics and it makes my whipped cream stay fresh and last longer. A little goes a long way with this recipe. This will last in a sealed container in the fridge for several weeks.
I like to use Tazo Chai tea bags. You can use whatever Chai tea bag you like or make your own blend. Layer with your choice of toppings: Granola, pecans, toasted coconut, fruit, etc... Whatever you can dream up.
Mangoes and strawberries topped with Kefir Coconut Ice Cream. So, so good! Coconut milk makes wonderful ice cream and the fruity concoction in the bottom of the bowl makes for one of the best combos. I could eat this everyday and in the summertime I eat it often. Strawberries have more vitamin C than orange juice and mangoes also give you an impressive amount of Vitamin C and A. Did you know mangoes are in the same family of plants as pistachios and cashews? Kind of interesting don't you think?!
I love, love chocolate. Sometimes I think it is the magnesium that chocolate contains that I crave and need. At least this is what I tell myself. This has just a little kefir mixed in the chocolate that makes the chocolate extra creamy. So I always say, if you're gonna have sugar, have a cultured food with it. This way those little microbes can help consume some of the extra sugar and keep you in balance.
Homemade kefir is the way to go if you are making kefir cheese. This does not always work the same if you are starting with store-bought kefir. It never really thickens right and remains runny. You also get the added benefits of large colonies of beneficial bacteria that is in homemade versus commercial brands. You can use kefir cheese in place of recipes that call for cream cheese and sour cream, and it will have probiotics too! We have lots of recipes on my site that call for kefir cheese, and it's simple and easy to make.
Check out 43 ways to use your kefir cheese.
The longer you strain your kefir, the denser the cheese will be. Depending on the recipe, you may want to let it strain longer to achieve a thicker curd. I make this at least once a week and use it often. Make the switch and swap kefir cheese for sour cream, your body will thank you!
You can serve this dip with homemade potato chips. I cut thinly sliced potatoes and fry them in peanut oil till brown and crispy.
Kefir grains last forever if you take care of them and they can last for generations. Kefir grains are not really grains but rather combinations of good bacteria and yeasts that infuse your milk or non dairy milk with over 50+ good bacteria and good yeasts. They look like little pieces of cauliflower and feel a little rubbery. They're tough little guys and you can pull them apart, and they just grow more. Kefir grains are a little like having a pet. You have to feed and take care of them but that's easy to do and I can show you how. If you need more help, check out our
Faq's about kefir page.
This method uses Easy Kefir powder packets. It's made from freeze-dried kefir grains. It's very easy to make, and is the way I made kefir when I first started.
I made this for a friend who came to my house for lunch. After eating it, she declared that she could eat this soup every day for the rest of her life and never tire of it. This is a super easy soup and one you will love. The coconut gives it a rich taste and the sweet potatoes and vegetables will fill you up! Top with kefir cheese and kraut for probiotics, but wait till it's warm and not hot to keep from killing the probiotics.
🍂🍁This basic vegetable soup recipe is a perennial favorite — and it's a great way to get your children to eat more vegetables! We call it Thanksgiving soup since it smells like Thanksgiving! 🍂🍁