How to Care For Your Sourdough Starter
by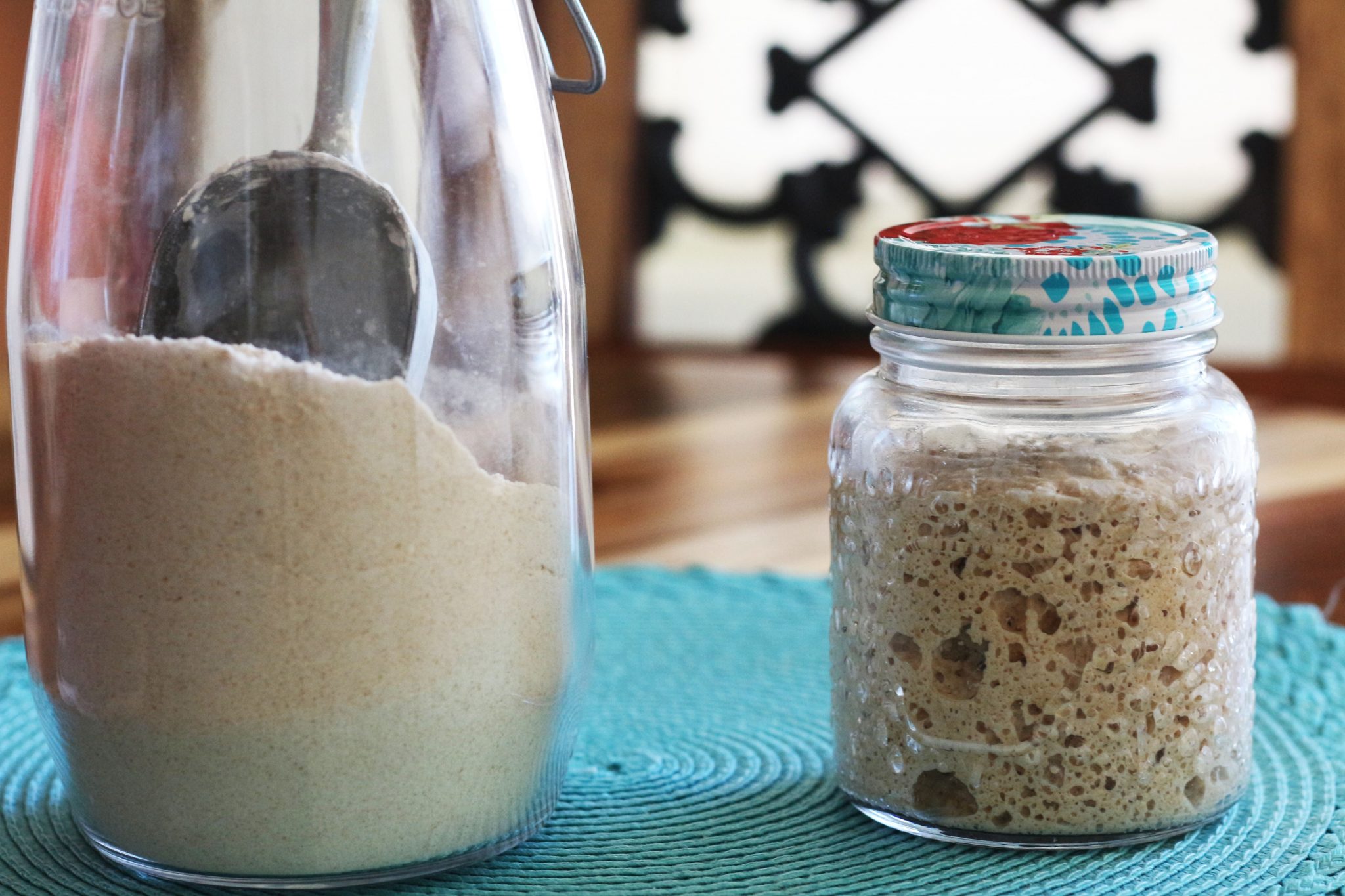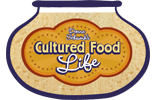 I usually make sourdough bread once or twice a week. I make sourdough more than sprouted bread as my family likes it better and I enjoy making it so much. There is nothing as special as having a sourdough starter that has your own unique yeasts from your kitchen and hometown – that makes it uniquely your own. For instance, you know how San Francisco sourdough has a really sharap, sour taste? This is because of the wild yeasts in that area related to the ocean and flora around this part of the country, giving it its own special taste. Yours will taste different, too. It's fun to find out how it adapts to your part of the world and especially your kitchen.
 If you just got your sourdough starter
Feed your sourdough starter as soon as you get it. Follow the recipe and ratios below or in the booklet you recieved. You should feed your starter fresh flour and water at least once every week, preferably because you have used the starter for a wonderful loaf of sourdough bread. Otherwise, you can store it in the refrigerator. If you remember to feed it or use it at least once a week, your starter will stay ready to use; but if you forget and leave it for several weeks in your refrigerator, you can usually revive it with a little love and care. Check out troubleshooting below.

Here are some of my favorite recipes!
Chocolate Cherry Sourdough Bread
Donna's Sourdough Date & Flax bread
Five Minute Sourdough Bread
Lemon Rosemary Sourdough Bread
Overnight Sourdough Bread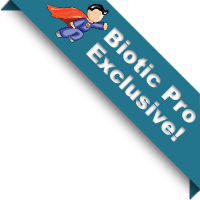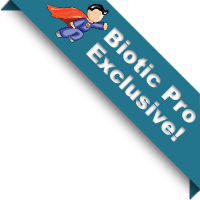 How to Use Your Sourdough Starter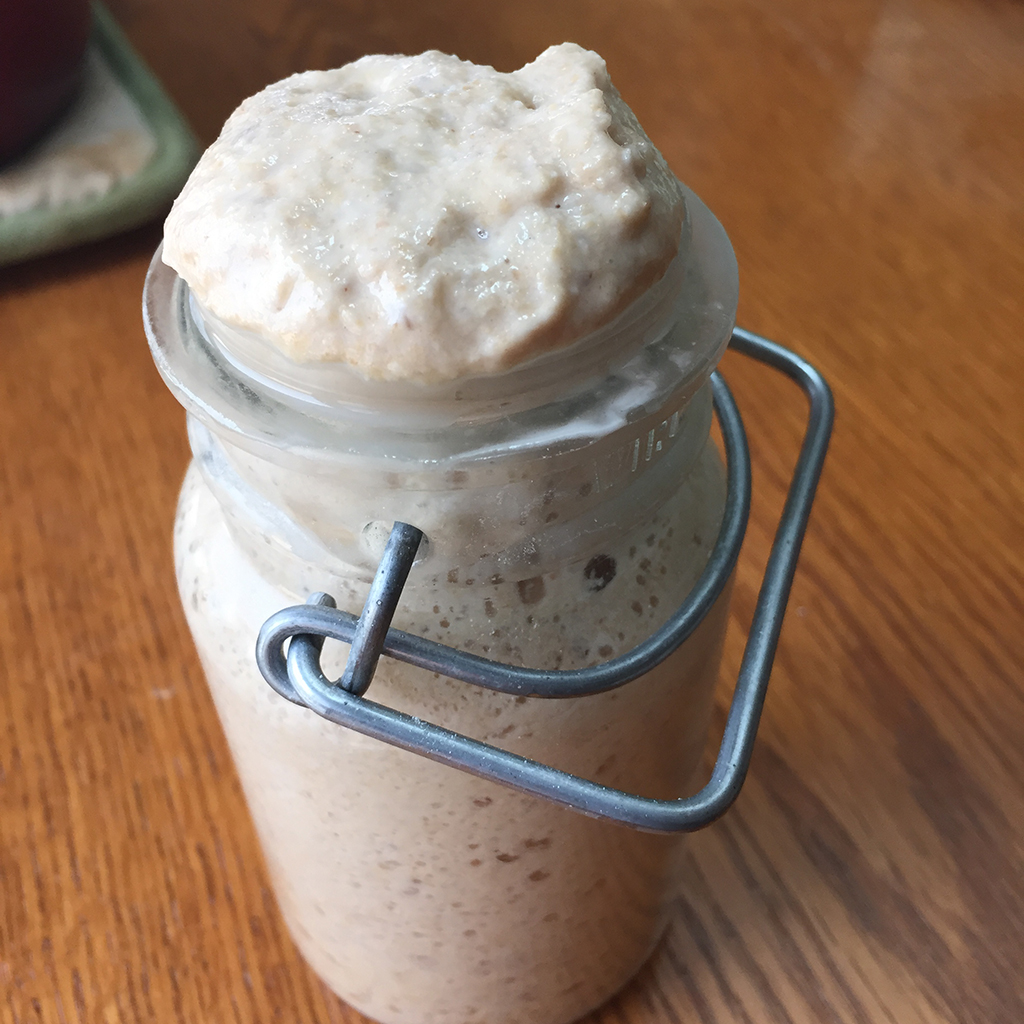 A sourdough starter must be fed and cared for, just like a pet! You're going to hear me repeat again and again how important it is to feed your starter a 1-1-1 ratio of flour, water, and starter. if you have too much starter it gets too active and eats all the food and won't be as bubbly. If you have too much starter and don't want to throw it out, check out these recipes. Leftover Sourdough Starter Recipes
~Donna
Ingredients
1

pint or quart

canning jar

Use a clear jar so you can check to see how many bubbles are on the sides of your starter.

1/2

cup

Sourdough Starter

If you have less than 1/2 cup this is ok. You just need a little starter to make more.
Instructions
Take your sourdough starter from the refrigerator. I usually feed my starter the night before I am going to use it. You don't have to feed it at night, you can do it anytime, just give it at least 6-12 hours to ferment (until it looks bubbly, especially on the sides of the jar) before you use it to make your bread.

| | |
| --- | --- |
| Take your sourdough starter from the refrigerator. I usually feed my starter the night before I am going to use it. You don't have to feed it at night, you can do it anytime, just give it at least 6-12 hours to ferment (until it looks bubbly, especially on the sides of the jar) before you use it to make your bread. | |

Remove the amount of starter called for in the recipe (usually one cup) The starter that is left in the jar needs to be fed equal portions of flour and water. Stir it together in the jar thoroughly and then place in the fridge until you need to feed it or make another loaf. Even if you only have a tablespoon of starter left, or just some on the sides of the jar, you can make more starter from this. Give it equal portions of flour and water and it will make it into more starter. So say you only have a few spoonfuls of starter left, feed it 1/2 cup of flour and 1/2 cup water and let it ferment on the counter. (DON'T use more starter than the other ingredients!)

| | |
| --- | --- |
| Remove the amount of starter called for in the recipe (usually one cup) The starter that is left in the jar needs to be fed equal portions of flour and water. Stir it together in the jar thoroughly and then place in the fridge until you need to feed it or make another loaf. Even if you only have a tablespoon of starter left, or just some on the sides of the jar, you can make more starter from this. Give it equal portions of flour and water and it will make it into more starter. So say you only have a few spoonfuls of starter left, feed it 1/2 cup of flour and 1/2 cup water and let it ferment on the counter. (DON'T use more starter than the other ingredients!) | |
Recipe Notes
Refrigerating - Once your sourdough starter is safely in the refrigerator, it will need a little attention, although once it's cold and relatively dormant, it can survive between "feedings." It is certainly not hard to care for, but it won't just sit for months on end like a packet of commercially dried yeast either. Feed it at least once a week on the counter or in the fridge. It's just needs more flour and water equal amounts of starter, flour and water as this is its food and once its out of food it will eventually die. (DON'T use more starter than the other ingredients!)