How to Care For Your Sourdough Starter
by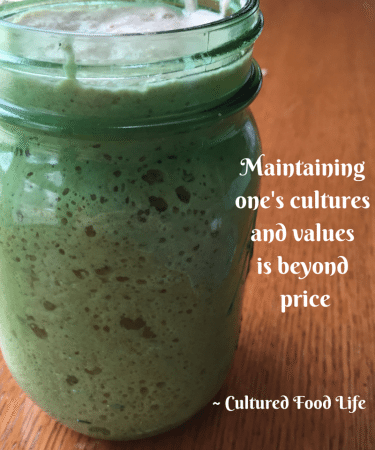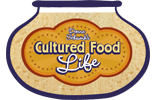 I usually make sourdough bread twice a week. I make sourdough more than sprouted bread as my family likes it better and I enjoy making it so much. There is nothing as special as having a sourdough starter that has your own unique yeasts from your kitchen and hometown – that makes it uniquely your own. For instance, you know how San Francisco sourdough has a really sharp, sour taste? This is because of the wild yeasts in that area related to the ocean and flora around this part of the country, giving it its own special taste. Yours will taste different, too. It's fun to find out how it adapts to your part of the world and especially your kitchen.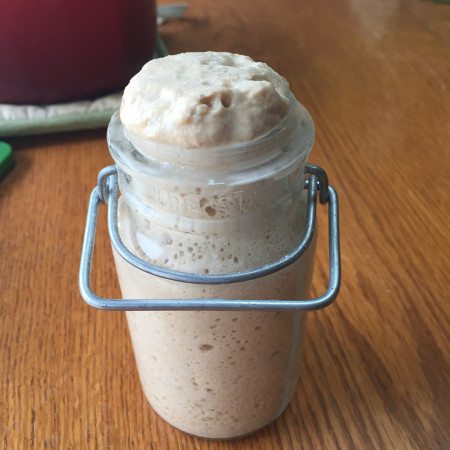 My sourdough starter greets me
On the mornings I bake bread, my sourdough starter greets me by bubbling on my counter. I have fed it the night before and when I wake up it is ready to go. It has a wonderful aroma of bread and I love that it is a part of my cultured heritage. You should feed your starter fresh flour and water at least once every week, preferably because you have used the starter for a wonderful loaf of sourdough bread. Otherwise, you can store it in the refrigerator. If you remember to feed it or use it at least once a week, your starter will stay ready to use; but if you forget and leave it for several weeks in your refrigerator, you can usually revive it with a little love and care. Before we get to the starter (which is below in a recipe card) I want to talk about a few troubleshooting tips.


Troubleshooting
Feeding Without Baking: If you have been busy or away, you can always feed your starter without baking anything. Stir the mixture together, remove enough starter to leave only 1/2 cup of starter and replenish it by stirring in 1/2 cup water and 1/2 cup flour. Then place in the fridge. It's very important to NOT use more starter than flour and water. Use a ratio of 1-1-1.

If you use too much starter it will consume all the food and not be as bubbly.

The Hooch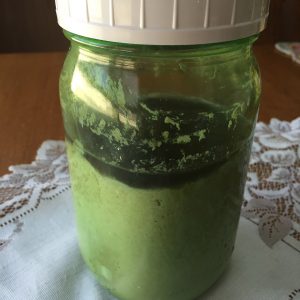 While it's been stored in the refrigerator, the alcohol might have separated and come to the surface. This is called the hooch and can be dark in color and look alarming. No worries, it's not harmful and you can discard this liquid, or you can blend it back into the starter with a spoon or wire whisk.
The hooch is a by-product of the starter eating all the food.

Increasing Your Starter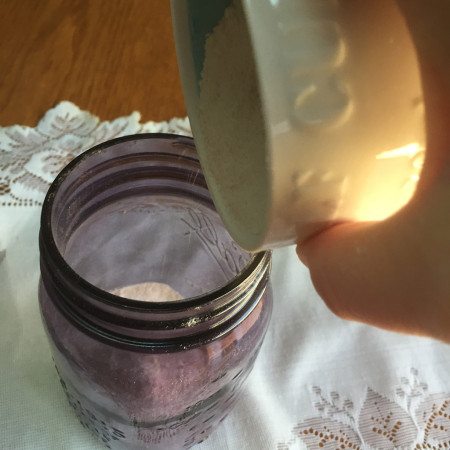 Let's say you wanted to make THREE cups of starter to make several batches of bread. By combining 1 cup of starter, 1 cup of flour, and 1 cup of water you will make 3 cups of starter. It's very important to NOT use more starter than flour and water. Use a ratio of 1-1-1.
If you use more starter, it will be extra active because there is more starter than flour. It will eat all of the flour and not be as vigorous as it could be.

 

Reviving a Neglected Starter
It takes a lot to "do in" a sourdough starter.  Even after the grossest of neglect, a little warmth and a good meal should perk it up and get it ready to go. Here are a few tips to help you keep your starter in peak condition.
If your sourdough starter has sat in the refrigerator for more than a week, you can usually revive it. Give it a chance for survival before you throw it out. A little warmth and a few good meals of strong, flour and water may be all it needs to get it off and running again. You will probably have to feed it for three days on your counter (in the morning and at night) to get it up to snuff.
The layer of liquid on the surface will probably be very dark, making it look as if the starter may have gone bad, but this may not be the case. Open the jar and give it a sniff. If it smells  the way it should, like a yeasty bread although exceptionally sour, it may just be sitting there in a dormant state waiting to be fed. The only way to know is to give it  more food.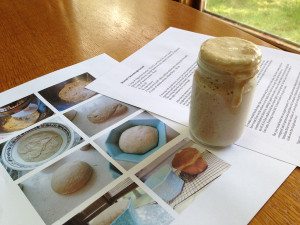 Blend it back together again and only use 1/2 cup of this starter – feed it 1/2 cup flour and 1/2 cup water for three days. Do this in the morning and again at night. Each day you will get more than 1 cup of starter so you can use the extra in sourdough pancakes or pizza crust.  Your starter should be strong and healthy now. After feeding the starter for two to three days, it should be bubbly and ready to make bread – or feed it again and place in the refrigerator. You should see bubbles everywhere and it will have a nice aroma.
To get some of my favorite recipes click below:
Ingredients
1

pint or quart

canning jar

Use a clear jar so you can check to see how many bubbles are on the sides of your starter.

1/2

cup

Sourdough Starter

If you have less than 1/2 cup this is ok. You just need a little starter to make more.
Instructions
Take your sourdough starter from the refrigerator. I usually feed my starter the night before I am going to use it. You don't have to feed it at night, you can do it anytime, just give it at least 6-12 hours to ferment (until it looks bubbly, especially on the sides of the jar) before you use it to make your bread.

| | |
| --- | --- |
| Take your sourdough starter from the refrigerator. I usually feed my starter the night before I am going to use it. You don't have to feed it at night, you can do it anytime, just give it at least 6-12 hours to ferment (until it looks bubbly, especially on the sides of the jar) before you use it to make your bread. | |

Remove the amount of starter called for in the recipe (usually one cup) The starter that is left in the jar needs to be fed equal portions of flour and water. Stir it together in the jar thoroughly and then place in the fridge until you need to feed it or make another loaf. Even if you only have a tablespoon of starter left, or just some on the sides of the jar, you can make more starter from this. Give it equal portions of flour and water and it will make it into more starter. So say you only have a few spoonfuls of starter left, feed it 1/2 cup of flour and 1/2 cup water and let it ferment on the counter. (DON'T use more starter than the other ingredients!)

| | |
| --- | --- |
| Remove the amount of starter called for in the recipe (usually one cup) The starter that is left in the jar needs to be fed equal portions of flour and water. Stir it together in the jar thoroughly and then place in the fridge until you need to feed it or make another loaf. Even if you only have a tablespoon of starter left, or just some on the sides of the jar, you can make more starter from this. Give it equal portions of flour and water and it will make it into more starter. So say you only have a few spoonfuls of starter left, feed it 1/2 cup of flour and 1/2 cup water and let it ferment on the counter. (DON'T use more starter than the other ingredients!) | |
Recipe Notes
Refrigerating - Once your sourdough starter is safely in the refrigerator, it will need a little attention, although once it's cold and relatively dormant, it can survive between "feedings." It is certainly not hard to care for, but it won't just sit for months on end like a packet of commercially dried yeast either. Feed it at least once a week on the counter or in the fridge. It's just needs more flour and water equal amounts of starter, flour and water as this is its food and once its out of food it will eventually die. (DON'T use more starter than the other ingredients!)