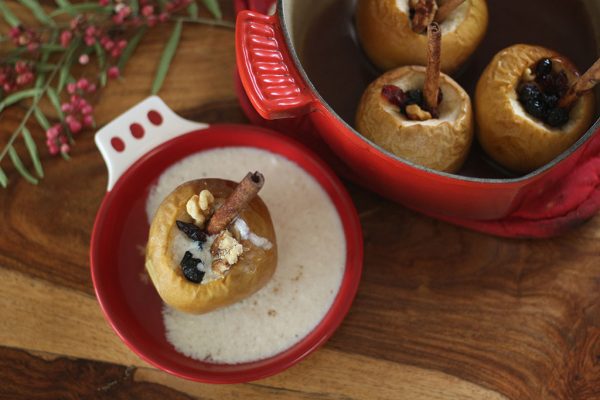 Kefir Apple Bowls
Apples are powerful food like medicine for your body. These apples make the whole house smell like the holidays. Apples have been associated with a number of benefits that could help promote long-term health, but one of my favorite things that apples, and more importantly the peel can do is feed the all-important bacteria called Akkermansia Municiphila. Akkermansia muciniphila helps to maintain our gut lining and has many health benefits. Our gut lining keeps us protected from the outside world so eating a lot of apples is a really good thing. Check out this article: An Apple Peel A Day Can Keep The Doctor Away.
Watch How to Make It
Ingredients
Every ingredient with a link was selected by me to make it easier for you. I may receive a small affiliate commission if you buy something through my links. Thank you! ❤️
Instructions
Preheat oven to 375°F. Using a knife, core apples half way through leaving bottom intact.

Place apples in a baking dish and fill center of apple with cranberries (or cherries) and walnuts. Dot with a pat of butter on each apple.

Pour liquid into bottom of pan and insert a cinnamon stick in each apple.

Bake for 50 minutes to an hour.

Mix kefir, cinnamon, and maple syrup together in blender or with wire whisk.

Let apples cool for a few minutes till warm and not hot, then fill apples with kefir and serve.