Dairy-Free Kefir- Every Kind You Can Imagine
by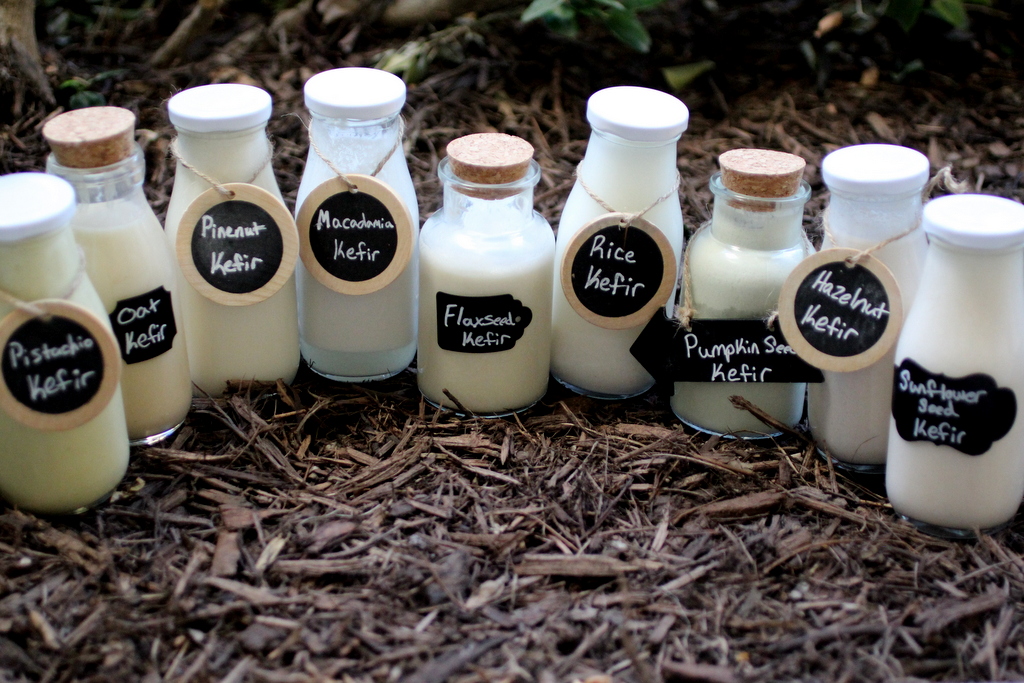 Sometimes food is more than food. That's what I call  kefir.
It's cold and raining outside, and I perform one of my usual morning rituals. I throw together a cup of coconut kefir, a spoonful of cocoa powder, a few heaping spoonfuls of coconut flakes, a few cashews, a little stevia and stir it all together with a spoon. I place it in the fridge until my daughter Holli awakes.  A little later, she wakes up and stumbles to the kitchen, makes a cup of her favorite tea, grabs the bowl of coconut kefir from the fridge, and off she goes. It's her favorite way to have kefir, so I make it for her often. It's not much harder than making a bowl of cereal, and it is Holli's kefir of choice.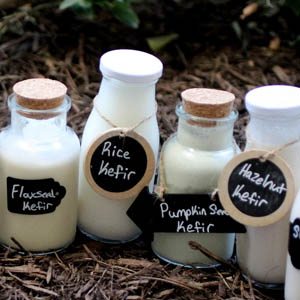 I have seen many people benefit from kefir, and this includes non-dairy kefir. So many people need a dairy-free version, so we created just about every kind of non-dairy kefir we could think of. The only one we tried and didn't like was hemp milk. It came out with a really strong taste that was off-putting, so we didn't include it.
Non-dairy kefir is usually thinner than regular kefir
Non-dairy kefir is usually thinner than regular kefir, so it separates into whey and curds since most non-dairy milks have a lot of water in them. Don't worry, this is ok and doesn't mean it's over fermenting. This is just from the water content separating from whatever grains, seeds, or nuts you're using. It's still loaded with tons of probiotics and nutrients. When it separates, just shake it up before you use it.
Low in carbohydrates
Most non-dairy kefir milks are low in carbohydrates and don't contain lactose, the main food source for the minions in (dairy) kefir. The microbes need some type of sugar to consume in order to generate lots of probiotics, so included in each non-dairy recipe is a small amount of sugar since there's no lactose. No worries, you won't get this sugar because the millions of microbes will consume the sugar and then make you billions of probiotics. Cool, right?
Here is a list of the non-dairy milk kefirs you can make. Some are on my main site and all of them are on my Biotic Pro membership site. We have a lot to choose from, so pick the ones that most interest you. Remember, nuts and seeds are prebiotics for your bacteria, so it makes it grow like crazy, which is a very good thing.

We also have a water kefir section which is dairy free too!
Click below for more links.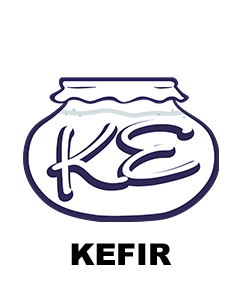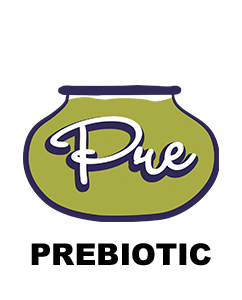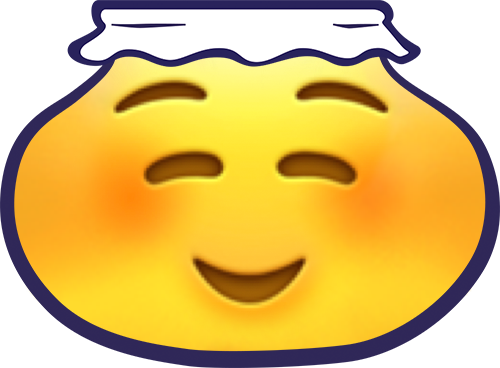 17 Dairy-Free Milk Kefirs!