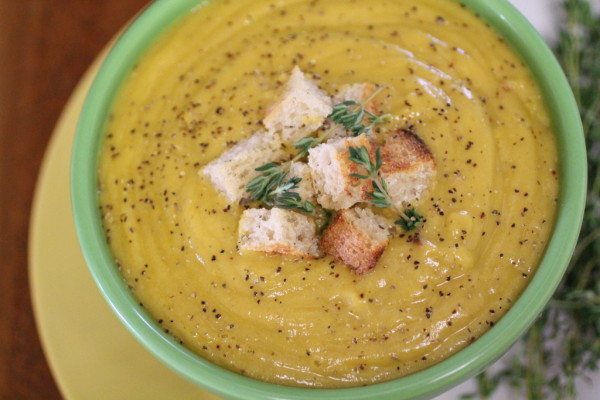 Cream of Vegetable Soup (Thanksgiving Soup)
🍂🍁This basic vegetable soup recipe is a perennial favorite — and it's a great way to get your children to eat more vegetables! We call it Thanksgiving soup since it smells like Thanksgiving! 🍂🍁
Ingredients
2

medium

onions

–

or 3 leeks, peeled and chopped

2

carrot

–

peeled and chopped

4

tablespoons

butter

3

medium

baking potatoes

–

or 6 red potatoes washed and cut up

2

quarts

chicken stock

–

or combination of water and stock

sprigs

thyme

–

fresh, Several sprigs tied together

1/2

teaspoon

dried green peppercorns

4

zucchini

–

sliced

Celtic Sea Salt –

or fish sauce and pepper, to taste

1/2

cup

Kefir Cheese –

or creme fraiche for topping
Instructions
Melt butter in a large pot and add onions (or leeks) and carrots.

Cover and cook over lowest possible heat for 30 minutes. The vegetables should soften but not burn.

Add potatoes and stock to the pot. Bring to a rapid boil and skim off any impurities that may rise to the top.

Reduce heat, add thyme sprigs and crushed peppercorns.

Cover and cook until the potatoes are soft.

Add zucchini and cook until they are just tender—about 5-10 minutes.

Puree the soup with a hand-held blender. Season with salt and pepper.

Season to taste. Garnish with kefir cheese (or creme fraiche). Serve with croutons.
Notes
Source: Sally Fallon, NourishingTraditions