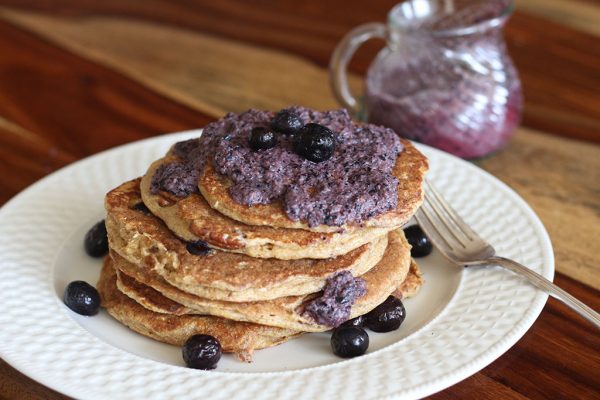 Blueberry Pecan Kefir Pancakes
Kefir cheese makes yummy, fluffy pancakes. Although heat kills the probiotics, I added a blueberry kefir compote topping to add the probiotics back in. Kefir helps pancakes and doughs to rise much like a sourdough starter, and also makes for a nutrient-dense food that will sustain you all morning long.
Every ingredient with a link was selected by me to make it easier for you. I may receive a small affiliate commission if you buy something through my links. Thank you! ❤️
Instructions
Pancakes
In a small bowl, beat eggs together with a fork.

In a separate bowl, add the dry ingredients – oat flour, cinnamon, baking soda, and baking powder. Mix together.

Then add kefir cheese and mix together until well combined.

Pour in the eggs and mix thoroughly. Batter will be thick.

Set a skillet on medium-high heat. Melt 1/2 tablespoon of coconut oil in the pan.

When the skillet is hot, add 2 heaping tablespoons of the batter to the skillet for each pancake. Add a few pecans or blueberries on top of batter while the pancake cooks. (I like to add blueberries to one pancake and on the next pancake add pecans.)

Cook for about 1 – 2 minutes per side.

Repeat with coconut oil and extra batter.

Top pancakes with blueberry kefir compote.
Blueberry Kefir Compote
Place all the ingredients in a blender and pulse until well combined. You can make it chunky or smooth to your liking.

Serve over kefir pancakes.