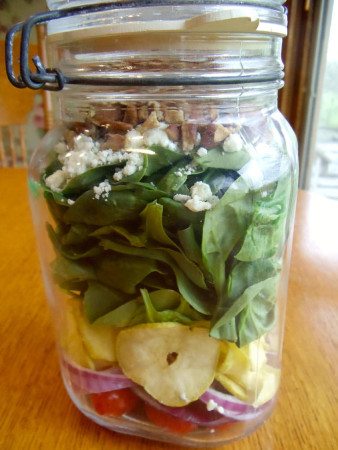 Salad in a Fermenting Jar. Travel Food with Culture.
I spend almost all of my weekends in the spring and summer out of town at the lake. Because of this, I have to pack coolers and take food with us. I am always looking for things that are easy and ready to eat.
Salad in a Fermenting Jar is my new obsession. This is my new favorite thing to pack in a cooler and take with me. You must remember that for the last eleven years of fermenting foods I have expanded my cultured foods to include so many new varieties that I use multiple refrigerators. Well the same is true for coolers. My husband will scratch his head as I load up three coolers for the weekend. I cannot help it. When I don't take my cultures and cultured foods with me, I feel like I am leaving my kids at home alone. It would just be wrong to not take them with me.
The salad recipe below has fermented tomatoes with apple kefir cheese dressing. You can add even more fermented veggies to this salad if you choose. The more the merrier. So when you travel, take along some salad in a jar with some fermented goodies.
Though we travel the world over to find the beautiful, we must carry it with us or we find it not. Ralph Waldo Emerson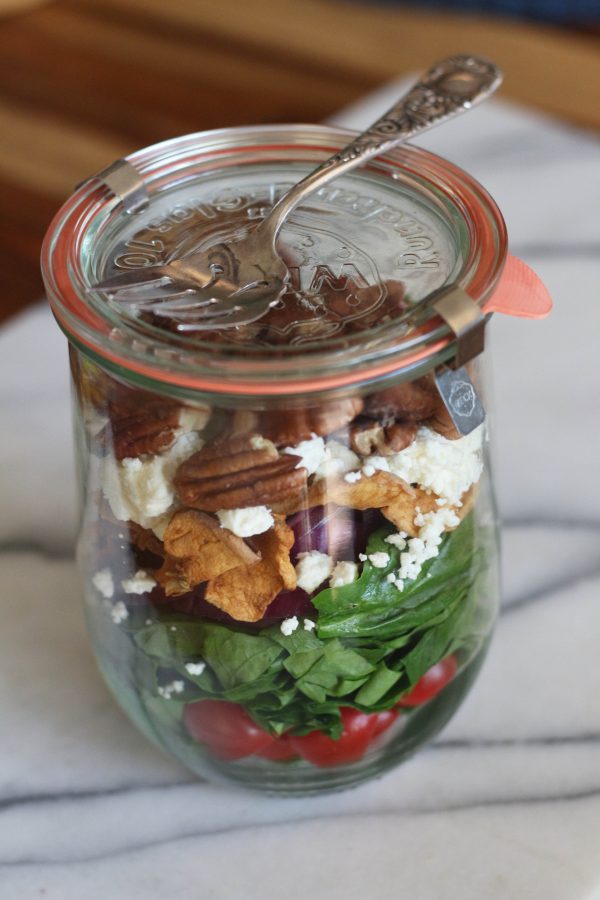 Salad in a Fermenting Jar
I love love this salad. It's super easy to make and has lots of sweet and savory flavors going on. You can change it up by adding different cheeses and nuts or extra veggies. You can use any of your favorite dressings or top this salad with
Apple Kefir Dressing
. Click the words to see the recipe. I've found if I make salads in jars ahead of time I will eat them more often. I have a whole book filled with recipes in jars.
Cultured Food in a Jar
was created out of my need to find healthy easy recipes I could make and store in jars. Check out my book;
Cultured Food in a Jar!
I have so many jars I could open an antique store, it's beyond ridiculous!
Ingredients
5

thinly sliced purple onion rings

6

dried apple chips

2

handfuls

spinach leaves

3

tablespoons

blue cheese crumbles

1/3

cup

pecans -

chopped
Instructions
Layer all ingredients in jar in order, starting with tomatoes on the bottom and topping off with pecans.

Eat immediately or cap and place in refrigerator until ready to eat.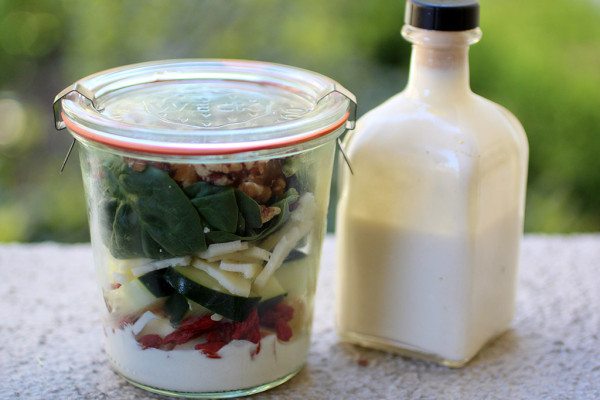 Apple Kefir Dressing
This recipe was created for the
Salad in a fermenting jar
recipe. This creamy Apple Kefir Dressing makes any salad become a probiotic salad.
Instructions
Place all ingredients in a small bowl.

With a wire whisk, blend all ingredients until smooth.

Serve immediately or place in refrigerator. This will last 3 weeks.