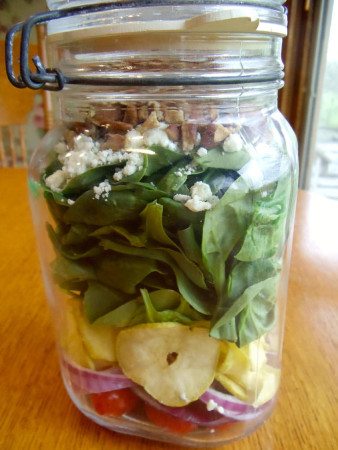 I spend almost all of my weekends in the spring and summer out of town at the lake. Because of this, I have to pack coolers and take food with us. I am always looking for things that are easy and ready to eat.
Salad in a Fermenting Jar is my new obsession. This is my new favorite thing to pack in a cooler and take with me. You must remember that for the last eleven years of fermenting foods I have expanded my cultured foods to include so many new varieties that I use multiple refrigerators. Well the same is true for coolers. My husband will scratch his head as I load up three coolers for the weekend. I cannot help it. When I don't take my cultures and cultured foods with me, I feel like I am leaving my kids at home alone. It would just be wrong to not take them with me.
The salad recipe below has fermented tomatoes with apple kefir cheese dressing. You can add even more fermented veggies to this salad if you choose. The more the merrier. So when you travel, take along some salad in a jar with some fermented goodies.
Though we travel the world over to find the beautiful, we must carry it with us or we find it not. Ralph Waldo Emerson
Are you on the list?
Sign up today and I'll send you my free Getting Started Guide!
Each week I'll send you updates, tips, recipes, and more! You might even be a winner of my weekly giveaway! (starter cultures, memberships, and more!)
Come be a part of my cultured food family!