Luvele Fresh Vacuum Containers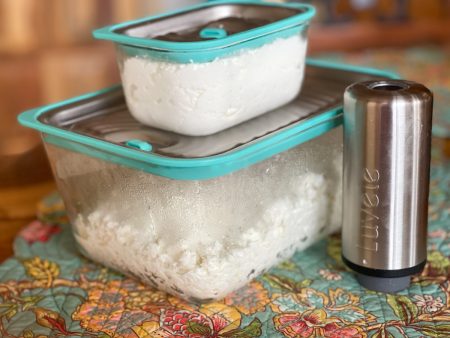 Four-piece Fresh Vacuum Food Container set, including the 450ml (15.2oz), 750ml (25.3oz), 1.3L (44oz), 2.5L (84.5oz) container, and the battery-powered Hand Pump.
These storage containers are fabulous for keeping foods fresh. I love them for kefir cheese and probiotic cottage cheese. They work great for leftover parts of avocados, cucumbers, lettuce, and a myriad of fresh vegetables and fruits. It really does keep things fresh for 3-5 times longer and it's fun to use. My family loves to seal things with the vacuum sealer and I have to hide it from them so they won't wear it out. They want to play with it all the time! My other food storage containers pale in comparison to these vacuum-sealed containers. I love that they're made from glass and are perfect for so many foods I make. I'm in trouble now — it's all I want to use. Thanks to ❤️ Luvele for making such a great way to store my cultured foods and so many other foods too.
Luvele has wonderful products and their yogurt maker is the greatest. They actually changed the timer on it so people could make L Reuteri yogurt that takes 36 hours. They listened and responded to people who asked for it and for that, I think they're a great company! Check them out.
The Luvele Fresh Vacuum Food Container Set lets you enjoy the convenience and benefits of storing pre-made meals, preserving leftovers, controlling portion sizes, and simplifying reheating in a vacuum sealed, plastic-free environment, allowing food to last up to 3-5 times longer. They are the ultimate plastic-free glass meal prep container set, with stainless steel lids and a portable vacuum seal hand pump.