Making Cultured Vegetables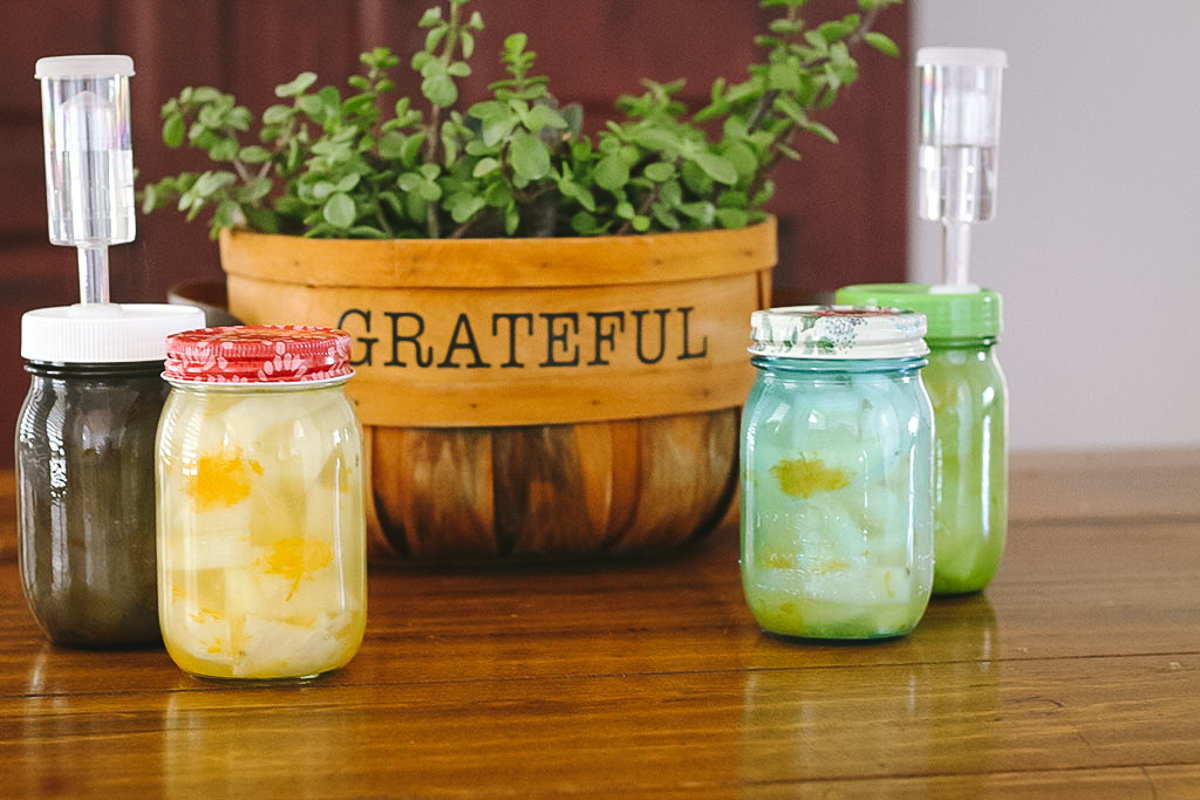 Many years ago, I had a great plan to sell cultured veggies at a health food store and they were so good they sold out again and again. This all started when I was handing out samples at my cultured food class and people were raving about them. I thought," I'm gonna sell them!" I contacted a big health food store where I held the classes and they were all for it.
Then, I came home and told my husband about my big plan. To do this, I knew I needed equipment and other special items that are needed for a food manufacturing business. My sweet husband then did what he does best. He has an uncanny ability to find me all kinds of fermenting vessels in the blink of an eye. It wasn't very long before he found me 2,000 jars with special lids at a great price for my cultured veggies product. He called me that afternoon and said, "Donna, are you sure you want to do this? Because I'm getting ready to buy 2,000 jars and God only knows where we are going to put all these jars! Are you sure this is what you want to do?" My response was "Yes, yes, yes!" I was excited. As I watched him unload the pallets from his truck that day, I had a lump in my throat. There were a lot of jars!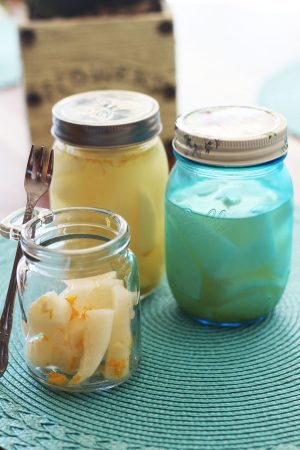 I started making my special recipe of cultured veggies and took them to the store – and they kept selling out! The next thing I knew, I was spending day in and day out making cultured veggies and I was losing my mind. I started to dread the process because it would consume so many days of the week, leaving me no time to do the things I really love – blog and teach classes.
I have a pattern in life that when I do things that I don't really enjoy, things will not go well and this was no exception. I cut off half of my nails and pieces of fingertips on one hand while chopping the vegetables. Don't worry I didn't sell those jars with finger pieces. Another time, I dropped the jicama vegetable on my toes and feet repeatedly and as a result, I couldn't wear anything but sandals for days. Then, one day my daughter, Maci, came to help me. We were in the middle of chopping veggies to fill 65 jars when she looked at me and said, "Getting all of these jars ready is just too much work!" That was it for me. I burst into tears and said that I would rather write a book and a thousand blogs than prepare 65 jars of culture veggies in a day. I just didn't belong in the manufacturing business.
When I contacted the health food store to tell them that I wasn't going to make the veggies anymore because it was giving me grey hair, and sore fingers and toes, they laughed and were disappointed, but not for long. It was then I decided to write a book for this recipe and other recipes so that everyone could make their own cultured foods. The health food store was happy to carry my book and later, my DVD.
I am happy to say that my fingers and toes have healed and I feel so much better and I have used all the jars!
Below is the recipe for my special cultured veggies that I shared with the people who attended my class. They loved and enjoyed these veggies so much. This recipe is not like anything else you've tasted before, so it is hard to describe! If you not familiar with jicama, it is also referred to as a Mexican potato. It is slightly sweet and a little moist and has a crunch that makes these cultured veggies really good. With the added orange juice and zest, it is a real treat. Be forewarned that these veggies have been known to make some noise in your fridge. They hiss and bubble, which can be quite entertaining to my family. I think you will love them as much I do.
I am not ending my culturing career. I'm just getting started with much more to come!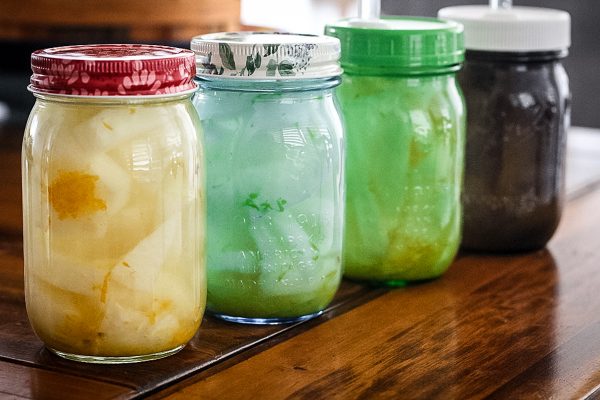 Jicama If You're Sicka-ma
You've gotta try these vegetables. Jicama is a prebiotic so you will get more good probiotics in these veggies. The prebiotics feed the good bacteria and you can watch them multiply and grow and get bubbly. Kids love to eat jicama for the orange flavor and the small size. These are wonderful for colds and flus, allergies, and whatever ails ya!
Watch How to Make It
Equipment
4 Pint Jars

You can use 1 larger jar if you'd like. The smaller jars are a little easier because the jicama is smaller. Also, it makes it really easy to give a smaller jar to a friend who is sick.
Every ingredient with a link was selected by me to make it easier for you. I may receive a small affiliate commission if you buy something through my links. Thank you! ❤️
Instructions
If using the starter culture, stir together the culture and water in a small jar. Let the mixture sit while you prepare the ingredients. If using kefir whey, add it when the recipe calls for culture.

Peel and slice the jicama. It can be chunky or thinly sliced.

Place the jicama, orange zest and juice, and salt into your jars, adding equal amounts to each jar.

Add half of a culture packet (¼ teaspoon) into 1 cup of water and mix well. Divide and pour ¼ cup into each of your 4 jars. (Alternately, you can just use ¼ cup of Kefir Whey, divide and pour 1 tablespoon into each jar).

Fill each container with filtered water, leaving 1½ inches of headspace to let the jicama bubble and expand as it ferments.

Seal the container (airlock lid is optional) and let it sit on your kitchen counter, out of direct sunlight, for 3 days.

After 3 days, place in the fridge and enjoy!
Notes
Storage note: This can be kept in a covered airtight jar in the refrigerator for up to nine months.

Are you on the list?
Sign up today and I'll send you my free Getting Started Guide!
Each week I'll send you updates, tips, recipes, and more! You might even be a winner of my weekly giveaway! (starter cultures, memberships, and more!)
Come be a part of my cultured food family!