Anova Precision Cooker Container 12L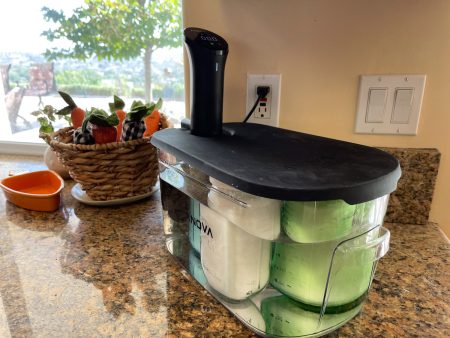 A Sous Vide does an excellent job at fermenting L. Reuteri Yogurt and Yogurt Plus, and this container goes hand in hand. You can easily fit at least four 1-quart jars in it. 
You'll also need a Sous Vide Precision Cooker to go with it.
Smaller size, same great features - The Anova Precision Cooker Container 12L was designed specifically with sous vide in mind. Its patented Hemiflow design features smooth, curved edges to help the water circulate more efficiently and heat your water with quickness.
PUT A LID ON IT: Take on long or multi-day cooks without any worry of water loss from evaporation. The Anova Precision Container 12L lid is constructed of 100% silicone, providing a tight fit and optimal evaporation prevention.
NO MORE FLOATERS: A removable cooking rack keeps your food perfectly positioned and submerged throughout the cook, with conveniently placed handles for easy access to your food while cooking.
BUILT-IN PROTECTION: Unique 3mm raised base protects surfaces from prolonged heat exposure, even without a trivet.
CUSTOMER PROMISE: Designed in San Francisco, CA with a 5 year. Anova delivers thousands of sous vide recipes for free in the Anova App, created for cooks of every skill level by award-winning chefs and home cooks alike. The numbers speak for themselves – with over 60 million units sold to date and half a million #Anovafoodnerds worldwide, you could say people love cooking with Anova.
As an Amazon Associate, I earn from qualifying purchases.