Probiotic Foods for Different Ailments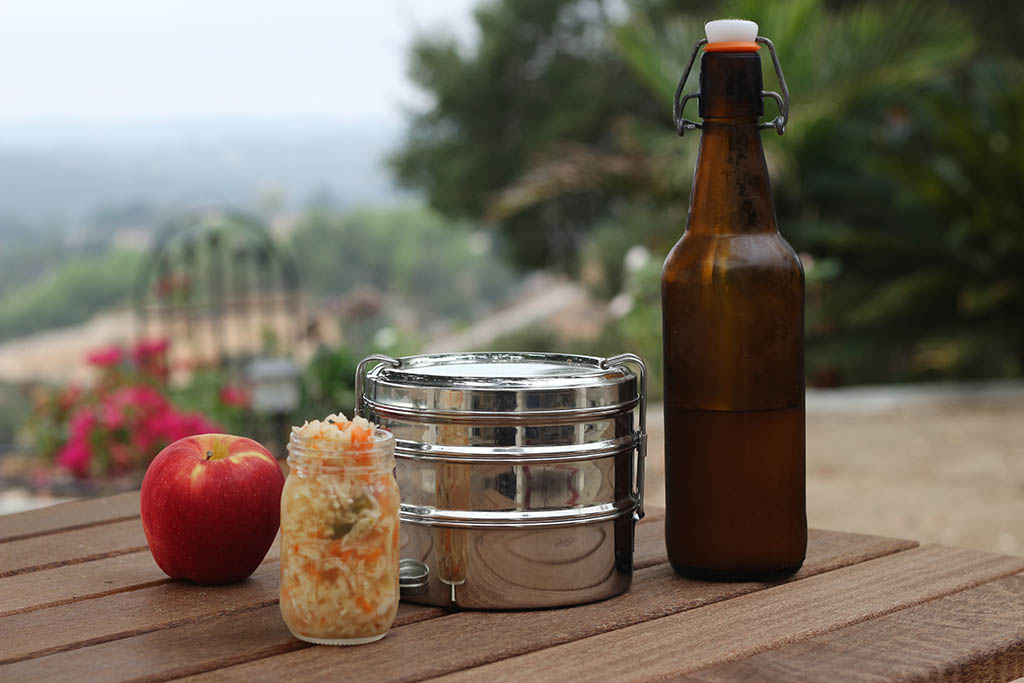 Probiotics have become an exciting frontier in health and wellness. Most people only think about probiotic supplements in a bottle, but today we're talking about foods that have probiotics in them. These probiotic foods have billions more probiotics than supplements. I think supplements are very good, but so often they are killed by stomach acid and never make it all the way to the parts of the body where they can do the job. Probiotic foods are different. They have a protective halo around them that speeds them to various parts of the body quickly because they're attached to food. We researched and found that one spoonful of cultured vegetables has more probiotics than a whole supplement bottle. And this, my friends, is far less expensive, works better, and will teach you so much about food and how it can work like medicine. I reach for these foods every day when I have symptoms that crop up that I need help with. These could be symptoms such as a headache, sinus pressure, seasonal allergies, virus, anxiety, hormonal imbalances, high blood pressure, diabetes, or even adrenal fatigue. These foods work like medicine and help me through the daunting struggles of my everyday life. I see these cultured foods fermenting on my counter and I feel a swell of emotion that I found them and they keep me well. Like friends that call to me and say, "We're here to help you. Please eat us." These living microbes in a jar have been placed right within your reach.
Hippocrates said, "All disease begins in the gut." And I have seen this to be true. As we think about our health and future it can be scary, but it doesn't have to be. There is help for us all.
How Do Probiotics Keep Us Healthy?
Doctors Prescribing Probiotics
Imagine that you go to the doctor and instead of handing you a prescription, he gives you a probiotic recommendation that will help your illness. Then he tells you that this probiotic has an 86% success rate in several randomized placebo studies and there are no side effects.
This is actually starting to happen with many open-minded health providers and it's exciting to see probiotics make their way into the health care system. This is what I've been teaching for years, but I have found that probiotic foods are much stronger than probiotic supplements. So, how do probiotics keep us healthy?
When you have a healthy amount of good bacteria in your gut, they crowd out pathogens that are looking to multiply into large numbers. When you have lots of good bacteria, the harmful bacteria diminish and clear the space for the healthier strains of bacteria. They protect the mucosal lining, or barrier, that keeps out viruses and pathogens. These good bacteria protect us from harmful bacteria that would otherwise make us sick. It is really a strong army inside of us that fights on our behalf every day.
Here's How to Get Started
Health and Wellness Articles
Open minded health providers are starting to prescribe probiotics for different health ailments. Learn which probiotics they're prescribing and how you can heal yourself by eating probiotic cultured foods.
References:
http://crohnsandcolitis.ca/Living-with-Crohn-s-Colitis/Diet-nutrition/Recent-Articles-Diet-Nutrition
D. Banerjee et al., "Comparative Healing Property of Kombucha Tea and Black Tea Against Indomethacin-induced Gastric Ulceration in Mice: Possible Mechanism of Action," Food & Function 1, no. 3 (December 2010): 284–93: abstract at www.ncbi.nlm.nih.gov/pubmed/21776478.
Cheney, S.H. Waxler, and I.J. Miller, "Vitamin U Therapy of Peptic Ulcer; Experience at San Quentin Prison," California Medicine 84, no. 1 (January 1956): 39-42: abstract at www.ncbi.nlm.nih.gov/pubmed/13276831
 G. Cheney, "Rapid Healing of Peptic Ulcers in Patients Receiving Fresh Cabbage Juice," California Medicine 70, no. 1 (January 1949): 10-15: abstract at www.ncbi.nlm.nih.gov/pubmed/18104715.
 S. Elmståhl, U. Svensson, and G. Berglund, "Fermented Milk Products Are Associated to Ulcer Disease. Results from a Cross-Sectional Population Study," European Journal of Clinical Nutrition 52, no. 9 (September 1998): 668–74: abstract at www.ncbi.nlm.nih.gov/pubmed/9756124.
D.J. Wallace and D.S. Hallegua, "Fibromyalgia: The Gastrointestinal Link," Current Pain and Headache Reports 8, no. 5 (October 2004): 364–8: abstract at www.ncbi.nlm.nih.gov/pubmed/15361320.
 M.C. Fuentes et al., "Cholesterol-lowering Efficacy of Lactobacillus plantarum CECT 7527, 7528 and 7529 in Hypercholesterolaemic Adults," British Journal of Nutrition 109, no. 10 (May 28, 2013): 1866-72: abstract at www.ncbi.nlm.nih.gov/pubmed/23017585.3841.
"Impact of Gut Microbiota of Fermented Milk Product Containing Probiotics Revealed by New Technology," Science Daily (September 11, 2014): www.sciencedaily.com/releases/2014/09/140911125045.htm.
 A. Agrawal et al., "Clinical Trial: The Effects of a Fermented Milk Product Containing Bifidobacterium lactis DN-173 010 on Abdominal Distension and Gastrointestinal Transit in Irritable Bowel Syndrome with Constipation," Alimentary Pharmacology and Therapeutics 29, no.1 (January 2009): 104-14: abstract at www.ncbi.nlm.nih.gov/pubmed/18801055.
 H. Østgaard et al., "Diet and Effects of Diet Management on Quality of Life and Symptoms in Patients with Irritable Bowel Syndrome," Molecular Medicine Reports 5, no. 6 (June 2012): 1382–90: www.spandidos-publications.com/10.3892/mmr.2012.843.
Duncan et al., "Oxalobacter formigenes and Its Potential Role in Human Health," Applied and Environmental Microbiology 68, no. 8 (August 2002): 3841-7: aem.asm.org/content/68/8/3841.full.
C. Campieri et al., "Reduction of Oxaluria after an Oral Course of Lactic Acid Bacteria at High Concentration," Kidney International 60, no. 3 (September 2001): 1097-105: abstract at www.ncbi.nlm.nih.gov/pubmed/11532105.
Are you on the list?
Sign up today and I'll send you my free Getting Started Guide!
Each week I'll send you updates, tips, recipes, and more! You might even be a winner of my weekly giveaway! (starter cultures, memberships, and more!)
Come be a part of my cultured food family!