How Gut Microbes Tell Your Hormones What to Do
Imbalances In Your Gut Flora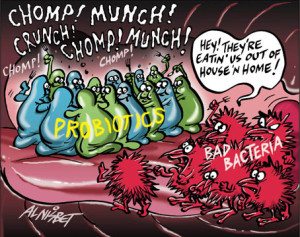 Female hormones are complex and beautifully made. But take those hormones and ignore them, and they will get your attention through symptoms of discomfort that can lead to disease and believe you me, they can wreak havoc on your life. A woman's ovaries are responsible for making the hormones progesterone and estrogen. If the bacteria in your system that live near your reproductive organs change to harmful pathogenic types of bacteria, your ovaries are likely to become hindered and may under-produce or over-produce a certain hormone causing all kinds of hormonal imbalances. Your blood sugar, sex hormones, and adrenals are a three-legged stool and when one struggles, so do the other two. They all work together and you need all of them in sync to feel good.1
So, let's say you have some imbalances in your gut flora. You are 100 trillion bacteria and when they become unbalanced by not having enough of the "good guy" bacteria, then harmful pathogenic bacteria and yeasts (such as candida) start to spread and grow in your gut. The good bacteria are diminished and then your body's detoxification system becomes hindered. Hormones that are normally eliminated via the gut and liver stay circulating in your system, and then you end up with hormonal imbalances that make you miserable.
Hormones are broken down and detoxified in two ways in the body: first in the liver, and then in the colon. When the digestive tract is out of balance, your estrogens, especially, are not detoxed properly, leading to symptoms of estrogen dominance. The most important step you can take to support gastrointestinal function is to rebalance your gut flora - especially clearing out yeast. I have found this step to be the most profound in dealing with any hormonal imbalance - especially PMS.
Eating probiotic foods will help keep out pathogens, parasites, bacteria and viruses, especially Gardnerella, Proteus, Chlamydia, Campylobacter, Neisseria, Treponema, and Salmonella.2 These are also the urinary tract bacteria that cause yeast infections and bladder infections.  These infections are common when you have hormonal imbalance!
Hormones can rule the day! Help your hormones out when things get out of whack by keeping your gut in check. Learn how to keep things in balance with the help of your microbes.
References:
Hawrelak J. Giardiasis: pathophysiology and management. Alternative Medicine Review. 2003;8(2):129–142.
 Singer SM, Nash TE. The role of normal flora in Giardia lamblia infections in mice. The Journal of Infectious Diseases. 2000;181(4):1510–1512.
 Perez PF, Minnaard J, Rouvet M, et al. Inhibition of Giardia intestinalis by extracellular factors from Lactobacilli: an in vitro study. Applied and Environmental Microbiology. 2001;67(3–12):5037–5042.
 Humen MA, De Antoni GL, Benyacoub J, et al. Lactobacillus johnsonii La1 antagonizes Giardia intestinalis in vivo. Infection and Immunity. 2005;73(2):1265–1269.
 Shukla G, Devi P, Sehgal R. Effect of Lactobacillus casei as a probiotic on modulation of giardiasis. Digestive Diseases and Sciences. 2008;53(10):2671–2679.
 Benyacoub J, Pérez PF, Rochat F, et al. Enterococcus faecium SF68 enhances the immune response to Giardia intestinalis in mice. Journal of Nutrition. 2005;135(5):1171–1176.
 Shukla G, Sidhu RK. Lactobacillus casei as a probiotic in malnourished Giardia lamblia-infected mice: a biochemical and histopathological study. Canadian Journal of Microbiology. 2011;57(2):127–135.
 Guillot CC, Bacallao EG, Dominguez MSC, Garcia MF, Gutierrez PM. Effects of Saccharomyces boullardii in children with chronic diarrhea, especially cases due to giardiasis. Revista Mexicana de Puericultura y Pediatria. 1995;2:1–11.
Besirbellioglu B, Ulcay A, Can M, et al. Saccharomyces boulardii and infection due to Giardia lamblia . Scandinavian Journal of Infectious Diseases. 2006;38(6-7):479–481.
 Lee SH, Lillehoj HS, Dalloul RA, Park DW, Hong YH, Lin JJ. Influence of Pediococcus-based probiotic on coccidiosis in broiler chickens. Poultry Science. 2007;86(1):63–66.
Ankarklev J, Jerlströ-Hultqvist J, Ringqvist E, Troell K, Svärd SG. Behind the smile: cell biology and disease mechanisms of Giardia species. Nature Reviews Microbiology. 2010;8(6):413–422.
Shirley MW, Smith AL, Tomley FM. The biology of avian Eimeria with an emphasis on their control by vaccination. Advances in Parasitology. 2005;60:285–330.
McDonald V, Shirley MW. Past and future: vaccination against Eimeria . Parasitology. 2009;136(12):1477–1489.
Allen PC, Fetterer RH. Recent advances in biology and immunobiology of Eimeria species and in diagnosis and control of infection with these coccidian parasites of poultry. Clinical Microbiology Reviews. 2002;15(1):58–65.
Dalloul RA, Lillehoj HS, Tamim NM, Shellem TA, Doerr JA. Induction of local protective immunity to Eimeria acervulina by a Lactobacillus-based probiotic. Comparative Immunology, Microbiology and Infectious Diseases. 2005;28(5-6):351–361.
 Basualdo J, Sparo M, Chiodo P, Ciarmela M, Minvielle M. Oral treatment with a potential probiotic (Enterococcus faecalis CECT 7121) appears to reduce the parasite burden of mice infected with Toxocara canis . Annals of Tropical Medicine and Parasitology. 2007;101(6):559–562.