How Gut Microbes Tell Your Hormones What to Do
Imbalances In Your Gut Flora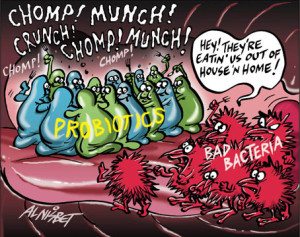 Female hormones are complex and beautifully made. But take those hormones and ignore them, and they will get your attention through symptoms of discomfort that can lead to disease and believe you me, they can wreak havoc on your life. A woman's ovaries are responsible for making the hormones progesterone and estrogen. If the bacteria in your system that live near your reproductive organs change to harmful pathogenic types of bacteria, your ovaries are likely to become hindered and may under-produce or over-produce a certain hormone causing all kinds of hormonal imbalances. Your blood sugar, sex hormones, and adrenals are a three-legged stool and when one struggles, so do the other two. They all work together and you need all of them in sync to feel good.1
So, let's say you have some imbalances in your gut flora. You are 100 trillion bacteria and when they become unbalanced by not having enough of the "good guy" bacteria, then harmful pathogenic bacteria and yeasts (such as candida) start to spread and grow in your gut. The good bacteria are diminished and then your body's detoxification system becomes hindered. Hormones that are normally eliminated via the gut and liver stay circulating in your system, and then you end up with hormonal imbalances that make you miserable.
Hormones are broken down and detoxified in two ways in the body: first in the liver, and then in the colon. When the digestive tract is out of balance, your estrogens, especially, are not detoxed properly, leading to symptoms of estrogen dominance. The most important step you can take to support gastrointestinal function is to rebalance your gut flora - especially clearing out yeast. I have found this step to be the most profound in dealing with any hormonal imbalance - especially PMS.
Eating probiotic foods will help keep out pathogens, parasites, bacteria and viruses, especially Gardnerella, Proteus, Chlamydia, Campylobacter, Neisseria, Treponema, and Salmonella.2 These are also the urinary tract bacteria that cause yeast infections and bladder infections.  These infections are common when you have hormonal imbalance!
Hormones can rule the day! Help your hormones out when things get out of whack by keeping your gut in check. Learn how to keep things in balance with the help of your microbes.
References:
Hawrelak J. Giardiasis: pathophysiology and management. Alternative Medicine Review. 2003;8(2):129–142
Are you on the list?
Sign up today and I'll send you my free Getting Started Guide!
Each week I'll send you updates, tips, recipes, and more! You might even be a winner of my weekly giveaway! (starter cultures, memberships, and more!)
Come be a part of my cultured food family!