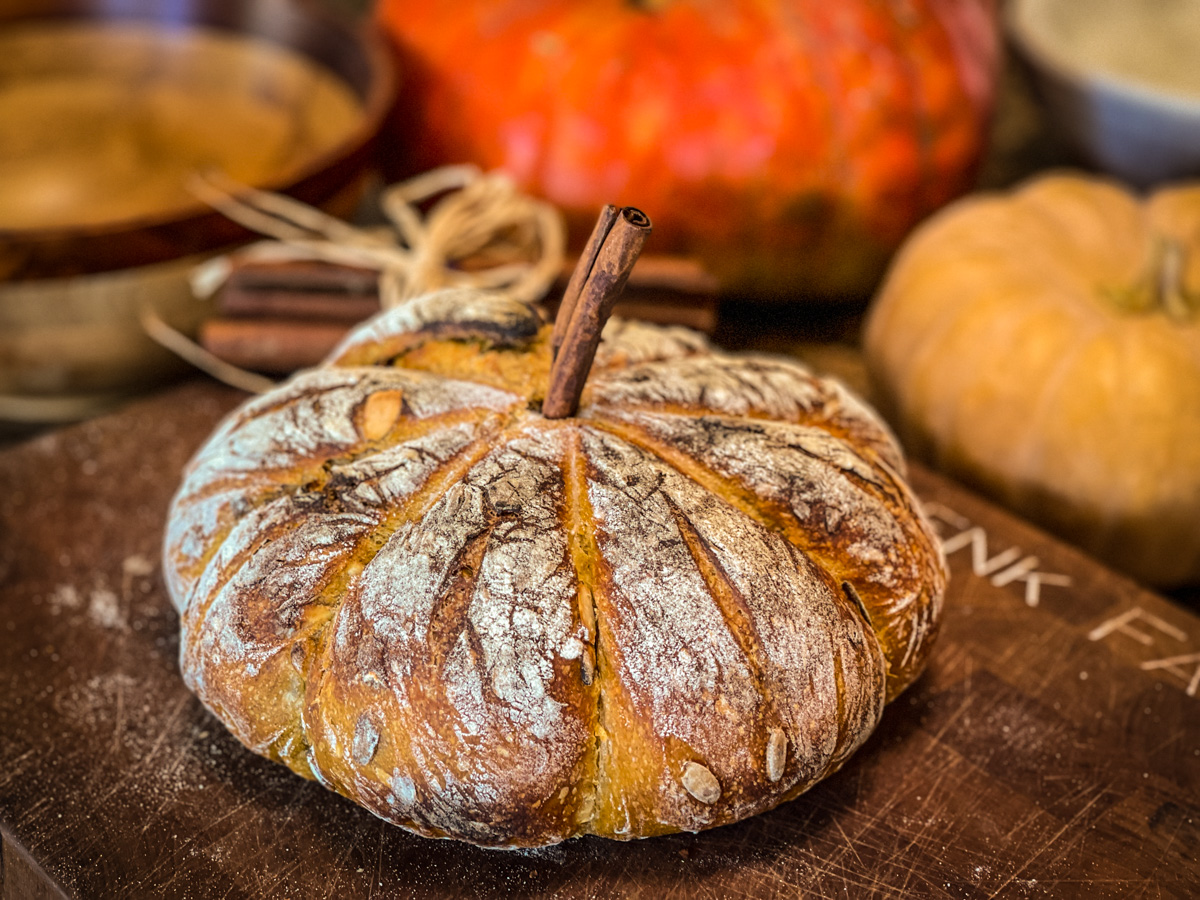 Pumpkin Seed Sourdough Bread
This sourdough bread will quickly become a fall tradition. A bread that looks like a pumpkin and has crunchy candied pumpkin seeds throughout is such a fun and tasty treat. Sourdough bread is filled with fiber and qualities that make it so much better for you than storebought bread. I added step-by-step pictures to help you and make it fun too. Pumpkin is loaded with tons of vitamin A which can often be hard to get unless you eat a lot of orange-colored veggies and fruits. Pumpkin has more than 200 percent of your recommended daily intake of vitamin A! We need these colorful foods in our diet and pumpkin has what you need!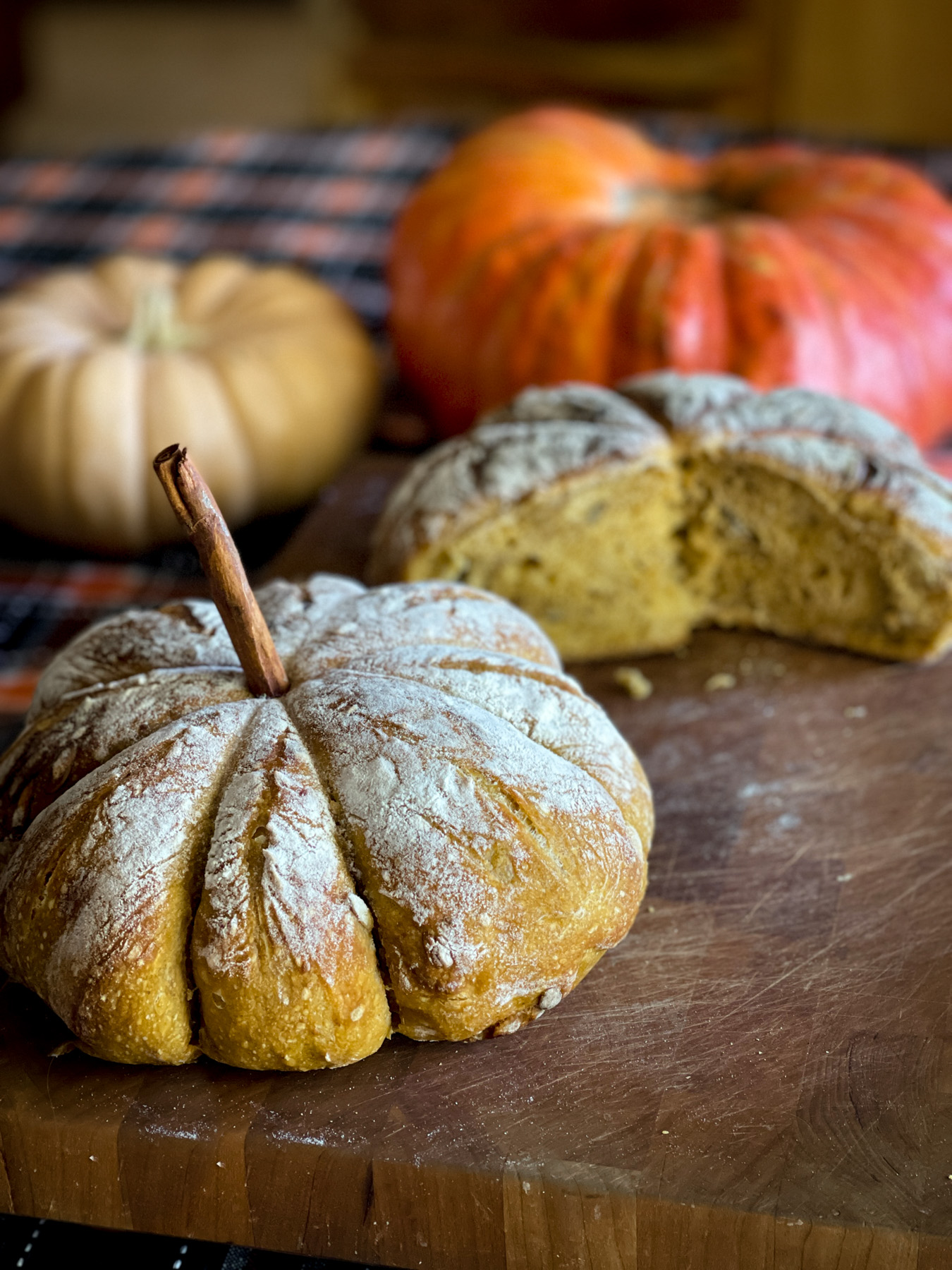 Ingredients
Pumpkin Bread
50

grams

Bubbly Sourdough Starter –

(1/4 cup. See step 1 of instructions.)

250

grams

warm water (80°F)

–

(1-1/3 cups plus 2 tablespoons)

500

grams

Bread Flour –

(4 cups plus 2 tablespoons) You can use other flours, too: white unbleached flour, white whole wheat, spelt. Whole wheat flour will be more dense and won't rise as much as white flour. For your first few loaves you'll have more success if you don't use it. Don't use gluten-free flours.

184

grams

Pumpkin Puree –

¾ cup

½

teaspoon

Molasses –

blackstrap

½

teaspoon

Cinnamon

½

teaspoon

Vanilla

¼

teaspoon

Nutmeg

⅛

teaspoon

Ground Ginger

9

grams

Celtic Sea Salt (finely ground) –

(½ teaspoons) or Pink Himalayan salt

¾

cup

Candied Pumpkin Seeds –

see recipe above
Every ingredient with a link was selected by me to make it easier for you. I may receive a small affiliate commission if you buy something through my links. Thank you! ❤️
Instructions
Toasted Candied Pumpkin Seeds
When it turns evenly golden or amber, turn off the heat, add the toasted pumpkin seeds and salt, and stir to combine with a heatproof wooden spoon or spatula. When the seeds all clump together, transfer to a plate to cool. Once cool enough to handle, break into tiny pieces. Store at room temperature till ready to use. Store extras in an airtight container for two weeks.
Pumpkin Bread
Then add the flour and salt and combine together with a stiff spatula. You can also use your hands to get the flour fully incorporated. The dough will look a little scraggly, feel dense, and stick to your fingers. Try to scrape off as much dough from your hands as possible but don't over mix it at this point.

Then mix in the toasted seeds into the bread, folding over and kneading the bread a few times till well incorporated. Gently knead the dough for about a minute to incorporate the ingredients and work the dough into a ball. Do this by folding the dough over and pressing it into the center until the dough starts to turn into a ball.

Preheat your oven to 450°F. Cut a piece of parchment paper to fit your pot, leaving excess so you can grab the bread and take it out of the pot. Place your parchment paper on the counter and cut four pieces of string, about 24 inches long. Dip the string in olive oil and run between your fingers to get rid of excess oil. Place the strings on parchment paper as shown.