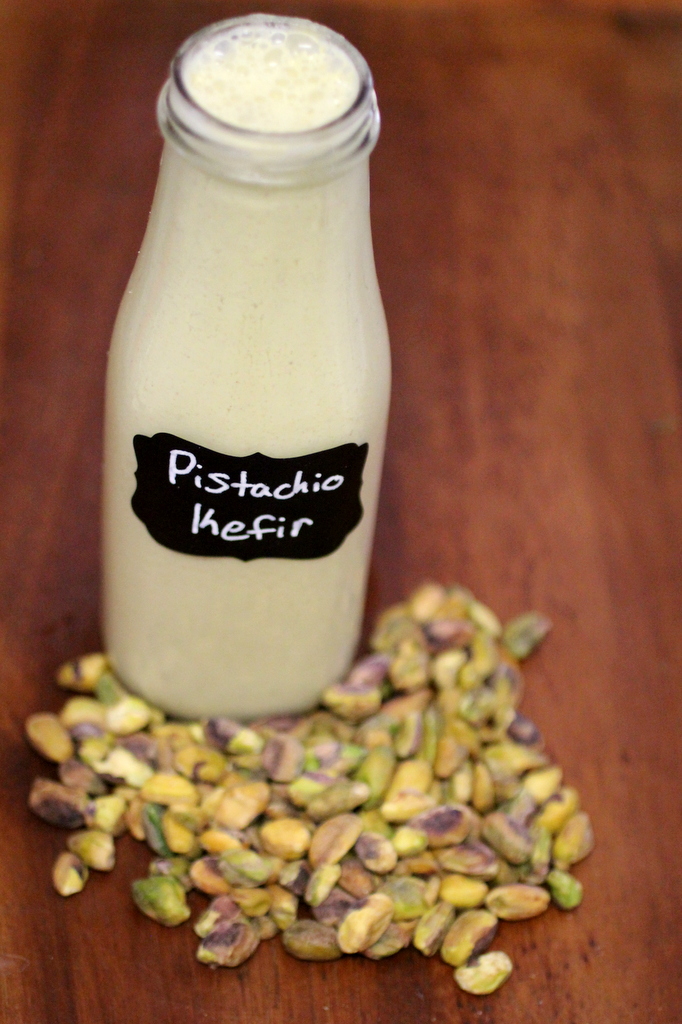 Milk kefir grains do not seem to last in non-dairy milk. They need the milk sugars to stay alive. However, one vegan reader has found a way to keep them alive. I am not sure exactly what it does to the bacteria, but it still seems to give benefits if it makes the milk tart and sour. See the note below.
~Donna
Instructions
Cover nuts in water and soak for at least 4 hours or overnight.

Strain pistachios. Discard water.

Place pistachios and 4 cup of fresh water in a blender. Blend on high speed until pistachios are incorporated and blended into a smooth consistency.

If you want a thinner consistency, strain this mixture through a nut bag to remove the small pieces. For a thicker consistency, leave the pulp in. It might stick to the kefir grains but it doesn't hurt them.
Place mixture into a glass jar and add 1 tablespoon of kefir grains date paste (or raw sugar) . Place a lid on the jar and let it sit for 8 to 12 hours.

Strain out kefir grains and place pistachio kefir in the refrigerator or enjoy immediately.
Recipe Notes
A great comment from a reader said, "I am vegan and I used to make my own kefir with non-dairy homemade sesame milk that I added homemade date puree (thinned down) to in order to feed the (milk kefir) grains. I started out by dunking my grains into cow's milk once a fortnight to keep them alive but then one day I had enough grains and I decided that I was going to test how long the grains would live if I only used them in my sesame milk. A year and a half later they were still happily culturing my "milk." I am guessing that my grains converted to the date sugar quite happily as they showed no signs of either dying or slowing down. If you have vegan readers, they might like to experiment a bit rather than relying on having to dunk their grains in milk. I dare say the probiotics in my kefir were different from those in regular milk but the end result was tart, delicious, and probiotic rich."