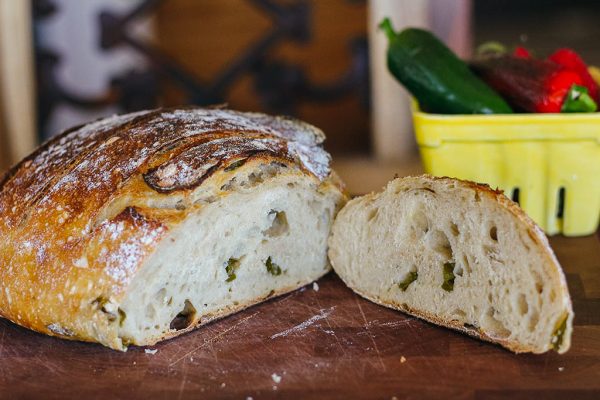 Jalapeño Sourdough Bread
This is my son's favorite bread and one he begs for. It makes a great grilled cheese sandwich with pepper jack cheese and slices of tomato. You can also add a smear of refried beans, salsa, avocado, black olives, and top with pepper jack cheese. The options are unlimited. Sprinkle a little cilantro on the top when you're finished and you'll have a gourmet sandwich that will wow anyone! You will need a few items that make a huge difference in the finished loaf. You will need a
5 Quart Dutch Oven
– a roaster pan or deep casserole dish with a lid will work too. A
dough scraper
is my new favorite tool while working to fold and knead my bread. You'll also need a
Kitchen Scale
for measuring all ingredients. I found that my cup of flour and your cup of flour can vary greatly, and will affect the outcome. I promise you this bread will be worth it. You'll feel like you've accomplished something great and your next loaf will be a breeze!
Ingredients
50

grams

Bubbly Sourdough Starter –

(¼ cup. See step 1 of instructions)

350

grams

Warm Water (80 degrees F)

–

(1⅓ cups plus 2 tablespoons)

500

grams

Bread Flour –

(4 cups plus 2 tablespoons) You can use other flours, too: white unbleached flour, white whole wheat, spelt. Whole wheat flour will be more dense and won't rise as much as white flour. For your first few loaves you'll have more success if you don't use it. Don't use gluten free flours.

9

grams

Celtic Sea Salt (finely ground) –

(1½ teaspoons) or Himalayan salt

½

cup

Fermented Jalapenos
Every ingredient with a link was selected by me to make it easier for you. I may receive a small affiliate commission if you buy something through my links. Thank you! ❤️
Instructions
You need to make sure your sourdough starter is bubbly and ready to go. If it has not been fed recently then take a few spoonfuls of sourdough starter from your fridge and give it that much flour and water and let it ferment for 6 – 8 hours. Here is more help for a bubbly sourdough starter.

How to care for your sourdough starter
Making the dough
Add the flour and salt and combine together with a stiff spatula. When the dough comes together, mix in the jalapeños. You can use your hands to get the flour fully incorporated. The dough will look a little scraggly, feel dense, and stick to your fingers. Try and scrape off as much dough from your hands as possible but don't over mix it at this point. Then cover the bowl with plastic wrap for 30 minutes.
Making and Baking the Bread
Cover the bowl and let it rest for 30 to 60 minutes. In the meantime, preheat your oven to 450°F. Cut a piece of parchment paper to fit your pot, leaving excess so you can grab the bread and take it out of the pot. Place your parchment paper over the bowl and invert the bowl to allow the bread to release onto the paper.