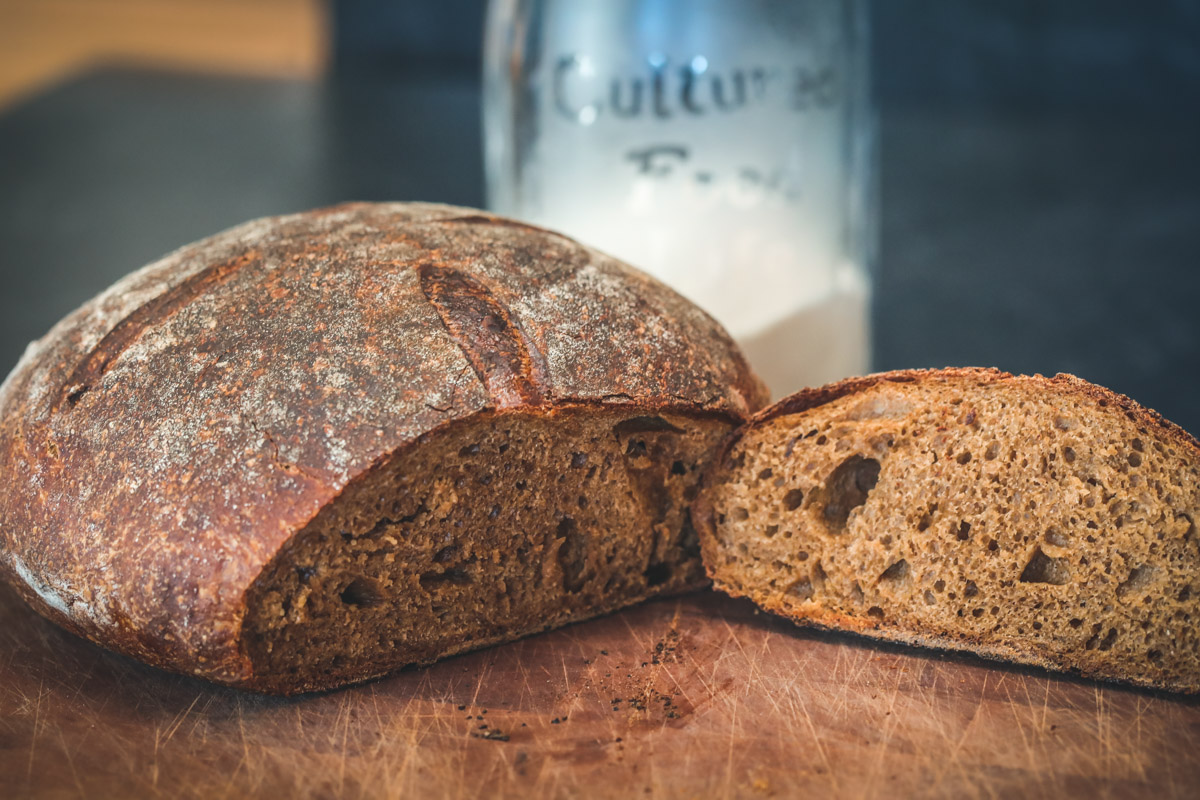 Pumpernickel Sourdough Bread
Pumpernickel bread is made with whole grain rye flour or the whole rye berry. Other rye breads are made with white rye flour ground from the center endosperm of the rye berry. I use a combination of rye and wheat flour to make a lighter, higher rising bread. I love making breads with ancient grains such as einkorn, rye, and spelt flours. They have a lot of health benefits and the more I consume them, the more I feel those benefits in my body.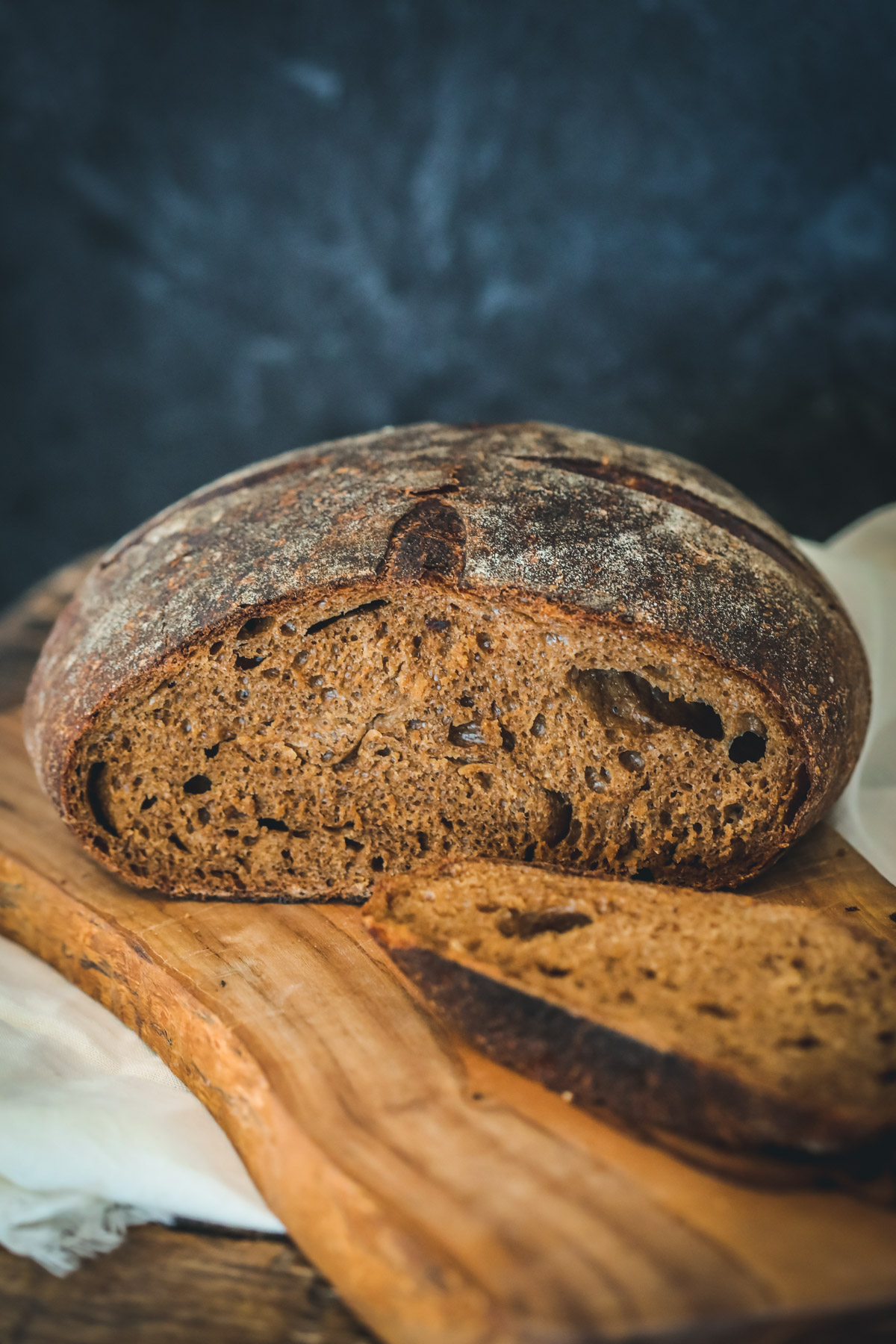 Ingredients
50

grams

Bubbly Sourdough Starter –

(¼ cup. See step 1 of instructions)

365

grams

Warm Water (80 degrees F)

–

(1½ cups plus 1 teaspoon)

60

grams

Black Strap Molasses

–

2¾ tablespoons

380

grams

Bread Flour –

3¼ cups

120

grams

Whole Grain Rye Flour (Pumpernickel Flour)

–

1 cup

9

grams

Celtic Sea Salt (finely ground) –

(1½ teaspoons) or Himalayan salt

30

grams

Olive Oil –

2 tablespoons
Every ingredient with a link was selected by me to make it easier for you. I may receive a small affiliate commission if you buy something through my links. Thank you! ❤️
Instructions
You need to make sure your sourdough starter is bubbly and ready to go. If it has not been fed recently, take a few spoonfuls of sourdough starter from your fridge and give it that much flour and water and let it ferment for 6 – 8 hours. Here is more help for a bubbly sourdough starter. How to care for your sourdough starter
Making the dough
Gather ingredients and materials.

Add the bubbly sourdough starter, molasses, and warm water to a ceramic bowl. Mix them together with a whisk or a fork until well combined.

Then add the flour and salt. Combine together until all ingredients are well combined and you have a thick dough. Next add the oil, kneading until well incorporated.

Cover with plastic wrap or a damp towel. Let it rise at room temperature overnight (around 70°F) for 8 – 10 hours until double in size.
Making and Baking the Bread
Use your spatula and gently pull the dough from the bowl onto a lightly floured work surface. Dust your hands with flour and start at the top and fold the dough over to the center, repeating on all sides (add more flour if needed).

Line an 8-inch bowl with a towel and dust generously with flour. Make sure your hands are still floured and pick up the dough and place it in the bowl with seam side up. Cover the bowl and let it rest for 1½ to 2 hours but not double in size.

Preheat your oven to 450°F. Cut a piece of parchment paper to fit your pot, leaving excess so you can grab the bread and take it out of the pot. Place your parchment paper over the bowl and invert the bowl to allow the bread to release onto the paper.

With a small razor blade or serrated knife, score the bread with four slashes.

Pick up the parchment and carefully place your bread in the pot.

Place the lid on the pot and place in the oven for 20 minutes. Then remove the lid and continue baking for 40 more minutes. If the bread starts to get too dark due to the sugars in the molasses, loosely place a piece of foil in a tent formation on top of the pot.

When bread is done, take bread out of pot and place on a wire rack to cool for about 20 minutes to an hour. Store loaf in a bag on the counter, or this bread freezes beautifully.