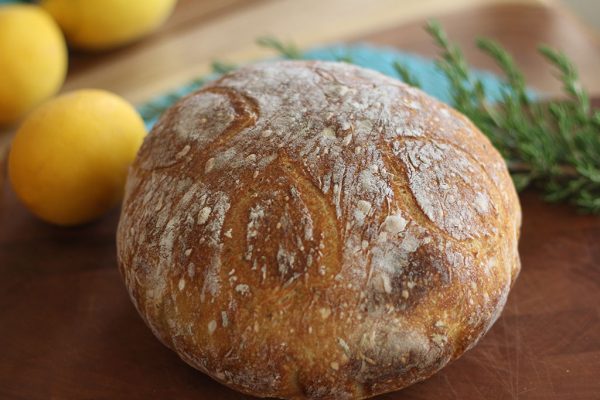 Lemon Rosemary Sourdough Bread
This is one of the breads I make the most in the summertime. It has a light, fresh flavor due to the lemon zest that I absolutely love. If you don't have a pot of rosemary growing at your house, you're missing out. Plant rosemary for luck and smell rosemary to remember. Fresh herbs – such as rosemary – make sourdough bread have a new flavor all its own. It will be a favorite of yours, I'm sure.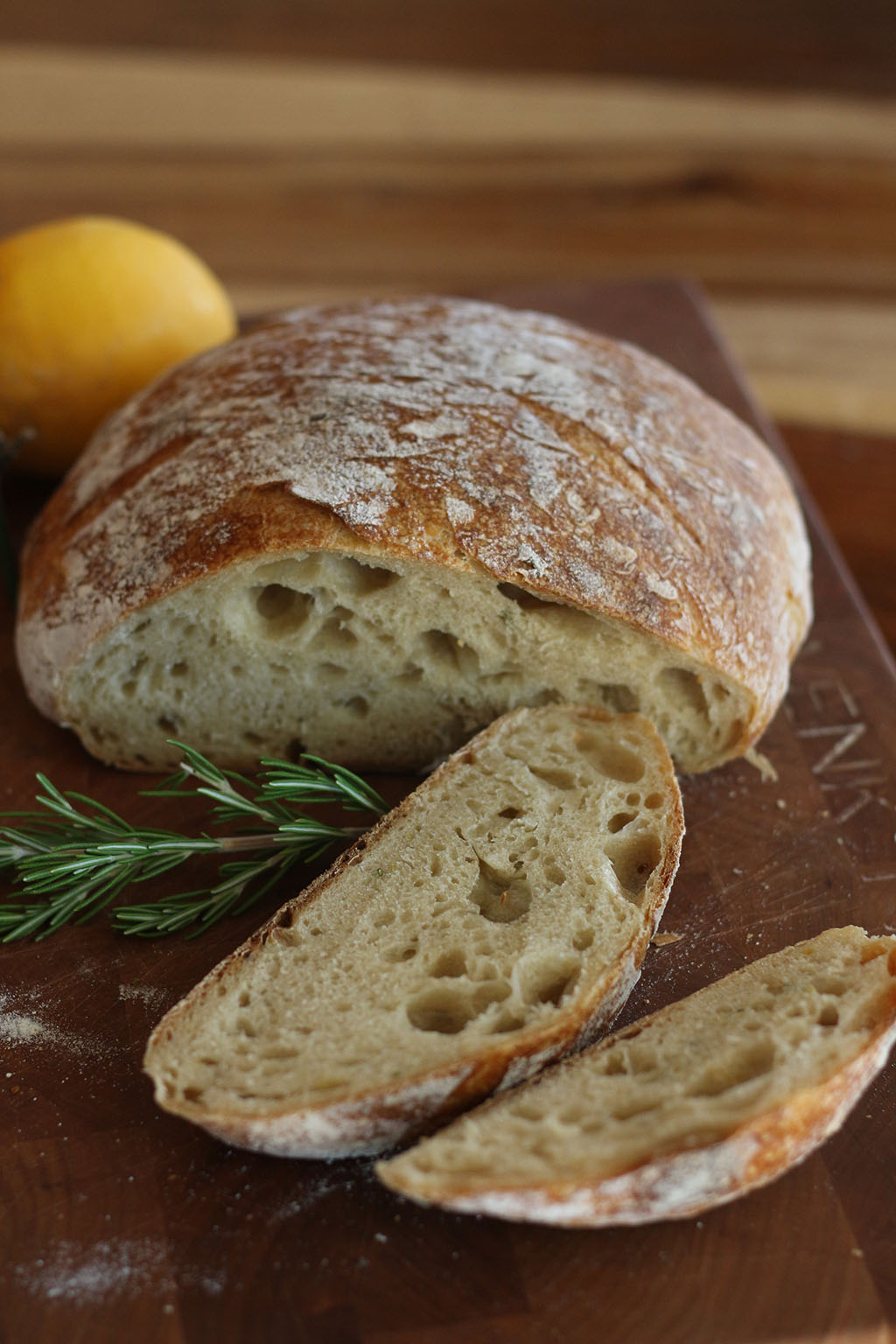 Ingredients
50

grams

Bubbly Sourdough Starter –

(1/4 cup. See step 1 of instructions)

350

grams

Warm Water (80 degrees F)

–

(1-1/3 cups plus 2 tablespoons)

500

grams

Bread Flour –

(4 cups plus 2 tablespoons) You can use other flours, too: white unbleached flour, white whole wheat, or spelt. Whole wheat flour will be more dense and won't rise as much as white flour. For your first few loaves you'll have more success if you don't use it. Don't use gluten free flours.

9

grams

Celtic Sea Salt (finely ground) –

( 1-1/2 teaspoons) or Himalayan salt

1

tablespoon

Rosemary

–

finely chopped

1

tablespoon

Lemon Zest

–

(use a microplane grater)
Every ingredient with a link was selected by me to make it easier for you. I may receive a small affiliate commission if you buy something through my links. Thank you! ❤️
Instructions
Before Bedtime ~ Making the dough
Then add the flour and salt and combine together with a stiff spatula. You can also use your hands to get the flour fully incorporated. The dough will look a little scraggly, feel dense, and stick to your fingers. Try and scrape off as much dough from your hands as possible but don't over mix it at this point. Then mix in the chopped rosemary and lemon zest into the bread, folding and kneading the bread over a few times till well incorporated. Cover with plastic wrap and rest for 20-30 minutes.
In the Morning ~ Making and Baking the Bread
Cover the bowl and let it rest for 30 to 60 minutes. In the meantime, preheat your oven to 450 degrees F. Cut a piece of parchment paper to fit your pot, leaving excess so you can grab the bread and take it out of the pot. Place your parchment paper over the bowl and invert the bowl to allow the bread to release onto the paper.