Einkorn Sourdough Starter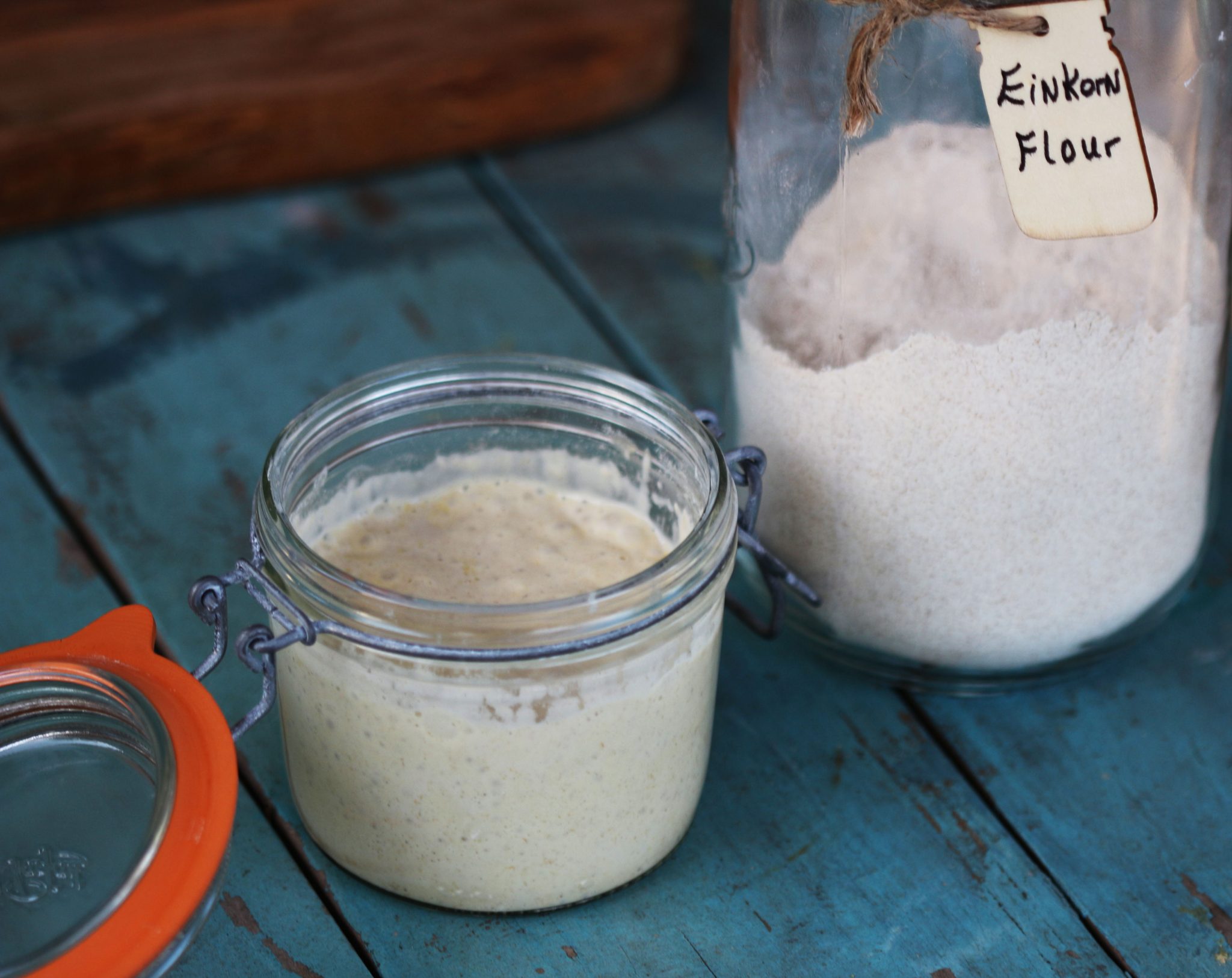 Here is an easy way to convert your sourdough starter to an einkorn sourdough starter. You might want to have two starters, one for einkorn and one for regular sourdough and you can always  dehydrate them so you'll always have more starter.

You can use Einkorn All-Purpose Flour or Einkorn Whole Wheat Flour to make an einkorn sourdough starter and for more information see the *note below.
~Donna
Instructions
Remove and discard all but 1/4 cup of your starter. Add 1/2 cup flour to your jar and 1/4 cup water stir well to combine all the flour and let sit for another 6- 8 hours. Continue doing this step two more times or until your starter is bubbly and you see tiny pin size holes in your starter and bigger holes on top. Then it is ready to bake with or to store in the refrigerator. (This picture is a starter fed with Einkorn Whole Wheat Flour.)

| | |
| --- | --- |
| Remove and discard all but 1/4 cup of your starter. Add 1/2 cup flour to your jar and 1/4 cup water stir well to combine all the flour and let sit for another 6- 8 hours. Continue doing this step two more times or until your starter is bubbly and you see tiny pin size holes in your starter and bigger holes on top. Then it is ready to bake with or to store in the refrigerator. (This picture is a starter fed with Einkorn Whole Wheat Flour.) | |

Feed your starter once a week, 1/2 cup of flour and 1/4 cup water to 1/4 cup of starter. Keep this ratio to make sure your starter will be bubbly. If you have more starter to flour and water the starter will eat all the food and won't be bubbly. (This picture is showing and einkorn starter made with Einkorn All-Purpose Flour)

| | |
| --- | --- |
| Feed your starter once a week, 1/2 cup of flour and 1/4 cup water to 1/4 cup of starter. Keep this ratio to make sure your starter will be bubbly. If you have more starter to flour and water the starter will eat all the food and won't be bubbly. (This picture is showing and einkorn starter made with Einkorn All-Purpose Flour) | |

When you ready to bake bread take your starter from the fridge and feed your 1/4 cup starter, (discard if you have more starter than this) then add 1/2 cup flour to your jar; add a 1/4 cup water; stir well to combine until all the flour is incorporated and let sit for another 6- 8 hours until bubbly. If it's not bubbly then feed it again (ratios above) every 6-8 hours until it's bubbly. If your keeping your starter in the fridge then feed it once a week the ratio above. This will ensure that it will stay healthy and bubbly and you'll only have to feed it once before your bake with it.

| | |
| --- | --- |
| When you ready to bake bread take your starter from the fridge and feed your 1/4 cup starter, (discard if you have more starter than this) then add 1/2 cup flour to your jar; add a 1/4 cup water; stir well to combine until all the flour is incorporated and let sit for another 6- 8 hours until bubbly. If it's not bubbly then feed it again (ratios above) every 6-8 hours until it's bubbly. If your keeping your starter in the fridge then feed it once a week the ratio above. This will ensure that it will stay healthy and bubbly and you'll only have to feed it once before your bake with it. | |