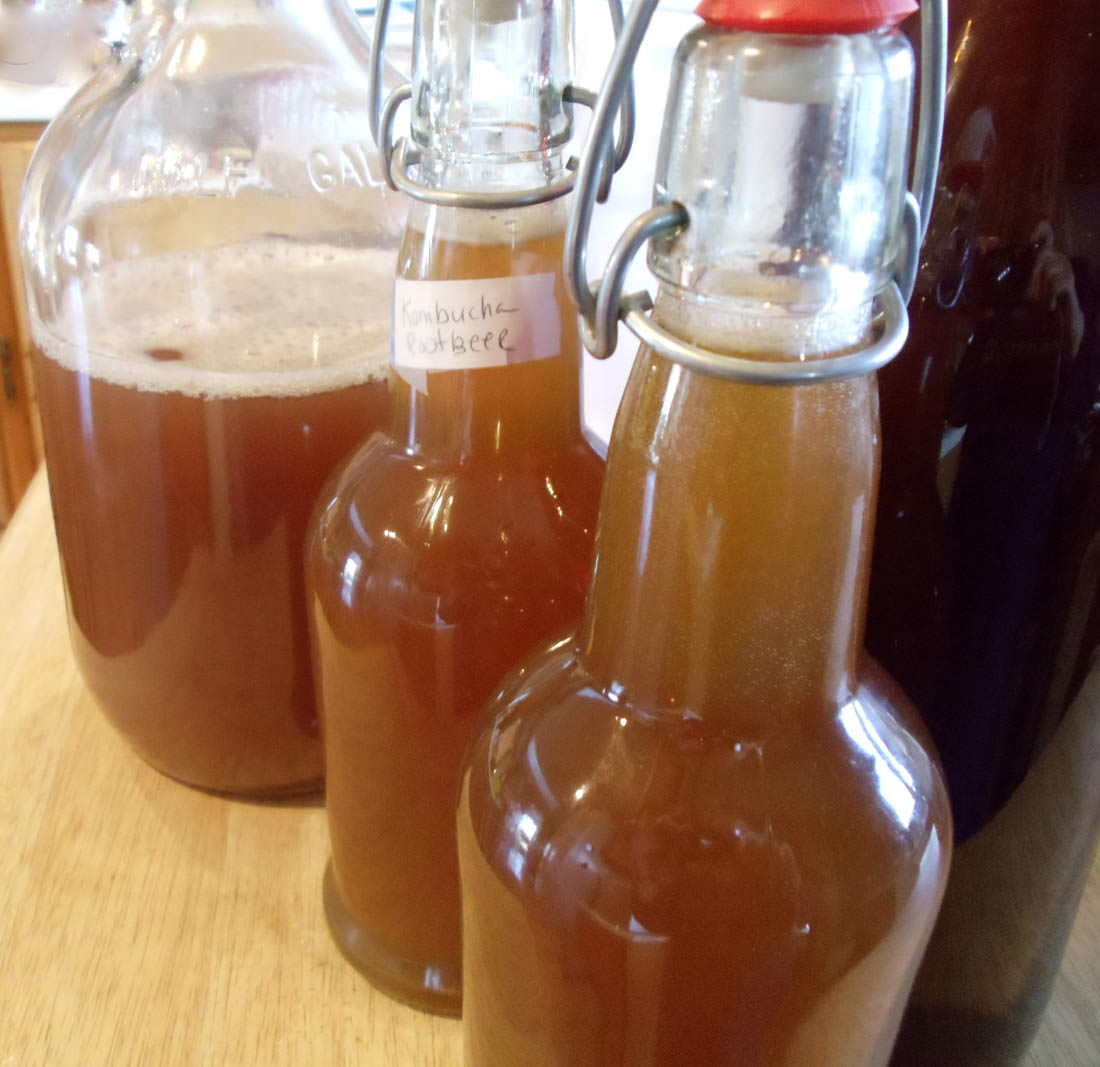 Most recipes for root beer kombucha are overly complicated with hard to find ingredients. Since my husband loves the flavor of  root beer, and I often buy High Country wild root kombucha for him. I figured it was time to devise my own.  The only special ingredient you will need to buy is sassafras bark. It is inexpensive and you will get enough to make a lot of root beer kombucha. You can't really get by without it because there is no other way to get that taste of root beer without it. At least that I know of. The rest of the ingredients are easy to find and you will make a syrup concentrate which you can store and add to the kombucha to flavor it. This makes a concentrate and you will add it to second ferment your kombucha. You are going to love the flavor of this root beer kombucha. Super fizzy just like root beer should be. Here is how to make it.
You will need a kombucha that is just about done from the first ferment. Make sure it is not to vinegary. When you kombucha reaches this stage it is hard to second ferment and become bubbly. There needs to be a little sugar left so that the bacteria and yeast have something to consume to make the kombucha bubbly. This is true for any second fermented kombucha. Not to sweet but not to sour either.
If you like to see a video on how to make Root Beer Kombucha and Root Beer Kefir Soda you can become a Biotic Pro and view all my videos.
Ingredients
3 3/4

cups

Sucanat

you can substitute regular sugar
Instructions
Place raisins into a bowl. Pour ¾ cup boiling water over raisins and allow them to steep while you make the rest of the extract.

Place half-gallon of water into pot over medium heat.

Place the sassafras root bark into tea bags or closely woven cheesecloth and tie with cooking string. Add it to the boiling water. You can add it loosely into the pot but then you have to strain it several times through a fine mesh strainer.

As the water heats stir in the sugar slowly don't dump it all at once.

Simmer uncovered for 40 minutes.

Remove from heat and remove sassafras, and strain raisin water into the brew pot.

Allow to sit for 30 minutes.

When it is cooled you can use your extract, storing extra in the fridge to use again. Try to use within 2 months.
Recipe Notes
* There are warnings on sassafras bark and much controversy. Lab rats were fed huge amounts of sassafras and caused the FDA to label this product not safe, but in small amounts it is actually has protective qualities. Nourished Kitchen posted a blog on this, along with her own root beer kombucha recipe. Read and decide for yourself. http://nourishedkitchen.com/homemade-root-beer-recipe/
Instructions
Pour 14 ounces of Kombucha in to each 16 ounce bottle.

You can strain the kombucha through a coffee filter and it will help you to not form another kombucha baby on top of your bottle, but it is not necessary.

Add 2 ounces of root beer extract to your bottle and clamp shut.

Leave a little room in the bottle but not much. I use a scale to measure the amount of juice I put in.

Label your bottles so you know when it started its second ferment. You can use more extract or less adjust according to the flavor you like.

Let your kombucha sit in a dark place for 1 to 3 weeks. Check after each week to see if you Kombucha is bubbly enough. If not let it ferment longer. Then place your bottles in the fridge to enjoy. Be careful when opening bottles. The warmer it is in your home the faster it ferments.
Recipe Notes
Make sure to use bottles that are for brewing. If you are using glass bottles you must beware because there may be flaws in the glass or the yeast might just go crazy and blow up your glass bottle!
You can use old synergy bottles but my favorite is clamp down bottles by Grolsch. You can also find bottles at home brew stores. The clamp down lids are safer and are thick glass for brewing.