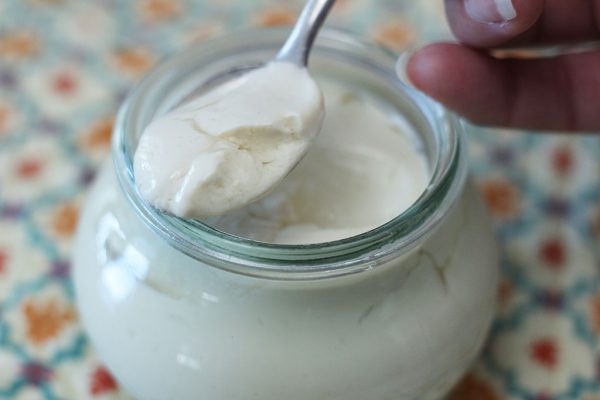 Thick Nut Milk Kefir
This is a thick Greek Yogurt type of texture which is hard to achieve with most nut milks. You have to use certain brands of nut milk that contains pea protein to accomplish this. The result is a thick curd and a delicious nut milk kefir that can't be beaten.
We recommend using Easy Kefir because kefir grains can be hard to strain out because of the thickness.
Ingredients
Use just ONE of any of these brands:
Every ingredient with a link was selected by me to make it easier for you. I may receive a small affiliate commission if you buy something through my links. Thank you! ❤️
Instructions
Pour four cups of nut milk /w protein into a quart-sized glass jar.

Sprinkle the entire contents of one Easy Kefir packet into the jar and mix well.

Let this mixture ferment at 72° to 75°F for 18 to 24 hours. If the temperature is below 72° let it ferment a little longer.

Place into the refrigerator. Even in your refrigerator the fermentation process continues, but chilling it will slow down the fermentation of the healthy bacteria and beneficial yeast.

See note below on re-culturing your kefir to make new batches!
Notes
Once you have made your first batch (quart) of Easy Kefir, you can use some to make additional batches, so don't drink all of it!
Simply take a portion of this kefir, add it to new milk, and let it culture again.
To make a quart: use 

¼

 cup from the previous batch.
To make 

½

 gallon: use 

½

 cup from the previous batch.
To make 1 gallon: use 1 cup from the previous batch.
You can do this up to seven times and in larger quantities following the same ratios. Or perhaps more than seven batches can be re-cultured if you do it every day as I do. 🙂 Just keep doing it until it stops re-culturing. When it stops getting tart and thick you'll know you need a new Easy Kefir package.