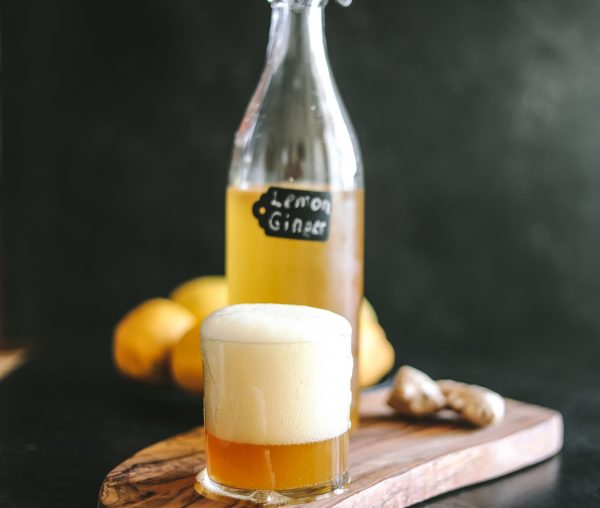 Lemon Ginger Kombucha
Ginger is powerful medicine! I have been consuming ginger often and found it to be very effective in helping with any kind of inflammation. Ginger is anti-viral and anti-inflammatory as well as being a powerful antiseptic and antihistamine. I love ginger kombucha and have it more than any other flavored kombucha. It's one of my favorite ways to consume ginger and I think you will love it too! Consume lots of ginger if you have hay fever or allergies. It works so wonderfully, you'll be amazed!
Ingredients
15

ounces

Kombucha

1

tablespoon

lemon juice

–

freshly squeezed

2

inch

slice of ginger root

¼ – ½

teaspoon

sugar

–

(if you want some fizz)
Every ingredient with a link was selected by me to make it easier for you. I may receive a small affiliate commission if you buy something through my links. Thank you! ❤️
Instructions
Using a clean garlic press, squeeze the ginger root through the garlic press. You can also use a juicer to extract the juice. Fresh-squeezed ginger works much better than placing a piece of ginger root in the bottle to ferment with the kombucha.

Place all ingredients in a thick glass bottle made for brewing, leaving a little headspace at the top of the bottle.

Clamp the bottle closed and date the bottle so you'll know how long it has fermented.

Let the kombucha sit on your counter for anywhere from a few days to several weeks. It depends on how strong your kombucha is and how warm your house is. Check it every day by opening the bottle. When you find it bubbly it is ready.

Once it's bubbly and suits your taste, transfer to the refrigerator.
Notes
Make sure your kombucha is not overly done and tasting vinegary. Make this recipe when the kombucha is still a tad sweet and you will like it better. It will also be more bubbly.