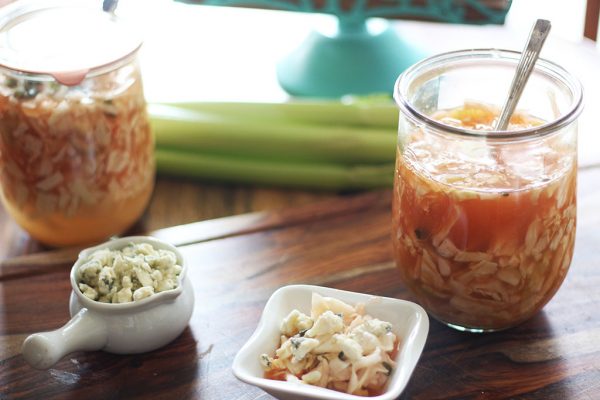 Buffalo Kraut
Buffalo wings are all the rage these days. But did you know that the first plate of wings was served in 1964 at a family-owned establishment in Buffalo called the Anchor Bar? The wings were the brainchild of Teressa Bellissimo—she covered some wings with her own special sauce and served them with a side of blue cheese and celery because that's what she had available. Inspired by this, my daughter Maci took the same ingredients (minus the chicken wings) and made a delicious veggie recipe.
Every ingredient with a link was selected by me to make it easier for you. I may receive a small affiliate commission if you buy something through my links. Thank you! ❤️
Instructions
If using the starter culture, stir together the culture and water. Let the mixture sit while you prepare the other ingredients—around 10 minutes.

Remove and discard the outer leaves of the cabbage. Shred the cabbage and place it in a bowl. Then chop the celery into small pieces and mix it with the cabbage.

Mix in the buffalo sauce, onion powder, salt and chives until well combined. Put the mixture in a jar.

Add the culture and fill the container with filtered water, leaving 2 inches of headspace to let the vegetables bubble and expand as they ferment.

Seal the container and let it sit on your kitchen counter, out of direct sunlight, for 6 days.

Check the kraut every day to make sure it is fully submerged. If it has risen above the water, simply push it down so it is fully covered again. If white spots of yeast have formed on any unsubmerged kraut, do not worry. Remember, this isn't harmful. Just scoop out the yeast and kraut it's on and push the rest back under the water.

When the kraut is done fermenting, place it in the refrigerator.

Serve with a small amount of blue cheese crumbles.
Notes
Storage note: These veggies can be stored in an airtight container in the refrigerator for up to 9 months.