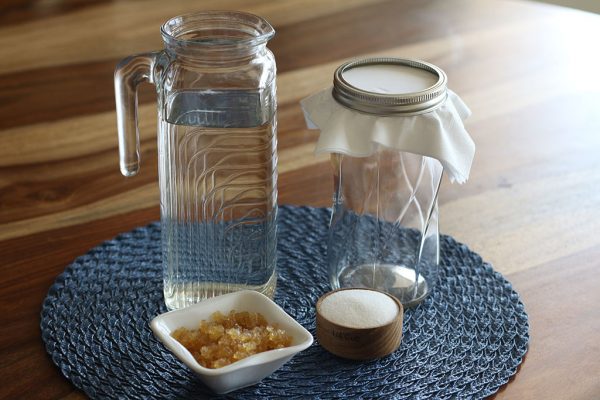 Basic Water Kefir
Water kefir is a great replacement for soda pop. There are many beneficial bacteria and yeasts present in the
water kefir crystals
. These special probiotics metabolize the sugar, making it a bubbly effervescent drink that is loaded with over 14 different probiotics along with extra vitamins and minerals too. Your
water kefir crystals
can change in color due to the sugar you use or if you add molasses or another mineral.
Ingredients
2-4

tablespoons

Water Kefir Crystals

4

cups

Water spring or filtered with minerals

4

tablespoons

Cane Sugar
Every ingredient with a link was selected by me to make it easier for you. I may receive a small affiliate commission if you buy something through my links. Thank you! ❤️
Instructions
Stir sugar to dissolve. You can use brown sugar, white sugar, Sucanat, or raw sugar. (See note for different types of sugar you can use.) If you use Sucanat or raw, you need to heat the water to dissolve the sugar and then allow it to cool before placing your grains in your jar. Certain types of sugars don't dissolve in water very well and will stay stuck on your grains unless heated.
Notes
Note: You can store your water kefir crystals in fresh sugar water in the fridge for up to 1 month until ready to use again. When ready to resume brewing, strain the old water and add new water and sugar.
Tip: Every few batches, add a drop of molasses for extra minerals to keep your grains healthy.