The Probiotic Superstar in Cultured Veggies
I have been getting a lot of letters asking if you can ferment vegetables with water kefir or kombucha. You can ferment vegetables with these two different cultures, but the vegetables tend to get mushy and don't last very long. You will get different bacteria and you will also be diminishing one of my very favorite bacteria that makes cultured vegetables so strong and unique, Lactobacillus Plantarum.
Cultured veggies make their own  Lactobacillus Plantarum without a starter culture; but as I have repeatedly noticed, these ferments are never as strong as the ones that add more bacteria from starter cultures to keep the levels of these good bacteria at a higher level longer.  L. plantarum is found in one of these veggie starter cultures, Cutting Edge Starter Culture, and is just the coolest bacteria ever. It helps remove pesticides from non-organic vegetables, and L. plantarum can live in your gut and keep pathogenic disease-causing microorganisms from flourishing.
Be grateful, ferment your vegetables, love others.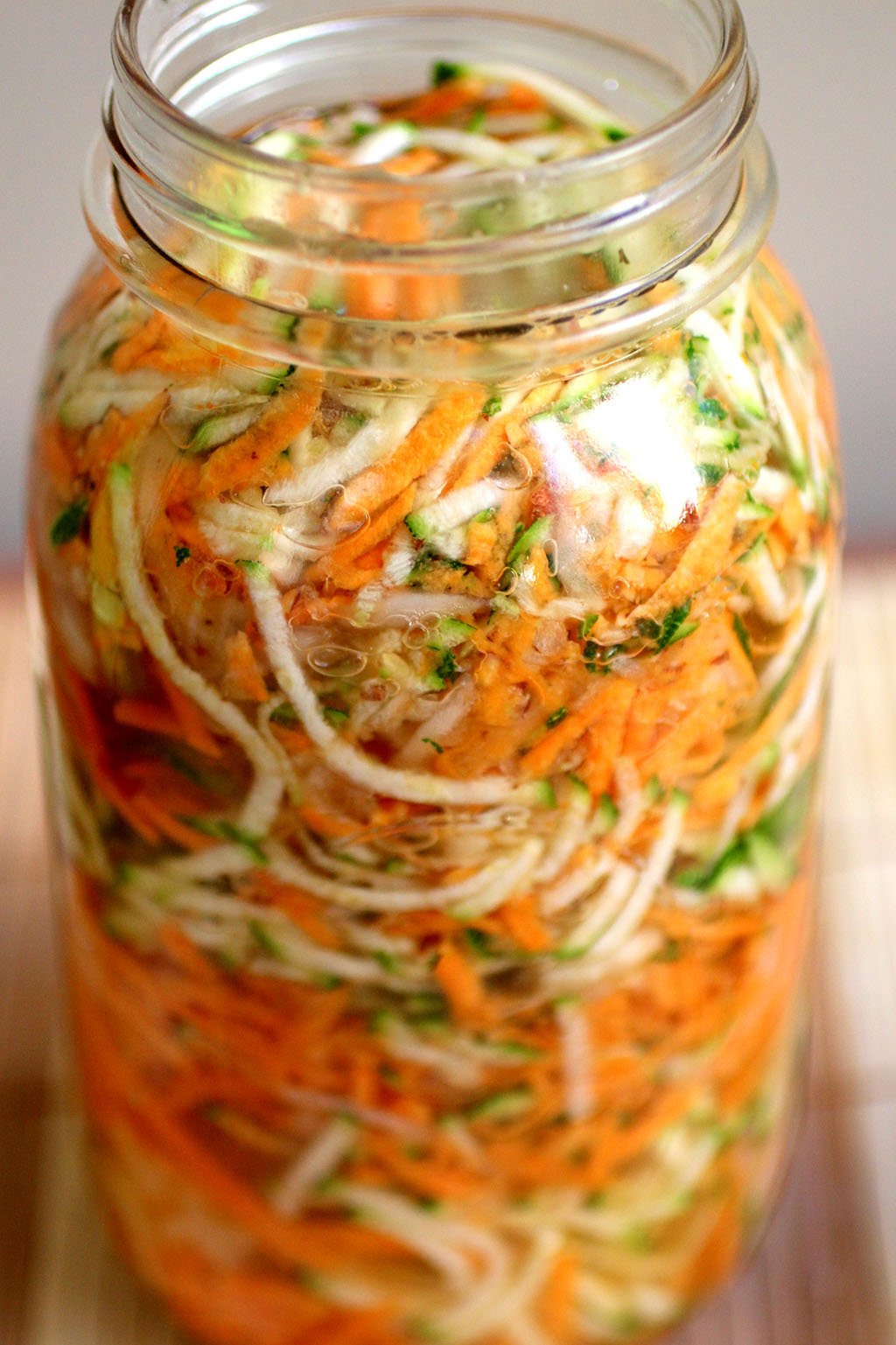 Powerful Cholesterol-Lowering Activity
Studies have consistently shown that L. plantarum is resistant to most antibiotics. It also has potential cholesterol-lowering activity. It's pretty powerful and can even knock out food poisoning (as I myself have seen several times) and is a powerful weapon in controlling Candida in the body. It is also good for treating Irritable Bowel Syndrome (IBS), easing symptoms of Crohn's disease, and healing colitis. You can make cultured vegetables with water kefir and kombucha, but the abundance of other strains of bacteria will crowd out the most important star of the show - L. plantarum. Bacteria like room to grow and thrive and with the addition of so many other cultures in kombucha and water kefir, I think it is best to stick with what cultured vegetables do best, make lots of L. plantarum. Diversity is good; but when it comes to cultured vegetables, getting plenty of L. plantarum in your gut is a very good thing.
Ferment any vegetable and the chances are very good it will start changing you from the inside out.    🍆🍠🌶🥒