The Food Poisoning Remedy
by
A wise man should consider that health is the greatest of human blessings, and learn how by his own thought to derive benefit from his illnesses. ~Hippocrates
I found cultured veggies in the most unlikely way, but really it was the veggies who found me. They opened a door to a world that was made for me and made a cold winter day come alive for me. My husband, my oldest daughter, and I were all pretty sick that day. We had eaten some bad artichoke dip (not cultured) and found ourselves with food poisoning. I became so sick I felt delusional. I couldn't think straight and called out to my husband to help me. I was having a hard time breathing and the room was spinning and I couldn't get to the bathroom. I was being poisoned from the inside out and it was scary. I was the first one to get symptoms of food poisoning, and my husband and oldest daughter soon followed. I remember lying in bed that day and coming in and out of sleep and I was dreaming about chickens, of all things. As I woke up from my dream I remembered something I had read earlier that week. It was the story of the chickens that were cured from the bird flu epidemic. They had been given fermented vegetables  and it cured most of them. I had made my first jar of cultured veggies that same week and remembered they were in the back of the fridge. Could I get to the kitchen to get some of those veggies? I was so sick, but just maybe they would help me because they did help the chickens? I remember hanging on to walls as I made my way to the kitchen. I was so dizzy and the toxins were making me unable to stay upright for long. I found the jar in the back of the fridge and opened it. I was too weak to get a spoon on the other side of the kitchen, so I just swigged a bunch of juice from the jar and made my way back to bed. Twenty minutes later I was up doing dishes in the kitchen and feeling almost normal. I remember thinking it was a miracle and found myself crying in the kitchen. What was this food that had done something so dramatic to me? It was only the beginning  of learning the wonder of these cultured veggies, but they had convinced me of their power and I found myself crying in relief – that the misery I had been feeling was gone. I have become their ambassador and I get to have the pleasure of watching them work their miracles again and again on so many who are sick and suffering.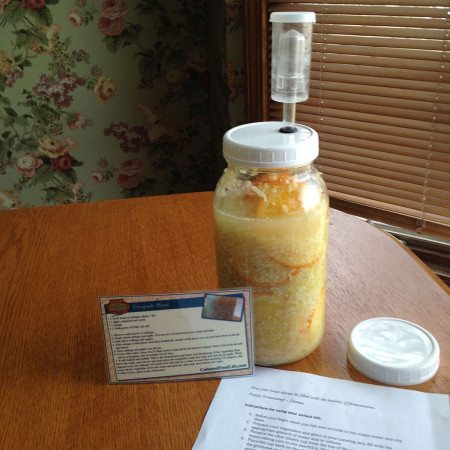 I have seen this type of thing many times now – powerful cultured veggies that have the power to knock out stomach viruses and colds and flu. I have written many blogs about it to try and spread the word. Everybody should have these in their refrigerators. You know what it is like to have stomach cramps and diarrhea and the misery it can bring. I know of nothing, including any medication, that is more effective than these cultured veggies. Think about it; when you have these symptoms, what do you reach for to stop the symptoms? Really, there isn't anything out there that can actually help. You just have to suffer with it till it's over. Well, no more! Take one spoonful of juice every hour and it will stop it in its tracks and speed you on to wellness.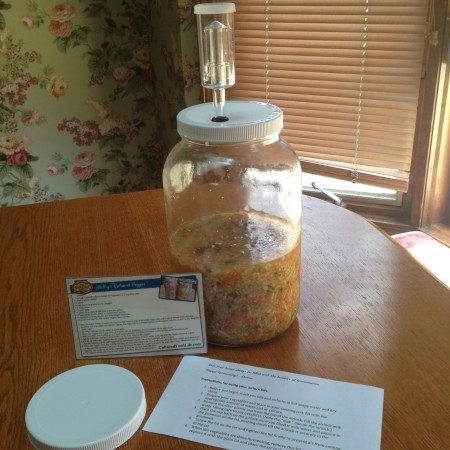 Throughout the last thirteen years I have discovered many things to make these veggies stronger, and by no means do you need to have special equipment to make them. You can make them in a canning jar and they work great, but I have found that airlock jars work well to give a better finished product with less chance of developing the harmless Kahm Yeast.  Also, using airlock jars will make the veggies  a little crispier. However, they still work great without these special vessels. I really want you to make them. So however you can make them, please do so and reap the benefits. Using a packet of  Cutting Edge Culture for fresh vegetables also makes for more probiotics that stay at higher levels longer. You can reuse the brine after using a package again and again so it can make it really cost effective. Making cultured veggies without a culture works great too, but the bacteria seems to die much quicker and in my personal experience,  Cutting Edge Culture can't be beat for any kind of sickness.
One more thing – cultured vegetables cannot cause food poisoning, it is a scientific impossibility. Here is a video and blog to help explain it. https://www.culturedfoodlife.com/dont-try-so-hard-its-easy-and-i-will-help/ It is safer to eat these foods than raw vegetables because fermenting them makes them loaded with good bacteria. These good bacteria preserve and make these foods some of the safest foods on the planet – and that's a fact, jack! (Check out my blog)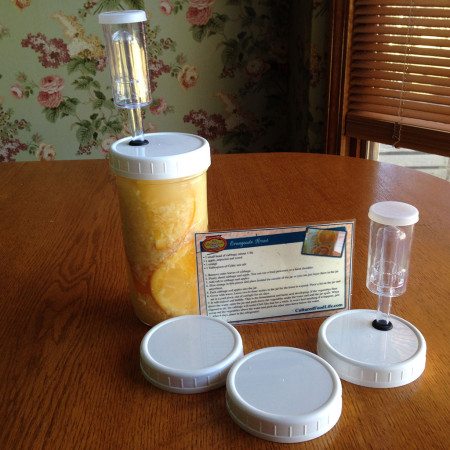 There is a new recipe below and here is a link to many cultured veggie recipes that you can use to help you when you are sick or when you are well. All of them work really well to help with any kind of stomach issues. The juice is just as powerful as the veggies, in case someone can't handle solid food.
Here are the new fermenting jars that I am selling in my store. You can also buy just the lids to fit on any regular or wide mouth canning jars.
Make cultured veggies however you can. It's important and you won't regret it.
Cultured Broccoli Salad in a Jar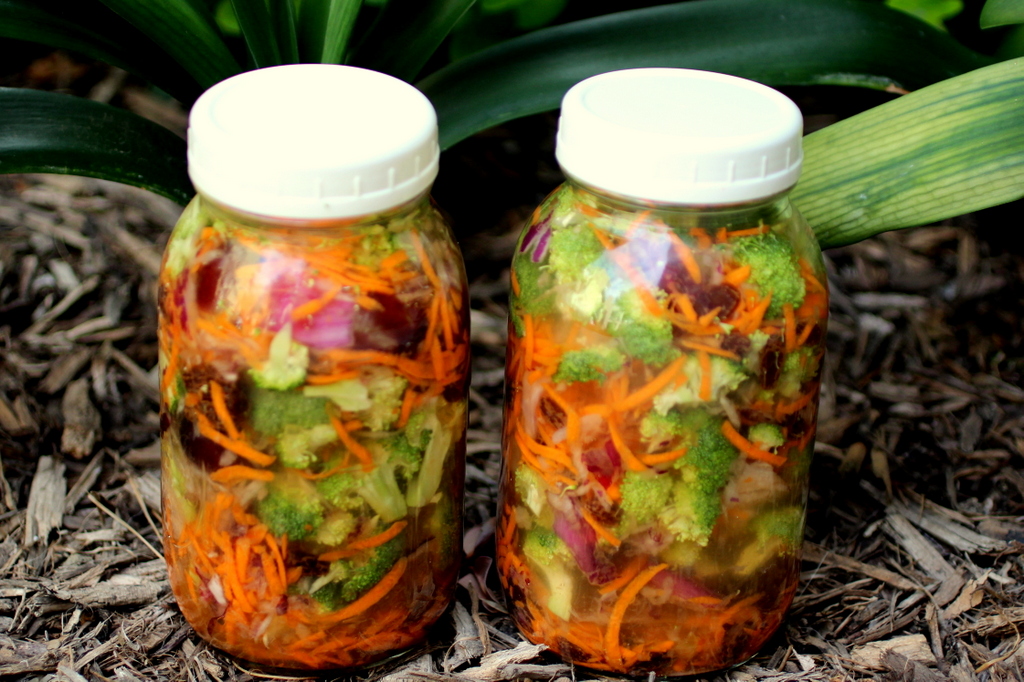 This is a fun way to culture your broccoli. If you like broccoli salad made with raisins and carrots, you will love this. Just take it out of the jar and mix with some of my kombucha mayo (recipe in my book). You can also just use it as a topping for your salad. Add a head of fresh lettuce to a bowl, scoop out these veggies, and serve with your favorite dressing.
~Donna
Ingredients
1

head

broccoli

chopped (florets only)

1

small

red onion

thinly sliced

2

teaspoons

lemon juice

freshly squeezed
Instructions
If using the starter culture, stir together the culture and water. Let the mixture sit while you prepare the ingredients—around 10 minutes. If using kefir whey, add it when the recipe calls for culture.

Add the broccoli florets, carrots, red onion, raisins, grapes, lemon juice, and salt to a ½ gallon canning jar or vessel.

Add the lemon juice, Cutting Edge Culture or kefir whey and cover with water, leaving an inch or two at the top.

Seal the container and let it sit on your kitchen counter, out of direct sunlight, for 3 days, then place in the fridge.

Check the vegetables every day to make sure they are fully submerged in the water. If they have risen above the water, simply push them down so they are fully covered by the water. If any white spots formed because the veggies rose above the water, do not worry. Remember, this isn't harmful. Just scoop out the vegetables that have the white spots on them and push the rest back under the water.
Recipe Notes
Storage note: This can be kept in a covered airtight jar in the refrigerator for up to nine months.