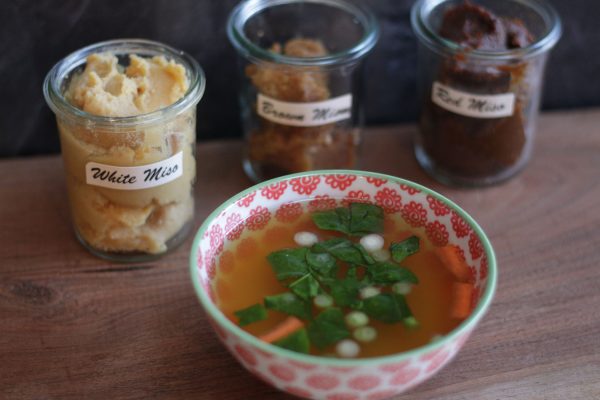 Miso Soup
You can add one or all of the optional ingredients. You can also make it with just water and miso paste which I do all the time! Miso is very versatile and so easy to add to many different types of soups. This is my fast and easy recipe and one I use often. I always take my soup off the heat for a few minutes and then add the miso slurry to preserve the probiotics.
Ingredients
1½

cups

Water spring or filtered with minerals

1

tablespoon

Miso Paste –

you can use red, white, or brown miso
These are all optional ingredients you can add
1

tablespoon

Green Onion

¼

cup

Tofu

–

cubed

½

sheet

Nori

–

(dried seaweed)

2-3

Shrimp

¼

cup

Spinach

¼

cup

Carrots

–

shredded
Every ingredient with a link was selected by me to make it easier for you. I may receive a small affiliate commission if you buy something through my links. Thank you! ❤️
Instructions
Bring your water to a boil. Then add your choice of optional ingredients to the water. Let it sit while you make the miso slurry.

In a small bowl, mix the miso paste with 1 to 2 tablespoons of slightly warm water to make a slurry.

Once the soup has been off the heat for a few minutes add the miso slurry and stir.
Notes
If you add green onions and veggies to your miso soup you are adding a prebiotic (which is food for bacteria). This makes the good bacteria inside you grow and multiply like crazy.