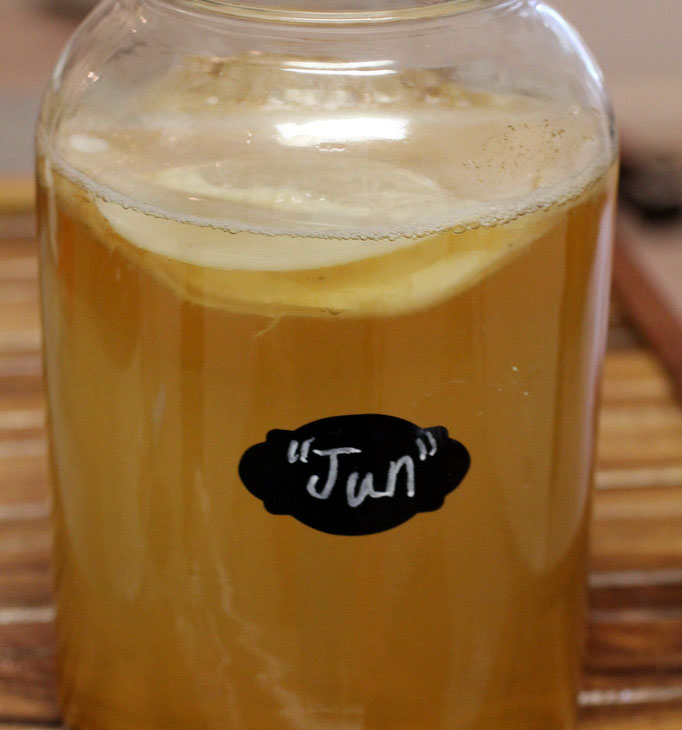 Jun Kombucha
Traditional "Jun" is said to be a completely different culture than kombucha.  Jun is made with honey and green tea. There are some who believe it is just a hybrid of the traditional kombucha SCOBY. In any case, this is our kombucha version of Jun and to learn more check out this blog:
Jun! New Culture or Honey Kombucha Hybrid?
Every ingredient with a link was selected by me to make it easier for you. I may receive a small affiliate commission if you buy something through my links. Thank you! ❤️
Instructions
Bring 12 cups of water to a boil.

Add tea bags to water and honey.

Turn off heat and let brew for at least 5-10 minutes.

Strain your tea, if necessary, into your brewing vessel. Let cool.

Once completely cool, add your kombucha starter liquid and SCOBY.

Cover with a thin cloth or a towel and rubber band to secure.

Brew on countertop from 6-14 days. Houses warmer than 70 degrees will take less time than cooler houses.

When your Jun Honey Kombucha is to your taste, you can drink right away or store in bottles in the fridge.
Notes
When second fermenting with Jun/honey kombucha, the alcohol content can rise if you are not careful. Do not second ferment Jun/honey kombucha that is very sweet or you will wind up with a more alcoholic beverage. Honey is highly beneficial and the flavor of the Jun/honey kombucha by itself, with no second fermenting, is carbonated and lovely and has its own unique benefits due to the benefits found in honey itself. So don't be scared!
Make a note, there will be more sediment at the bottom than your regular kombucha brew.