I love Kefir ice cream. It is easy and delicious. It's something special you can make for your family.  It is a treat, plus it loaded with nutrients and probiotics.
If you can purchase one of those ice cream makers that you put in your freezer and sit on your counter and you can have ice cream in as little as 20 minutes.  There are quite a few to choose from. I  bought a Cuisinart ice cream maker about 7 years ago. Last year decided to purchase one with a compressor that does not require freezing the bowl ahead of time. Either version works great.
Kefir ice cream is something I make weekly and sometimes daily. It's a great probiotic treat. Here's something else that I do that is a big hit with my family: I take my leftover kefir sourdough waffles place them in the toaster to crisp them up. Then I top them with kefir ice cream in the middle for an awesome ice cream sandwich. Everybody loves these. Here are some kefir ice cream recipes that your family will enjoy.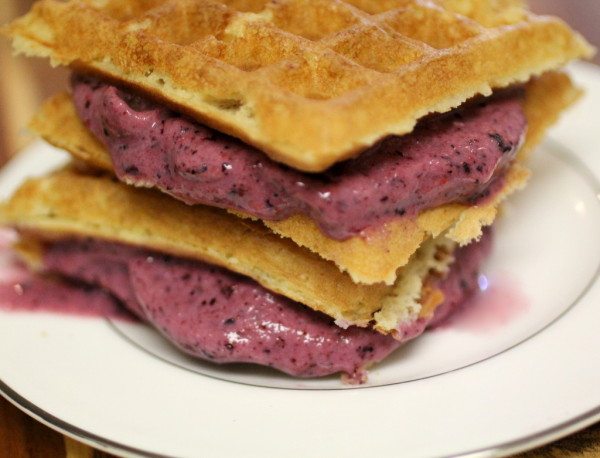 Berry and Banana Kefir Ice Cream Sandwiches
I love taking two kefir sourdough waffles and putting kefir ice cream in the middle for an awesome ice cream sandwich. So delicious and everybody loves them.
Ingredients
2

bananas

1

cup

blueberries or strawberries

-

frozen or fresh

4

cups

Kefir

¼

cup

Monk Fruit
Instructions
Place ingredients in blender and puree.

Pour into ice cream maker and freeze according to manufacturer's instructions.

Place ice cream between waffles that are fresh, or you can toast them to make them crispy.


Check out ten different ways to have kefir ice cream!