How Many Cultured Foods Do I Eat In a Day?
by
People have the mistaken idea that I only eat cultured foods all day long. Although there are a lot of days that I do eat only cultured foods, this is not the norm. I mostly eat them because they're easy for me to prepare and are what I call healthy fast food. You don't need to add tons of cultured foods to your diet to see benefits, and I am going to show you how easy it is. It might surprise you that small amounts can make a big difference. But here's the caveat –  if you really want to see huge changes, you need to add lots of fruits and veggies. So many fruits and veggies are prebiotics (food for bacteria) and you will see your microbes change you from the inside out. You will crave these foods more and more. As your bacteria change inside of you, so does your desire for certain foods.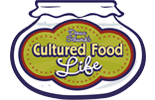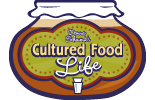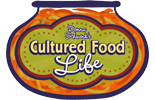 Here is what a typical day looks like for me. I recommend eating what I call "The Trilogy" – kefir, kombucha, and cultured vegetables. You can eat any of these and still receive benefits even if you only consume one of them.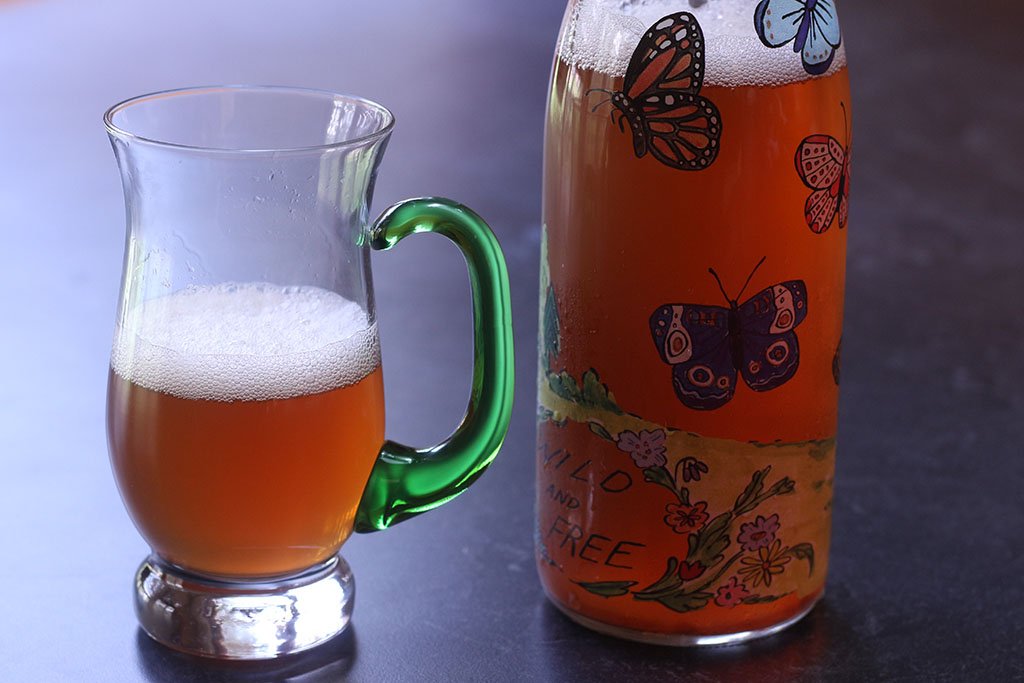 First thing in the morning, I usually head out the door and exercise. But before I do, I juice an apple with a big hunk of ginger and swig it down all at once. You can head over to this blog to see why I do this. If I'm busy, I add the ginger to my smoothie in the recipe below. After I run, I come home and drink 8-16 ounces of kombucha while I start answering emails and then I enjoy a pot of tea or healthy coffee alternative. Check out this post to see which ones I drink.
Make smoothies and store them in the fridge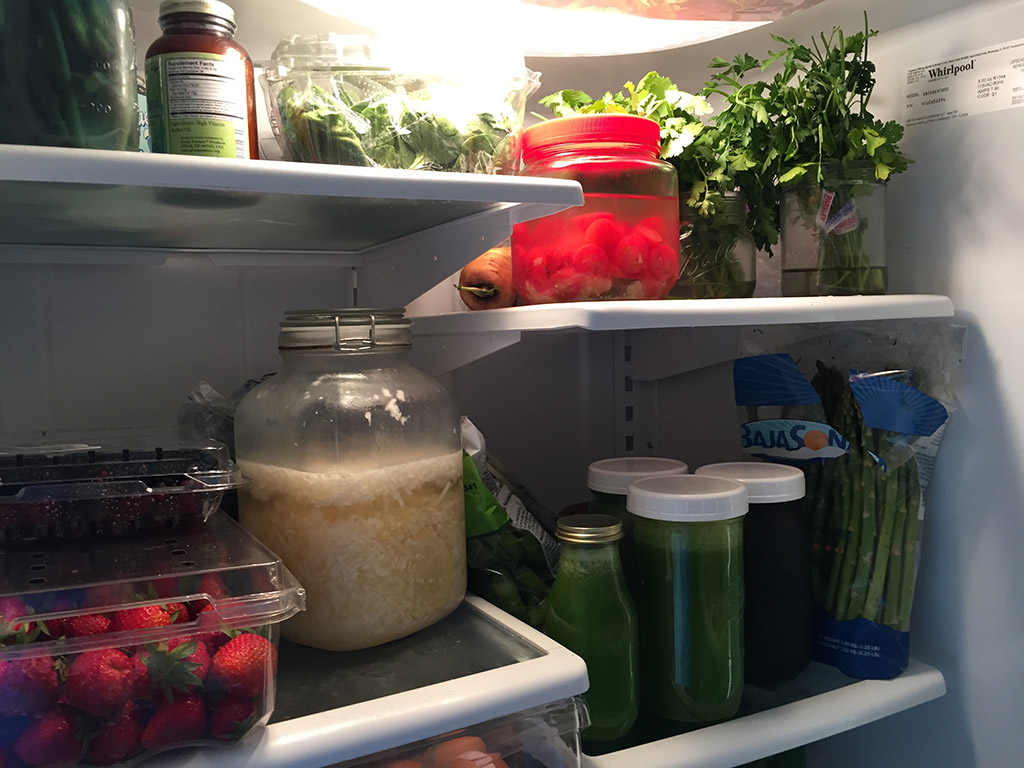 An hour or two later, it is usually a kefir smoothie for me. A cup or a half cup of kefir is a lot and gives you tons of probiotics. I do this almost every morning. Sometimes I make it up the night before and store it in a quart mason jar in the fridge for my family. I have been having mostly green smoothies for breakfast. The more greens you have in your diet the better. Blending several cups into a smoothie makes it taste delicious and is the fastest and easiest way to get them into my family's diet. First thing in the morning is a plus.
Cultured veggies with lunch and dinner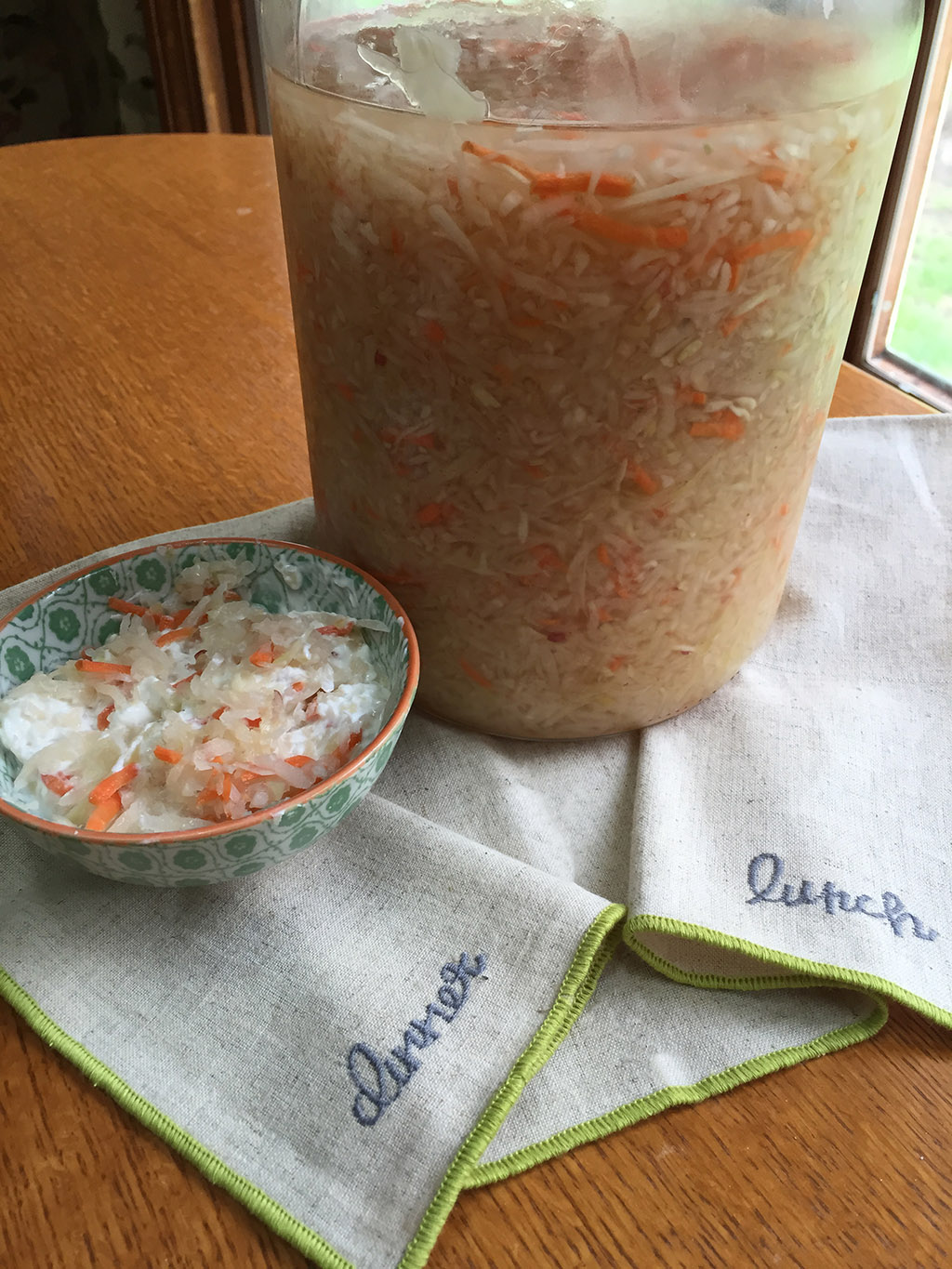 For lunch, I always have cultured veggies in a variety of ways. It can be as simple as a couple spoonfuls of cultured veggies with my lunch. Or I will mix a spoonful of cultured veggies in kefir cheese sprinkled with salt and pepper and eat it with veggies or with blue corn chips. I can make a meal of this and often do, but it can also just be a couple of pickles with whatever I am having for lunch. I have so many different ways to do this, be it tomato bruschetta on top of toast, or a seaweed dip, or a salad with cultured veggie juice in the dressing, or veggies served on top of the salad.  The combinations are endless. But just a spoonful with lunch or dinner, or both, is a lot and can bring about lots of benefits to you and your health.  I  make all kinds of combinations of things, which I will be showing you in my new book due out November 3, 2015.  I don't create difficult recipes because then I won't use them. I am too busy, and I assume you are too. I usually have about one cup of kefir, a half cup to a cup of cultured veggies, and 8 to 16 ounces of kombucha. Often it's a lot more, but this is what I try to do every day.
We're not talking huge amounts
So, that's not so hard, right?  We're not talking huge amounts. As you start adding these amounts, along with other fruits and veggies that are prebiotics, you will start crowding out the other foods. Before you know it, you will have changed the microbes in your gut.  This will make you start craving the foods that help you stay healthy. Your microbes, depending upon what you feed them, make you crave different foods. Feed them lots of junk and those microbes will grow and make you crave junk food. Feed your microbes lots of cultured foods and add prebiotic foods like fruits and veggies and I kid you not, you will start craving healthy foods like never before. I have found this to be especially true just by having a green smoothie every morning. It has had a profound effect on my family. We all started eating more veggies and fruits when we started every day with a green smoothie. This recipe is one of my very favorite green smoothies. I devised it when  I was reading a book about chimpanzees and how they eat 45 percent of their diet in greens and 45 percent in fruits. Hence, the name Chimp Mint Smoothie. It's crazy good!! I love fresh mint in a smoothie. I hope you enjoy it! Nobody will know it has two cups of greens in it.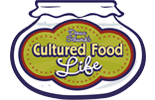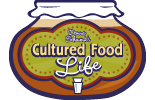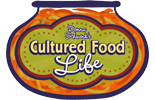 Chimp Mint Smoothie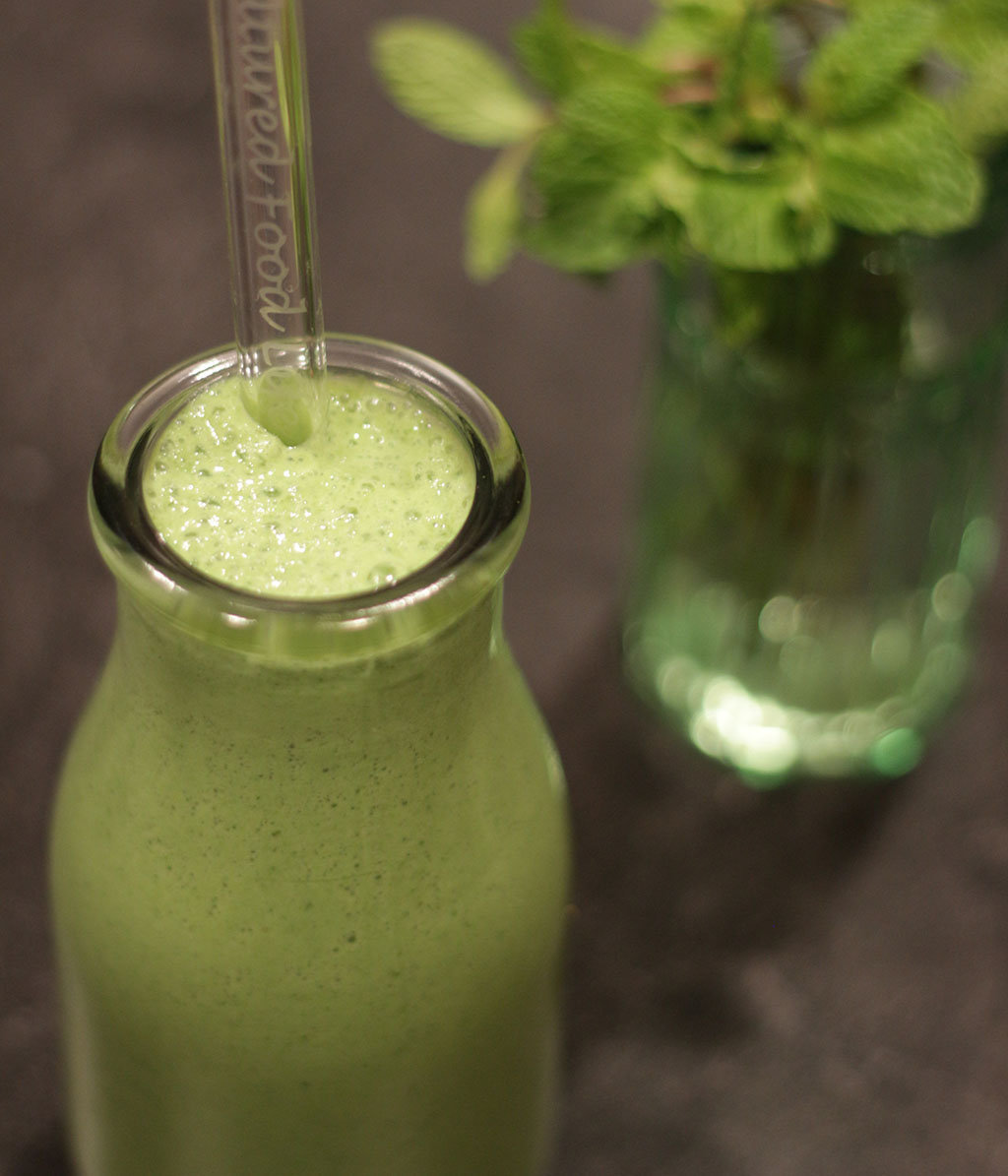 Green smoothies are such a great way to start your day. How else would you get 1-1/2 cups of spinach for breakfast? Make a smoothie!~Donna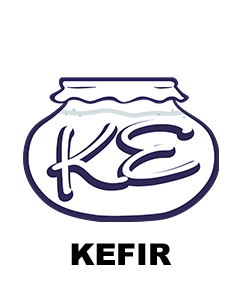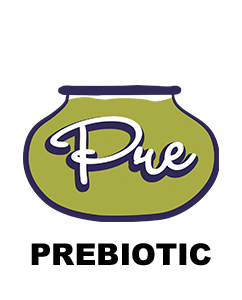 Print Recipe

This recipe has been added to your Meal Plan