Knowledge is knowing a tomato is a fruit. Wisdom is not putting it in a fruit salad.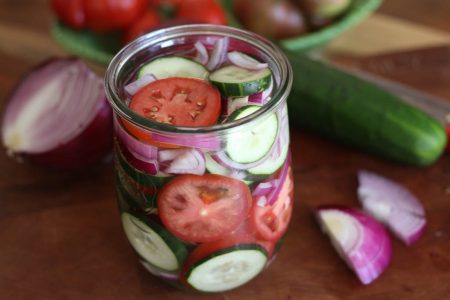 This is a favorite summertime salad made with cucumbers, tomatoes, and red onions that are abundant in the summertime. The taste is so light and fresh that I can eat gallons of this salad. I have had this salad many, many times made with vinegar but it was never fermented. So I took it upon myself to fermentize it and fill it with probiotics.  My brother-in-law has coined this word - fermentize - and he made me laugh when he asked if I can fermentize every known food under the sun. Here are a bunch of reasons to make this salad and not the least of them is that it's cultured, or fermentized, and loaded with enzymes and probiotics to make these special vegetables even more powerful.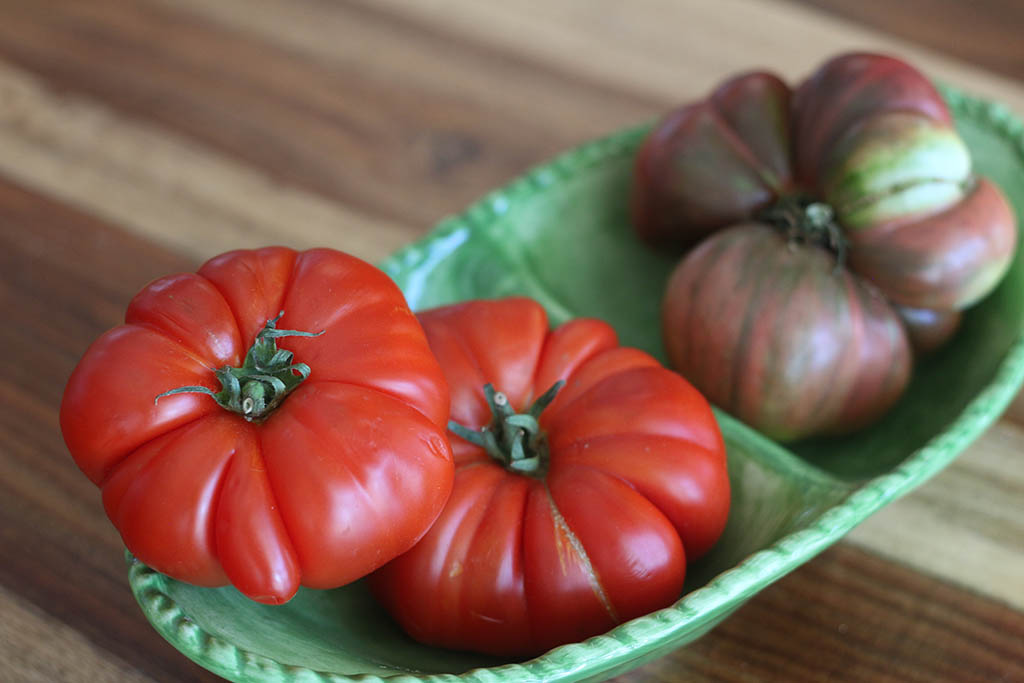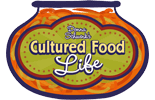 Here are just a few of the things tomatoes can do for you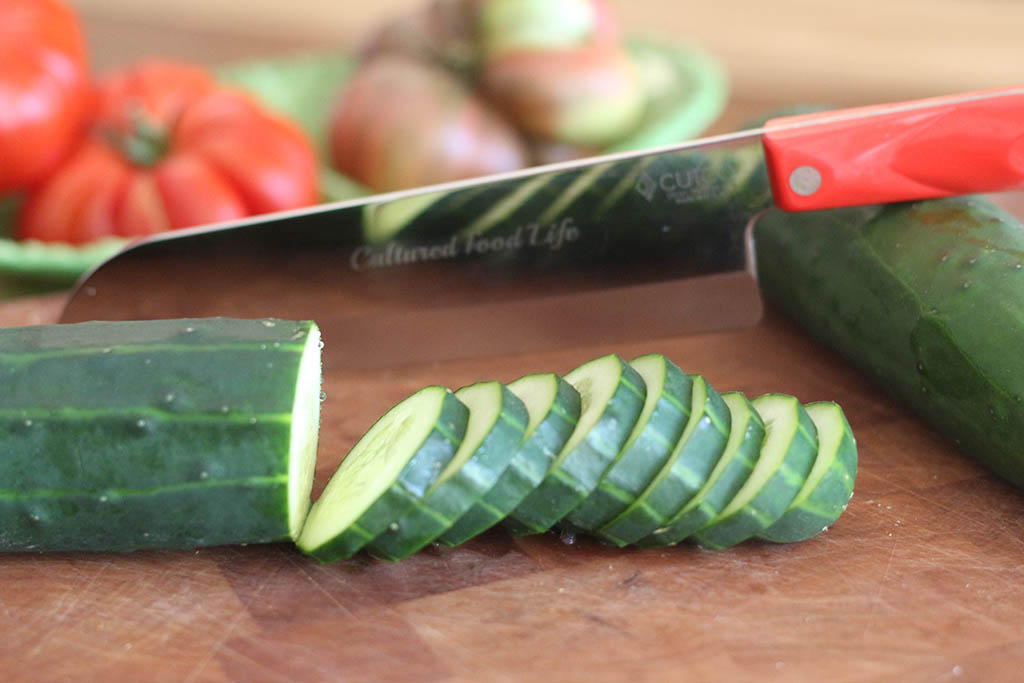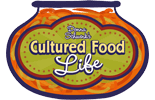 These are just a few compound helpers in cucumbers
Cucumbers are full of ionic potassium, magnesium, and vitamin C which give it a powerful alkalizing effect within the body.
Cucumbers are great for stabilizing blood pressure and stimulating the body's natural detoxification process.
Cucumbers also contain the triterpene phytonutrients cucurbitacins A, B, C, D, and E. These phytonutrients have been the major focus of some extensive research looking deeply into their abilities to inhibit cancer cell signaling pathways.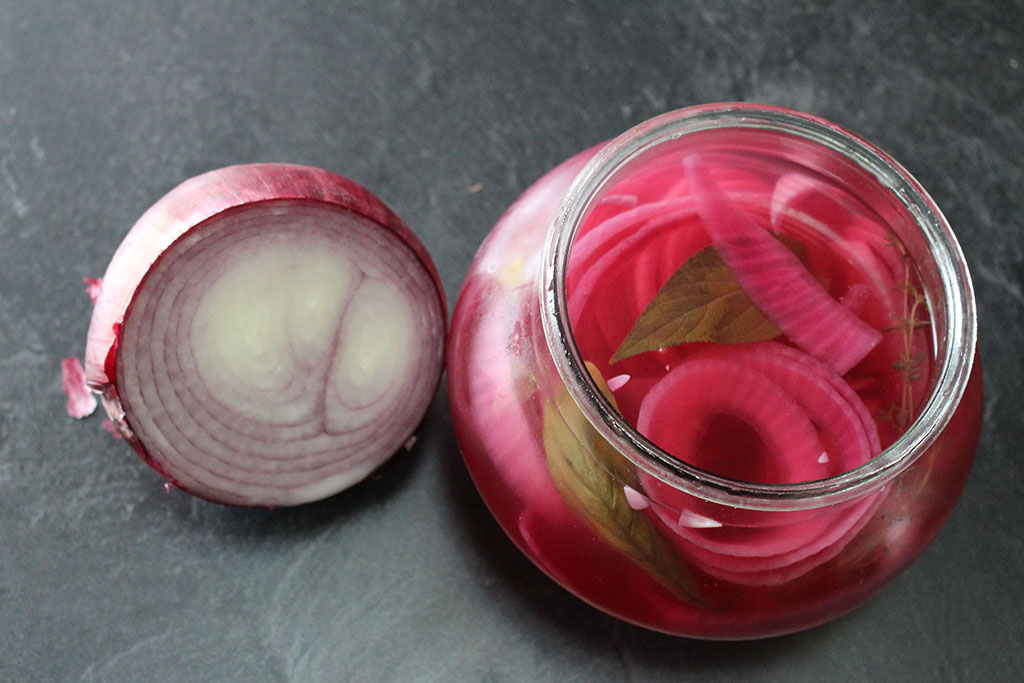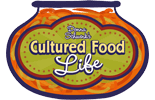 Red onions have powerful properties
Anthocyanins: A type of phytochemical which is anti-inflammatory and strengthens eyesight and the nervous system. Anthocyanins have also been linked to improving memory and the prevention of aging.
Red onions are high in vitamin C that protects cells from oxidative damage, supports collagen formation in wound healing, and promotes a healthy immune system.
Onion is full of flavonoids, particularly quercetin. Flavonoids are natural chemicals that prevent the deposit of fatty material in blood vessels. Quercetin is a powerful antioxidant that is believed to help reduce heart disease and protect against many forms of cancer. It also has anti-inflammatory properties.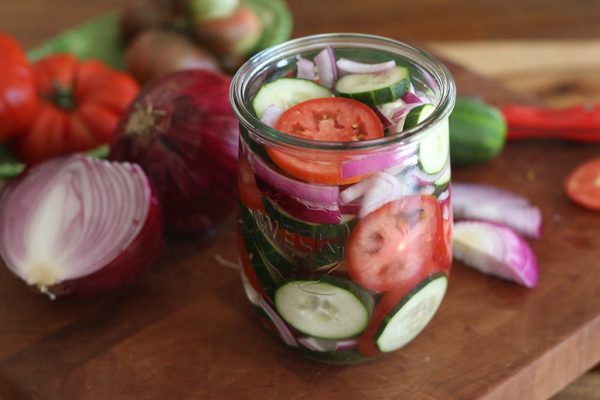 Fermented Cucumber Tomato Salad
You can add more fresh tomatoes (that are not fermented) to stretch the dish to feed more people. Super yummy, so the more tomatoes the merrier!
Every ingredient with a link was selected by me to make it easier for you. I may receive a small affiliate commission if you buy something through my links. Thank you! ❤️
Instructions
If using the starter culture, stir together the culture and water. Let the mixture sit while you prepare the ingredients—around 10 minutes. If using kefir whey, add it when the recipe calls for culture.

Place the tomatoes, onion, cucumbers, salt, and pepper in a large bowl and toss to combine.

Add the mixture to a one-quart glass jar that can be securely sealed.

Add the Cutting Edge Culture or kefir whey and cover with water, leaving an inch or two at the top.

Seal the container and let it sit on your kitchen counter, out of direct sunlight, for 2 days. After 2 days, place the container in the refrigerator.

When ready to serve, scoop tomatoes and cucumber mixture into a bowl. Toss with parsley and drizzle with olive oil. Serve immediately.
Notes
Storage note: This can be kept in a covered airtight jar in the refrigerator for up to three weeks.

Are you on the list?
Sign up today and I'll send you my free Getting Started Guide!
Each week I'll send you updates, tips, recipes, and more! You might even be a winner of my weekly giveaway! (starter cultures, memberships, and more!)
Come be a part of my cultured food family!