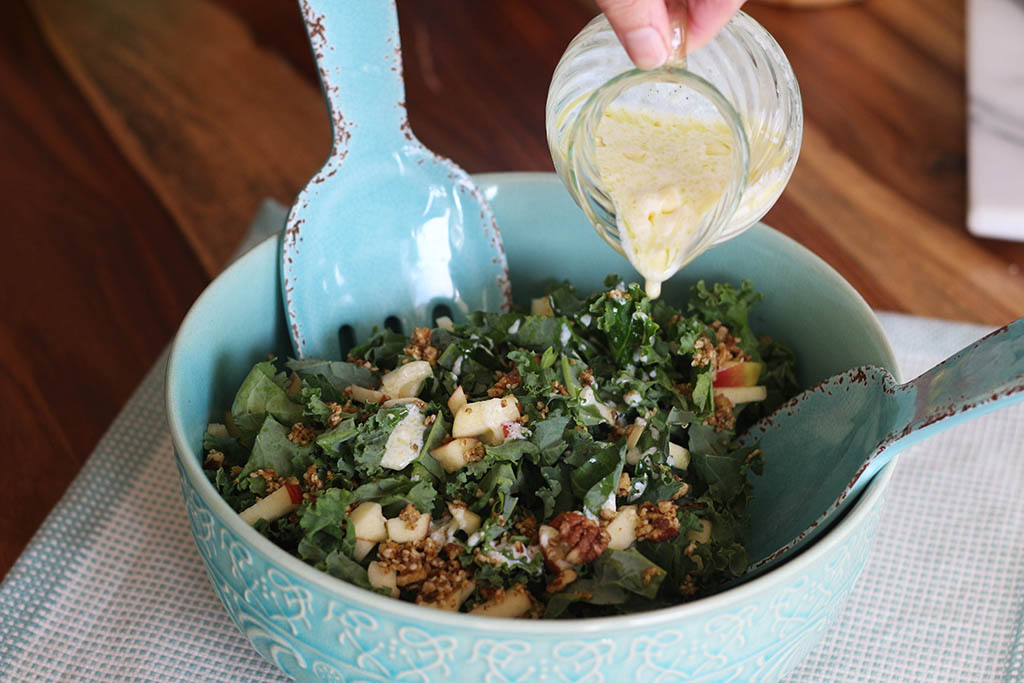 Fairest and best adorned is the salad whose dressing is cultured.
I have been making this salad a lot lately. A while back I had my nephew, his girlfriend, and my older kids spend a few days with me due to a snow storm.  I watched these five young people devour this salad and ask for more and tell me how good it was. I decided it was the best and fairest salad in the land. It has been my favorite, too, but I don't count because I say that all the time about everything that tastes good to me. It's an occupational habit so I will let you be the judge. Try it and see for yourself how wonderful this kale and spinach salad can be. For all the picky eaters who turn up their noses at cultured foods, this salad and its special salad dressing will be an easy way to introduce cultured foods.
A good salad dressing is so easy to make
I stopped buying salad dressing years ago. Since it is so easy to whip up a dressing with probiotics, I make them fresh for every salad.  Store bought salad dressings are so unhealthy and filled with ingredients that make me cringe. A good salad dressing is so easy to make and is one of the simplest cultured foods. I hope to teach everybody to start making their own salad dressings. You can start filling your life with culture and probiotics and just you wait and see how fun and easy it is!
I drive my husband, Ron, crazy because I don't often make the same recipe more than once. I am always trying new ones because it's so fun to be creative. I can remember one night at dinner my husband looked down at his food and said sadly, "I like this so much and I am never gonna get it again!" That being said, I have already made this salad many times and since everybody loves it so much, it will go in the very special recipe file on my computer that says "Recipes that Ron loves." After all, he is my biggest success story and pickiest eater, and he is the one who has made me the most creative of all.
"Creativity is a natural extension of our enthusiasm."Earl Nightingale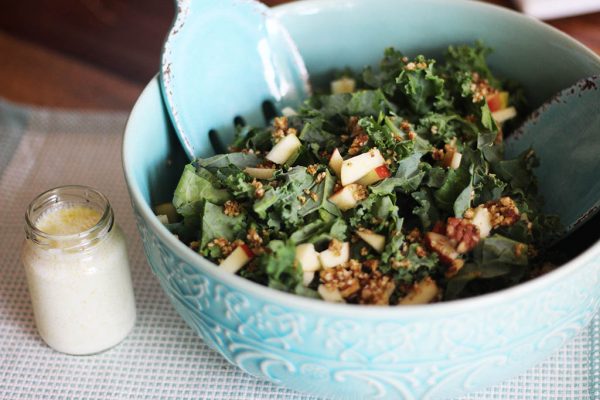 Fairest Salad in the Land
One of the secret ingredients in this recipe is the nutritional yeast. It has a cheesy flavor and is really tasty. A spoonful of nutritional yeast is like taking a high-potency B-vitamin complex. A serving will generally stock you up with a couple of days worth of thiamin, riboflavin, niacin, B6 and B12, and a substantial amount of folic acid. You can find it at most health food stores.
Ingredients
Salad
1

medium bunch

kale

-

stems removed and remaining leaves finely chopped

3

cups

baby spinach

1

small apple

-

chopped into tiny pieces
Pecan and sesame seed topping
Every ingredient with a link was selected by me to make it easier for you. I may receive a small affiliate commission if you buy something through my links. Thank you! ❤️
Instructions
Salad
Place pecans and sesame seeds on a baking sheet and toast in the oven for 8 minutes until they are lightly toasted.

While the nuts are toasting, toss the kale and spinach into a large salad bowl and then make the dressing.
Lemon kefir dressing
Chop the garlic finely and place in a food processor or blender.

Now add the kefir cheese, regular kefir, kombucha, lemon juice and zest, 2 tablespoons olive oil, and salt. Process until combined.

Drizzle this over the kale and spinach and toss to combine evenly.
Pecan and Sesame Seed Topping
Place the toasted pecans and sesame seeds into a food processor along with the nutritional yeast, 1 tablespoon oil, and a pinch of salt. Pulse until the mixture is the size of small peas. Do not overprocess because you want to sprinkle it on the salad and have it not clump together.

Combine the chopped apples with the kale and spinach. Sprinkle in the pecan and sesame seed topping and toss again to combine.

Are you on the list?
Sign up today and I'll send you my free Getting Started Guide!
Each week I'll send you updates, tips, recipes, and more! You might even be a winner of my weekly giveaway! (starter cultures, memberships, and more!)
Come be a part of my cultured food family!