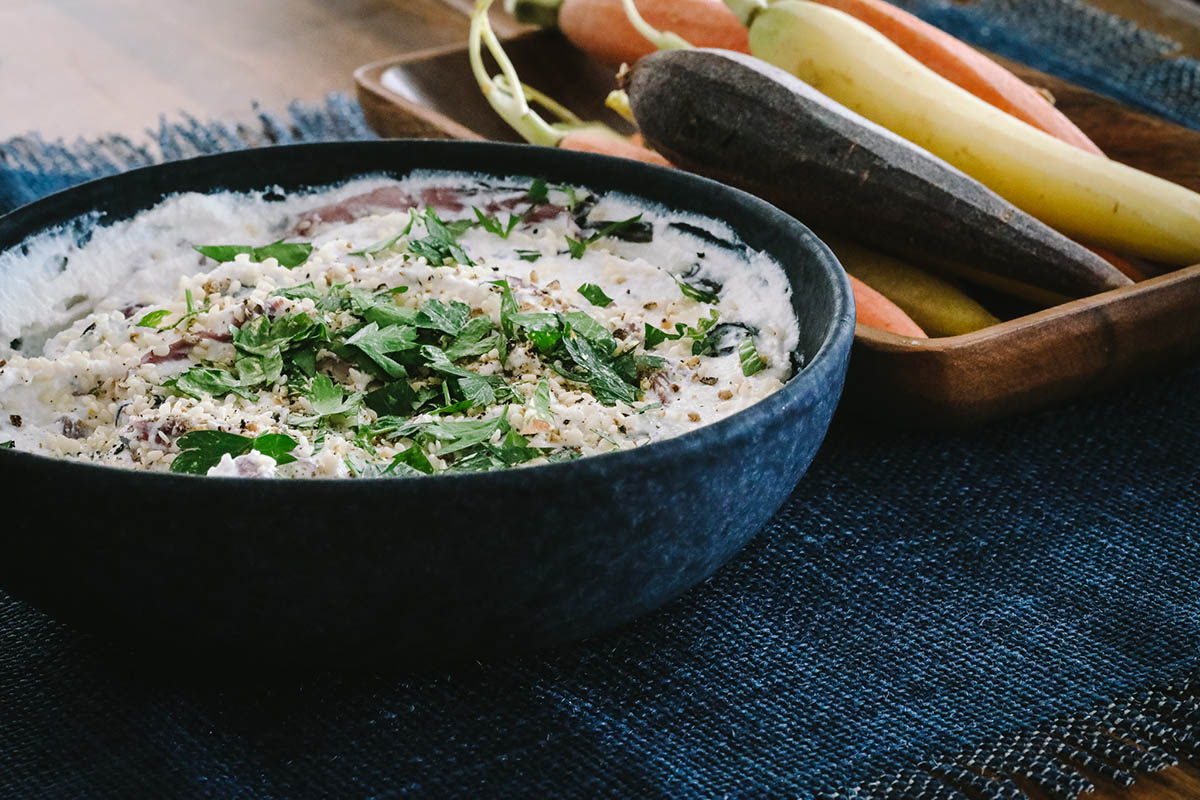 This recipe has only two cultured ingredients (cultured veggies and kefir cheese) and has more probiotics than any other dip recipe and it's crazy delicious. It's one of my family's most made recipes. On one particular occasion I took this to a party, and people were gobbling it up and asking me what was in it. I'm always hesitant to go into the big explanation of fermented foods since most people are unfamiliar with fermented foods and don't know what kefir is let alone cultured veggies, but on this occasion, it was warranted. Most people only took a small spoonful of my dish and everybody brought dishes but one man went crazy for this dip and could not stop eating it. I bet he ate at least three cups and oh my that is so MANY, MANY probiotics that were going to flood his body and clean house. I tried to warn him to slow down and explained that for somebody who has never had cultured foods of this magnitude, he was going to be thinking about me the next day when he was in the bathroom. Well, that was met with uproarious laughter from him and everybody who was listening, so I proceeded to tell him just what he had done.
Food is powerful medicine and your body is a gift that is quite miraculous. The purpose of food is to supply your body with energy and things that it needs to keep you in balance and create new cells and feed your good bacteria. Since you're mostly bacteria (100 trillion) and those bacteria work in numbers to do their job, you just flooded your body with billions of good bacteria that now have the numbers to go after pathogens, and believe you me—they will. You've unleashed a dragon that will kill those pathogens mightily, and so tomorrow you will feel it if your body can't eliminate the waste fast enough. Three CUPS is a lot!! I then proceeded to take the dip away from him and everybody had a great laugh, but I know these microbes and they will have the last say.
The next day he said, "You were right! Holy cow I was in the bathroom for a long time," and I said, "Were you constipated?" He said, "Yes, and I feel like I'm not done yet!"
"Gentlemen, it is the microbes who will have the last word."Louis Pasteur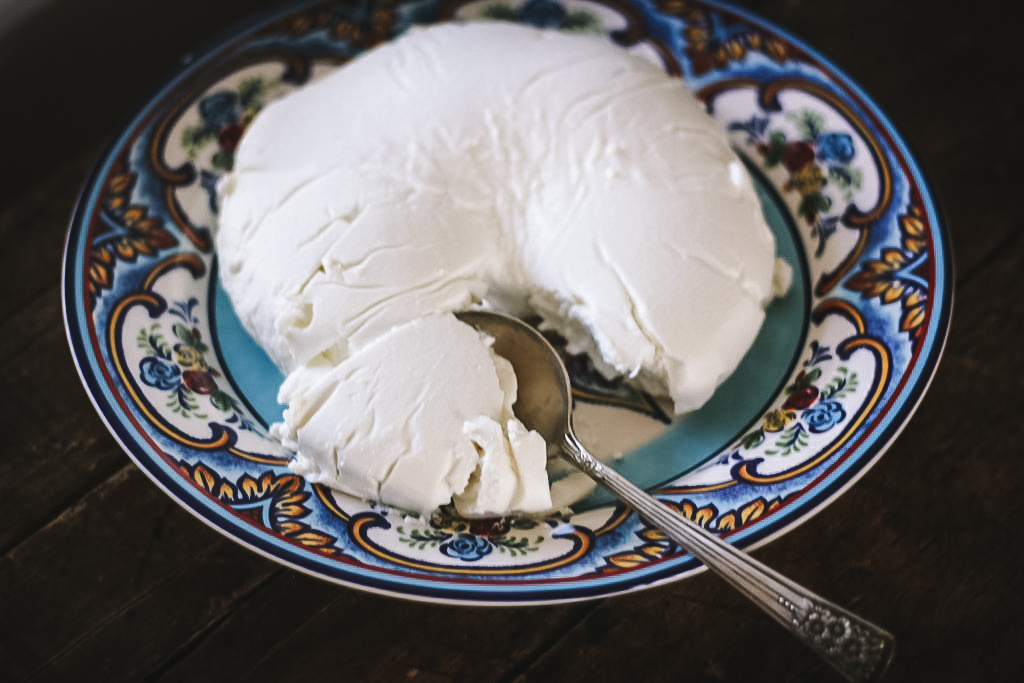 Kefir Cheese
You only need a couple of ingredients to make this yummy dip. The first is kefir cheese - you can substitute sour cream but you'll miss out on some of the most powerful probiotics. It's so easy to make kefir cheese. You only need some kefir, a strainer, a bowl, and a coffee filter. You can also buy a kefir cheesemaker, which is fun and easy to use. Check out this link.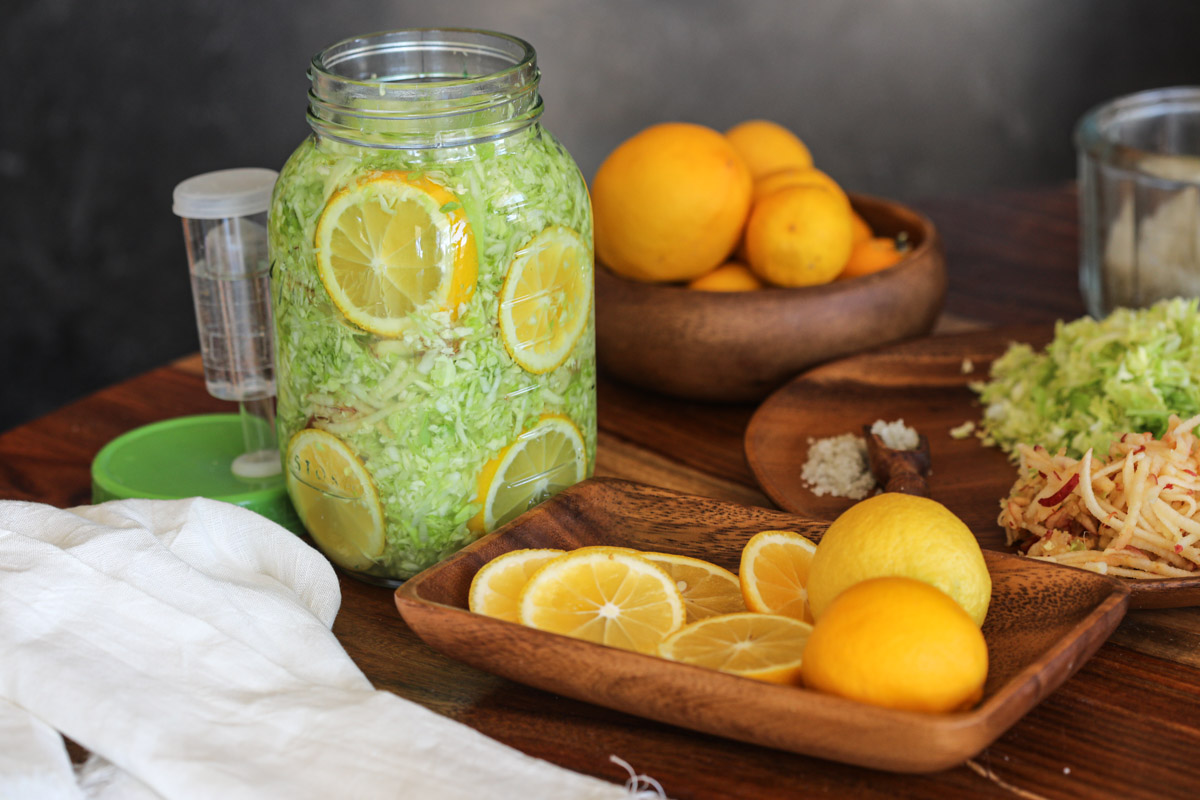 Cultured Veggies
The other ingredient you need is cultured veggies. I've used so many different types of cultured veggies in this dish that I'm going to give you my favorites.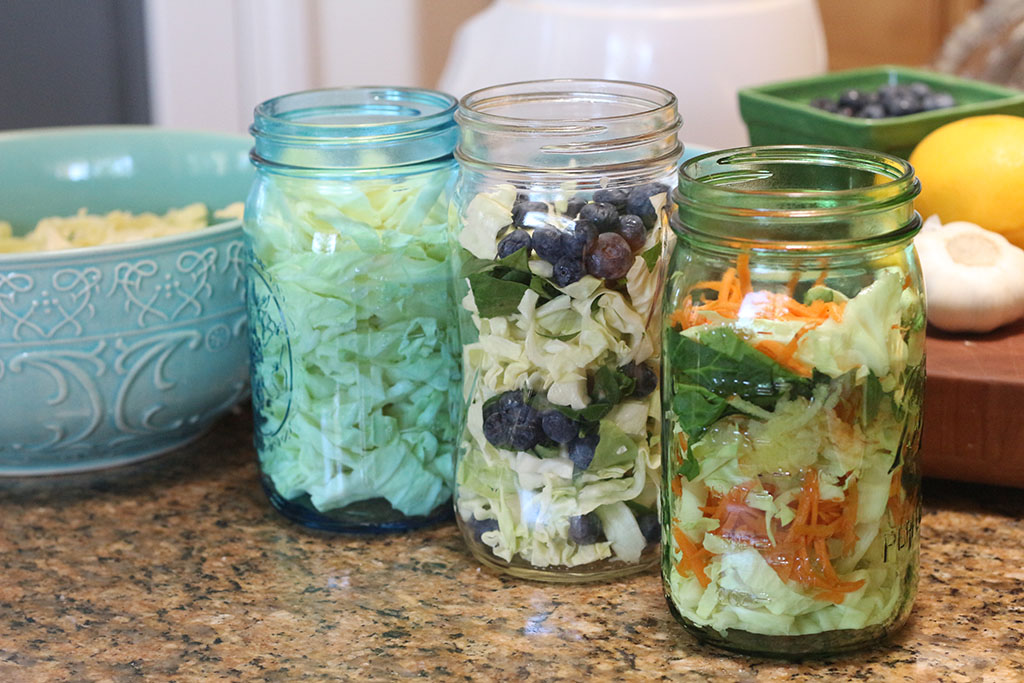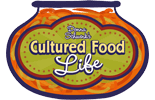 Or Choose Your Own Recipe!
Let's get started! We have over 100 cultured veggie recipes to choose from. Be creative! Mix and Match!! Turn your kitchen into a culturing haven!!! We have a basic recipe listed below, as well as this video: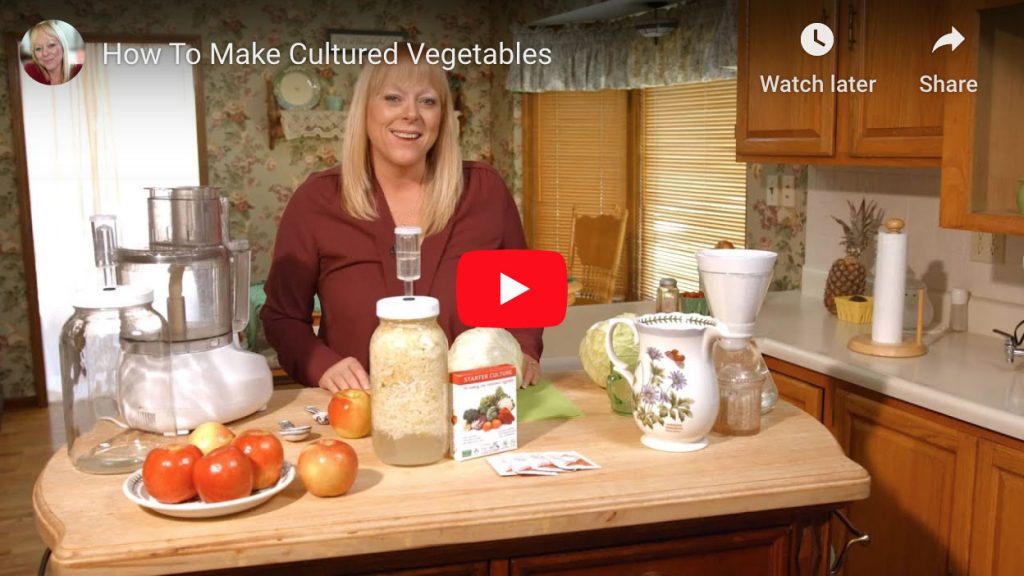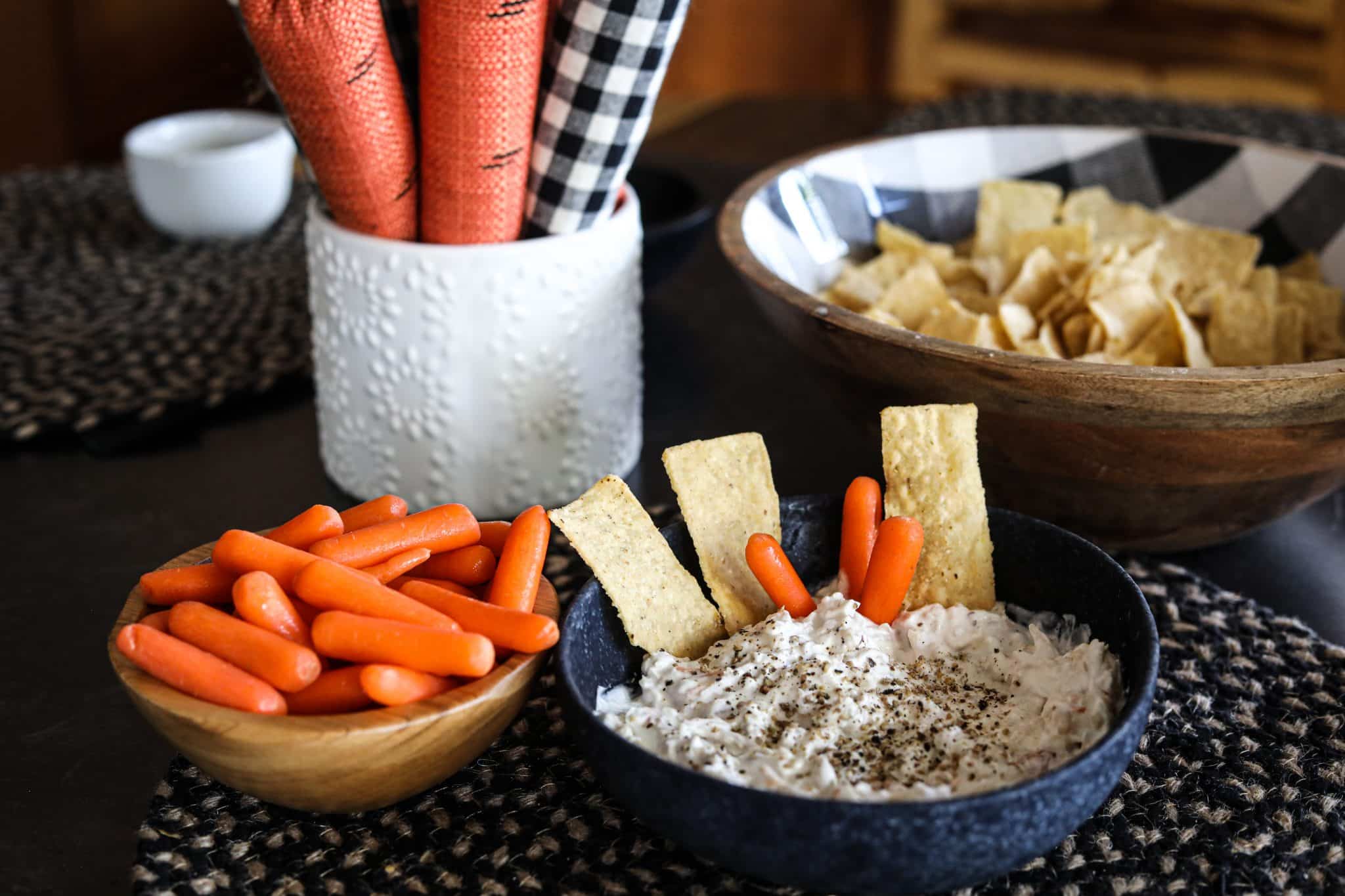 Kefir Kraut Dip
We absolutely love this dip and so do the people who come to my classes. Without a doubt, people always tell me how much they love it and how surprised they are it's so easy to make. This is probably one of the cultured food dishes I make the most. We love it with lots of fresh cracked pepper and a few toasted sesame seeds. You get both cultured veggies and kefir cheese in this dip and billions of probiotics. Trust me, it will be your go-to dish, just you wait and see!
Watch How to Make It
Ingredients
½

cup

sauerkraut - drained. Any cultured veggies will do, we like Lemon Kraut!

1

cup

Kefir Cheese -

(You can substitute sour cream but it will not contain the additional kefir cheese probiotics.)
Every ingredient with a link was selected by me to make it easier for you. I may receive a small affiliate commission if you buy something through my links. Thank you! ❤️
Instructions
Take one half cup of your favorite sauerkraut and one cup of kefir cheese and place in a bowl. Stir together with a spoon until well combined.

Optional: Sprinkle with black pepper and toasted sesame seeds or fresh parsley.

Serve with sprouted chips or fresh veggies.

This recipe has only two cultured ingredients (cultured veggies and kefir cheese) and has more probiotics than any other dip recipe and it's crazy delicious. It's one of my family's most made recipes. Check out how to make it and also the many benefits of probiotic cheese dip.
Are you on the list?
Sign up today and I'll send you my free Getting Started Guide!
Each week I'll send you updates, tips, recipes, and more! You might even be a winner of my weekly giveaway! (starter cultures, memberships, and more!)
Come be a part of my cultured food family!