You really must eat kimchi. Kimchi has a special probiotic that can keep a virus at bay. It can also help with any kind of stomach distress. Just ask the thousands of people in Korea how kimchi protected them from the bird flu epidemic. The probiotic bacteria found in cultured vegetables is called Lactobacillus plantarum. This special bacteria is powerful. It's helping to save thousands of babies from deadly Sepsis, which kills six hundred thousand infants annually.
Most people only know about Korean kimchi, which is delicious. Check out my Spicy Kimchi recipe! There is another kimchi recipe that I adore, but it's not Korean kimchi, it's Spanish. It has jalapeños and special spices! You simply must make it. You'll need it, especially with cold and flu season coming. It will last nine months in your fridge, and the taste . . . well, you'll love it, and want to make it again and again!!!
Here is how you make Spanish Kimchi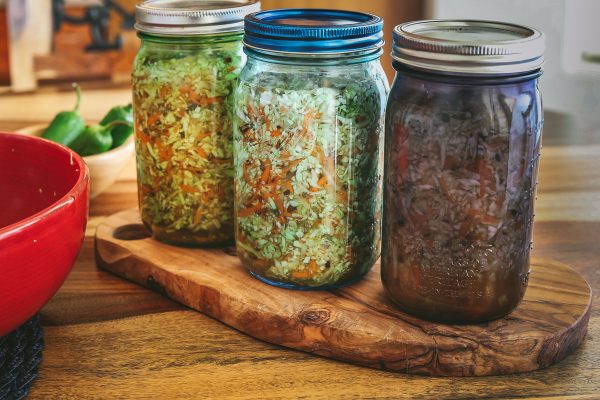 Spanish Kimchi
How do I explain how much I love these cultured veggies? The taste is so good and very different from regular kimchi. Hints of jalapeños and unique spices make this cultured vegetable one you'll reach for again and again. I love it on tacos and as a side dish served with blue corn chips. In El Salvador, the country where this dish originated, it is called Curtido and is often served alongside pupusas, a dish made from corn flour pancakes stuffed with a filling of shredded cheese. However you serve it, you'll get billions of probiotics and a taste that can't be beat.
Watch How to Make It
Every ingredient with a link was selected by me to make it easier for you. I may receive a small affiliate commission if you buy something through my links. Thank you! ❤️
Instructions
If using Cutting Edge Starter Culture, place ½ cup water in a glass measuring cup. Then add the culture and stir until dissolved. Let the mixture sit while you chop your vegetables—anywhere between 5 and 15 minutes. If using Kefir Whey, add it when the recipe calls for culture in step 4.

Remove the outer leaves and the core from the cabbage, and shred or chop the rest. Place the cabbage in a large bowl.

Shred or chop the carrots and onion, and add them to the bowl, along with the jalapeno.

Add vegetables to the bowl along with the red pepper flakes, oregano, chili lime salt, and Celtic Sea Salt. Combine all ingredients well.

Transfer the vegetable mixture to a half gallon glass or ceramic container that can be securely sealed and add the culture or kefir whey.

Press down firmly on the vegetables, then cover the vegetables with filtered water, leaving at least 2 inches of headroom at the top of the container.

Seal the container and let it sit on your counter, out of direct sunlight, for 6 days.

Check the vegetables every day to make sure they stay fully submerged in water. If they have risen above the water, simply push them down so they are fully covered by the water. If any white yeast formed because the veggies rose above the water, do not worry. Remember, this isn't harmful. Just scoop out the vegetables that have molded and push the rest under the water.

After 6 days, place the vegetables in your refrigerator where they will last many months perfectly preserved.

Are you on the list?
Sign up today and I'll send you my free Getting Started Guide!
Each week I'll send you updates, tips, recipes, and more! You might even be a winner of my weekly giveaway! (starter cultures, memberships, and more!)
Come be a part of my cultured food family!