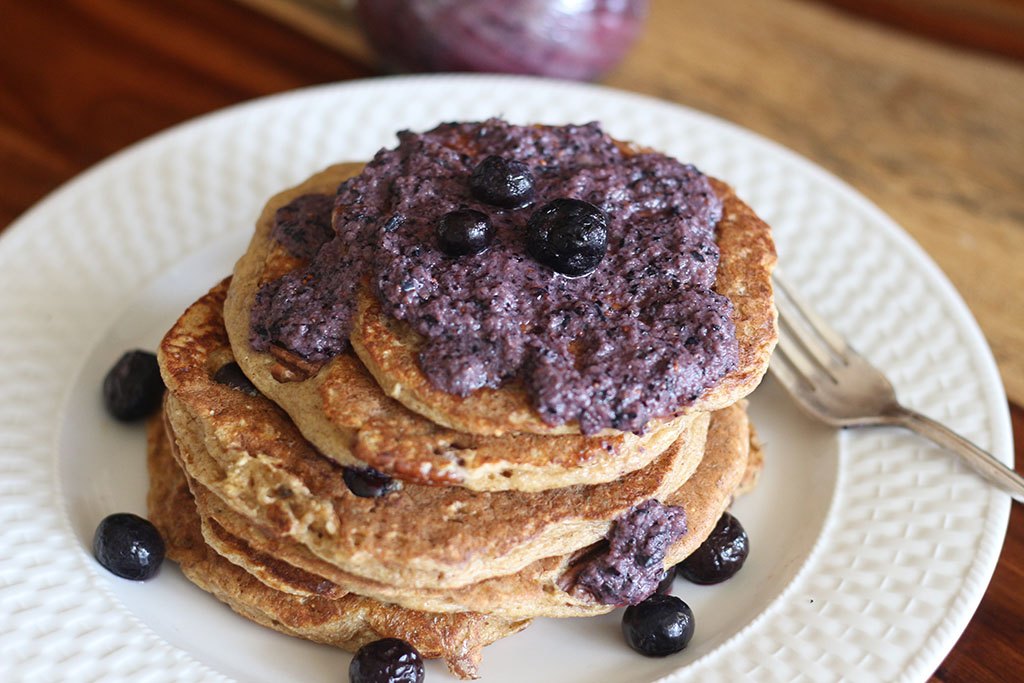 We love pancakes at our house. I mostly make sourdough pancakes, but I made a new pancake recipe this week, and switched out my sourdough starter (which I love) and replaced it with kefir. Oh my, they were wonderful, fluffy pancakes. The kefir acts in a manner similar to sourdough and helps the pancakes rise. I just loved the result. When you heat the kefir you do kill some of the probiotics, but then I made a yummy blueberry compote kefir topping to add the probiotics back in. Kefir is a wonderful ingredient to rise the flour in many types of breads, muffins, and pizza doughs. Kefir also helps you digest and receive more nutrients from the foods you eat, so I use kefir quite often in many recipes.
More probiotics than any other food
Kefir is a nutrient-dense food loaded with more probiotics than any other food on the planet. It's a staple at my house, and we use it in so many, many ways. If you like this recipe, check out all the recipes in my new book Cultured Food in a Jar. The Potato Pancakes in a Jar (pg. 64) recipe is so crazy good, I can't decide which of these recipes I like better.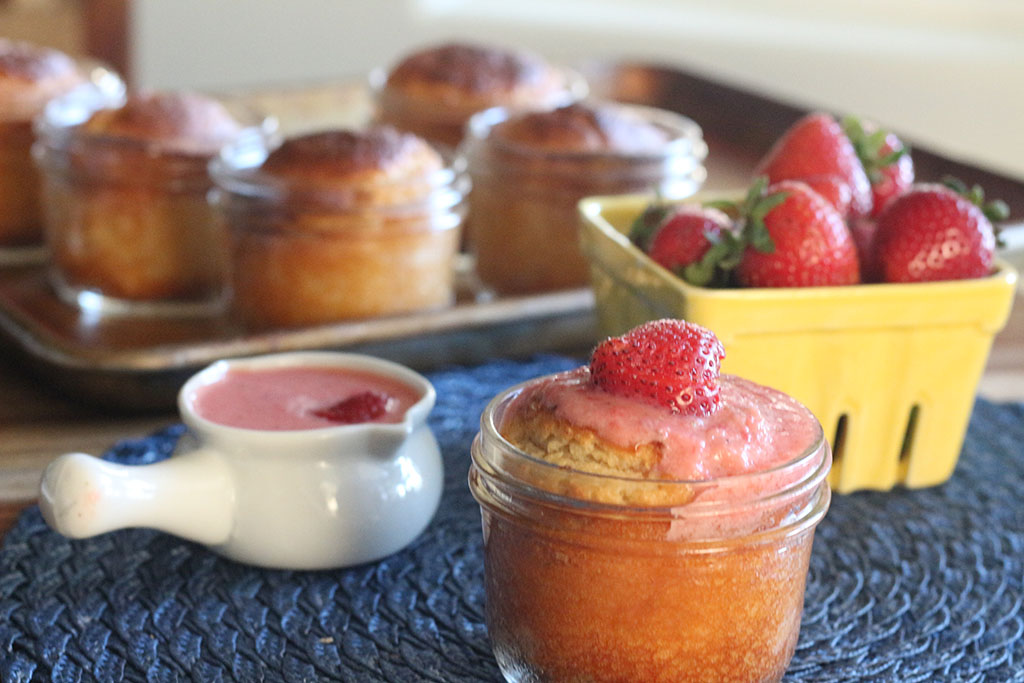 Over one hundred years of age
In the beginning, I made these recipes for my family and myself. I kept trying to find ways to eat kefir in fun and delicious ways; but somewhere along the way, I started making these recipes for you, too. I knew you wouldn't try it if I didn't make it easy, and taste good, so I kept coming up with ways to help you. The lines are all blurred now, and you all feel like a part of my family. People I've never met, but really love and want to see well. Please make kefir a part of your life. You won't regret it. I can help you make it fun, and pretty soon you'll feel like it's an old friend. One who helps you on your journey of life. It's a food that sits on your counter morning after morning, culturing while you sleep. In the morning when you wake, you will have grown your own probiotics in a jar. It can keep you healthy and give you a long life. The centenarians in the Caucasus mountains attest to the fact that having kefir every day has helped so many of them live to be over one hundred years of age.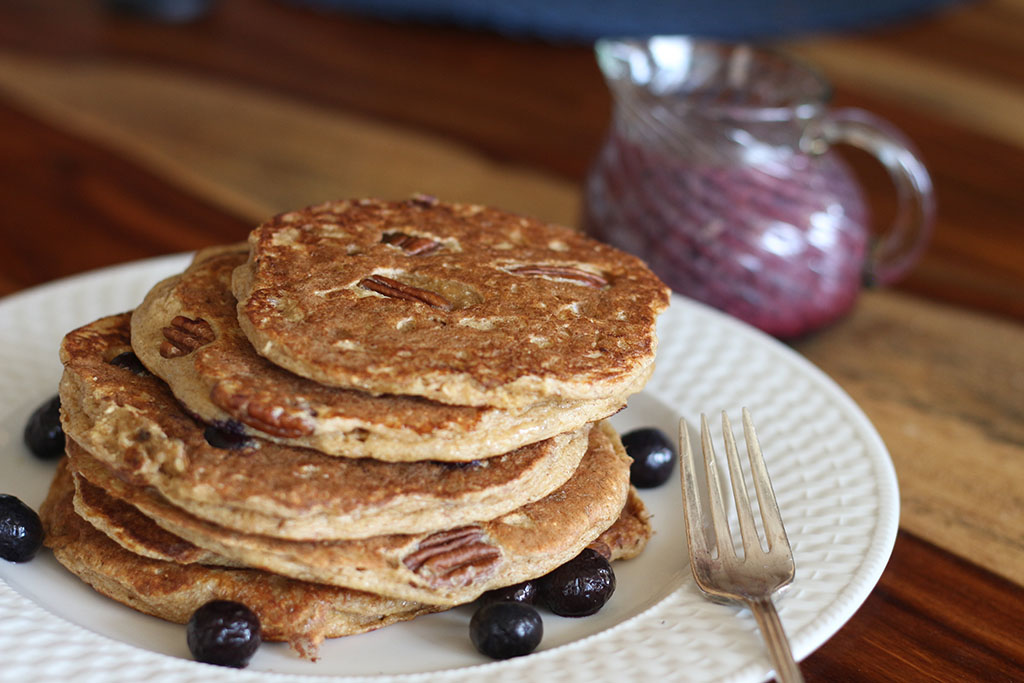 Gluten free
Try these yummy kefir pancakes made with blueberries, pecans, and a blueberry compote kefir topping, and think of me as I often think of you.  I hope it makes your kitchen smell good, and will help your body live longer and feel happier. Make them when it's chilly outside. It makes people happy that it's morning, just because they get to have pancakes. Who doesn't love pancakes? Oh, and by the way - they're gluten free. 😊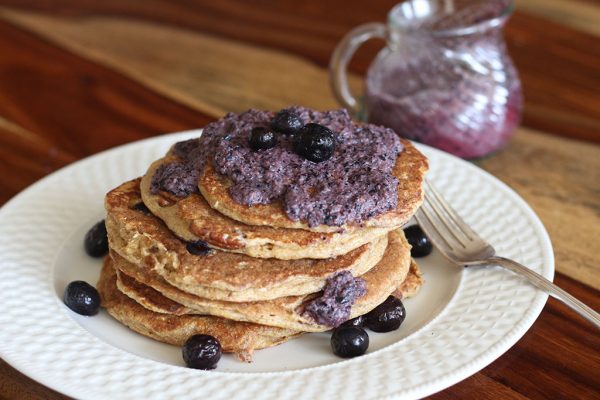 Blueberry Pecan Kefir Pancakes
Kefir cheese makes yummy, fluffy pancakes. Although heat kills the probiotics, I added a blueberry kefir compote topping to add the probiotics back in. Kefir helps pancakes and doughs to rise much like a sourdough starter, and also makes for a nutrient-dense food that will sustain you all morning long.
Every ingredient with a link was selected by me to make it easier for you. I may receive a small affiliate commission if you buy something through my links. Thank you! ❤️
Instructions
Pancakes
In a small bowl, beat eggs together with a fork.

In a separate bowl, add the dry ingredients – oat flour, cinnamon, baking soda, and baking powder. Mix together.

Then add kefir cheese and mix together until well combined.

Pour in the eggs and mix thoroughly. Batter will be thick.

Set a skillet on medium-high heat. Melt 1/2 tablespoon of coconut oil in the pan.

When the skillet is hot, add 2 heaping tablespoons of the batter to the skillet for each pancake. Add a few pecans or blueberries on top of batter while the pancake cooks. (I like to add blueberries to one pancake and on the next pancake add pecans.)

Cook for about 1 – 2 minutes per side.

Repeat with coconut oil and extra batter.

Top pancakes with blueberry kefir compote.
Blueberry Kefir Compote
Place all the ingredients in a blender and pulse until well combined. You can make it chunky or smooth to your liking.

Serve over kefir pancakes.

Are you on the list?
Sign up today and I'll send you my free Getting Started Guide!
Each week I'll send you updates, tips, recipes, and more! You might even be a winner of my weekly giveaway! (starter cultures, memberships, and more!)
Come be a part of my cultured food family!