Can Sourdough Change the Gluten-Free Diet?
by
"Our own physical body possesses a wisdom which we who inhabit the body lack.  We give it orders which make no sense."~ Henry Miller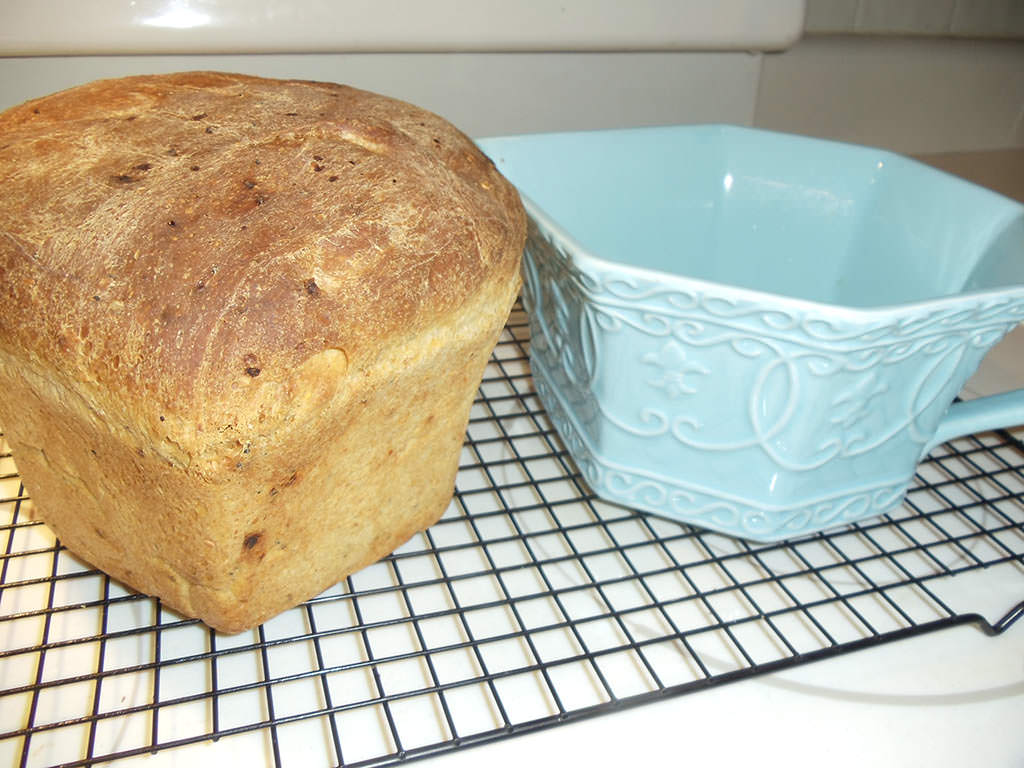 About ten years ago I went to a class on "How to Make Sourdough Bread."  My daughter had gluten intolerance and we found that she could eat sprouted bread without the side effects created by regular bread. I had heard that sourdough bread achieved similar results to the sprouted bread, and I wanted to try it. What I learned shocked me. The man teaching the class explained that the process of making sourdough was an ancient art and one that had many benefits that we are unaware of today. Why do so many of us struggle with gluten today? There are all kinds of books and websites dedicated to gluten-free living, and rightfully so, because the bread we have today is very different from the bread we ate for hundreds of years. But why is gluten intolerance an epidemic in this day and age? What has changed?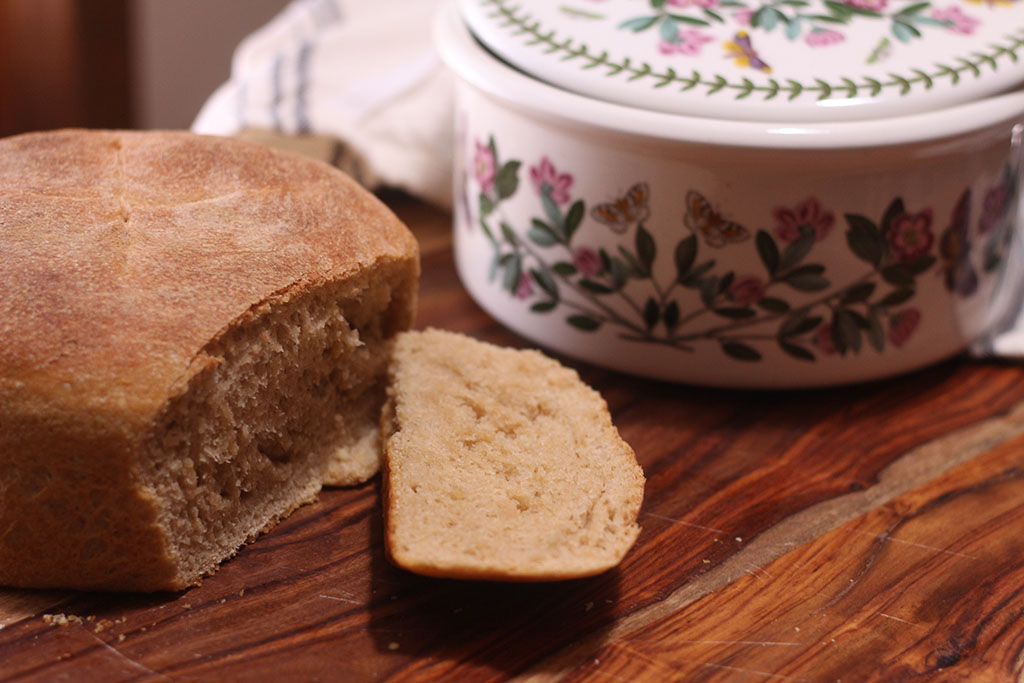 Before the 1950's, most bread bakeries ran two shifts of workers because the dough was fermented throughout the night with a long and slow process using a culture that contained the lactobacillus bacteria. This slow process was necessary for bread to be properly digested. In the process of making sourdough bread, the bran in the flour is broken down during the long rising time, releasing nutrients into the dough. Only when wheat gluten is properly fermented or sprouted (to learn more about sprouted breads click here) is it healthy for human consumption.  When not, it is potentially one of the most highly allergenic foods we eat. The phytic acid in grain needs to be 90% neutralized in order for the minerals to be absorbed by the human body. When you naturally ferment or sprout bread, you eliminate all phytic acid. About 90% of the phytic acid remains in breads made with instant yeasts, unless it is sprouted bread.
In their efforts to increase profits and speed up the the bread making process, bakers began using new techniques that took only three hours to make a loaf of bread – and now can even take only one hour. They used the new instant yeasts, which made the old way of making bread (using cultures and fermentation that not only help to preserve food, but also increase the nutrients available for our bodies) unnecessary.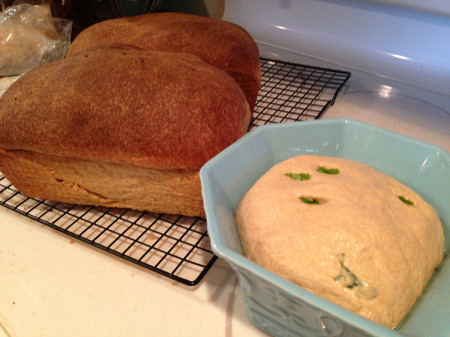 During the making of sourdough bread, complex carbohydrates are broken down into more digestible simple sugars, and protein is broken down into amino acids. Enzymes develop during rising.  These enzymes are not lost while baking since the center of the loaf remains at a lower temperature than the crust. This fermentation, partly from lactobacillus, also allows for a bread that is lower on the glycemic index, thus making it better for those with blood sugar issues. The fermentation also helps restore the functioning of the digestive tract, resulting in proper assimilation and elimination.
These changes in our bread have had devastating effects on our gut. I believe that along with the overly processed foods, soil depletion, and the loss of fermentation and probiotic foods that heal and protect our bodies, our diets are wreaking havoc on our guts. This, in turn, is causing the rise in all kinds of food allergies. Our diets are a dim reflection of the nutrient-dense whole foods we used to eat years ago. Someone at a recent class asked why we are living longer if our diets are so bad. But this is actually not the case any more; we are not living longer, this trend has stopped. Not only that, the quality of our lives is in sad shape. How often do you see someone living vibrantly and without sickness or ailments?  It is increasingly becoming the exception and not the norm. Pharmaceuticals are the norm and not the exception, and food allergies and gut issues are rampant along with a host of other health issues. The average consumer is unaware of these changes in our food supply and then labels gluten and breads as the enemy, when they don't realize the culprit is the dramatic changes in the actual process of making bread today.
A study done experimenting with sourdough fermentation as a means for making wheat bread safe for people with celiac disease had great results.  While the study was small, it did show that individuals with celiac disease who ate specially prepared sourdough wheat bread over the course of 60 days experienced no ill effects.
It was my daughter Maci's inability to digest wheat that started me on a journey learning about foods that were transformed when they were sprouted or made with sourdough. People who came to my classes and website were experiencing the same results when eating bread that was made with sourdough cultures or sprouted. Even some with Celiac disease seemed to do really well. Now, not everybody who is gluten intolerant can handle it right away. They need to heal their guts first with cultured foods on a regular basis. After this occurs, I have seen so many people thrive when eating breads as long as these breads were fermented or sprouted.
Sourdough bread, fermented for at least 7 hours or longer, is the time it takes to transform the bread. Then it not only easily digested, but often can be handled by those who are gluten intolerant. Here is a recipe to make my sourdough bread. It is the best one for beginners and the one I think tastes the best. Well… that's not entirely true. I love so many, but this one has a great flavor and is easy. I have devised a slower, longer fermentation method that is even more effective for those who have severe gluten problems. This is my refrigerator method of making sourdough bread. My Refrigerated Sourdough Bread video can be found on my Biotic Pro membership site. It is the method I use regularly because not only is it easy, but it allows the bread to slowly ferment in the fridge for a longer period. This makes the bread even more delicious, and more digestible, than just fermenting it on the counter. It also seems to be the method that most people with severe gluten issues tolerate the best.
I hope I can shed some light on this problem that is facing so many. As always, I want to share with you what has changed my life and so many others.
"The Most Powerful Story a Person Can Tell is the Story They Tell With Their Lives"~ Tom Shadyac
Other helpful links:
Is-Sourdough-the-Future-of-Gluten-free-Bread
Gluten free sourdough appears to be safe for young celiac patients
---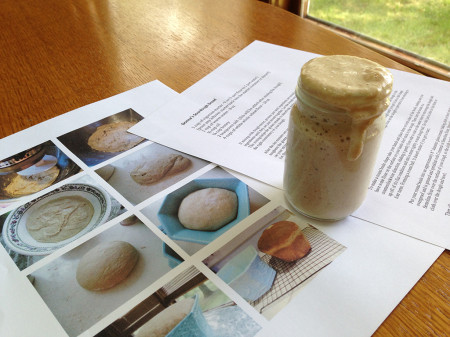 This sourdough starter culture is from my home. It was originally a Russian culture that I blended with a culture from Finland. After I had it for a while, it adapted to my home here in Missouri. Your culture will do the same and be unique to you. I have been using this particular culture for over ten years and love it. After a few attempts to make my own sourdough culture from scratch, I found it too sour and it didn't rise very well. A sourdough culture that has been aged over several years has a mellow flavor and it really makes a difference when making sourdough bread.
Sourdough starter cultures come from different regions and use wild yeasts in the air to adapt and culture your bread. It will also adapt to your own home.
You will love this culture and it works great with whole wheat flour or any other type of flour.
To order, click here: Donna's Sourdough Culture