Summer Cultured Vegetables ☀
by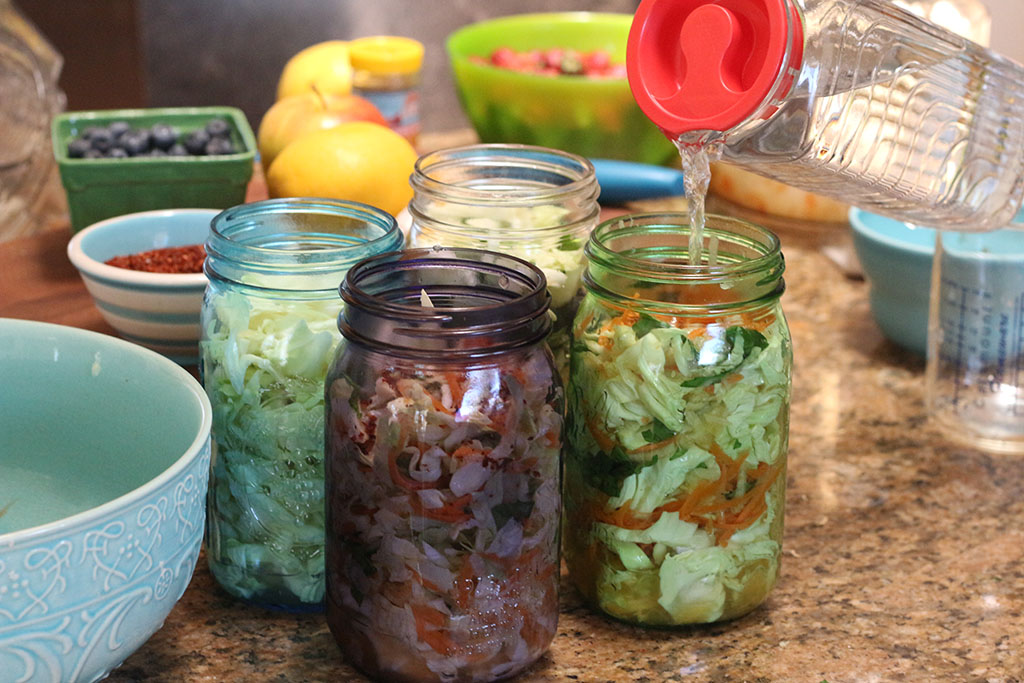 There is no better time to make cultured veggies than in the summertime! The fruits and veggies are abundant and when you ferment them they'll last nine months in your fridge! Culturing, or what can also be called fermenting, is a no-sweat endeavor. It's so much easier than canning and you'll get probiotics, enzymes, and increased vitamins in your veggies. Did you know if you ferment your veggies, the vitamin C increases from 60 milligrams to almost 700 milligrams? And that's not all – other vitamins and minerals, including vitamins A and B, increase too. And the minerals are easier to absorb since cultured foods are predigested foods due to the process of fermentation.  I haven't even begun to tell you about all the probiotics you get. One spoonful of cultured veggies contains more probiotics than an entire probiotic supplement bottle. I love the juice from cultured veggies. Sometimes we just drink the juice and we call them gut shots!
Fermenting foods is an art and it will be unique to you. You have different temperatures and bacteria in your kitchen that are special to you.  Fermenting may work slightly differently for everyone, but it still works and you will discover the magic of your own kitchen. In time, your foods will ferment better and better as you grow in your ability and confidence.  You have helpers in these unseen microbes that ferment the foods and make them safe for you. They are really doing the work.
This is much easier than you think and I'm here to help if you need it.  I have over 76 cultured vegetable recipes on my site not counting the ones in my three books and Ebooks for Biotic Pro Members. If you are new to all of this, first try store-bought versions to see what you like. You can buy cultured vegetables in the refrigerated section of most health food stores. Try them and see how you like them Then you can learn to make your own. The journey of learning new things is the best part, so don't miss it.
7 Tips for Making Cultured Veggies