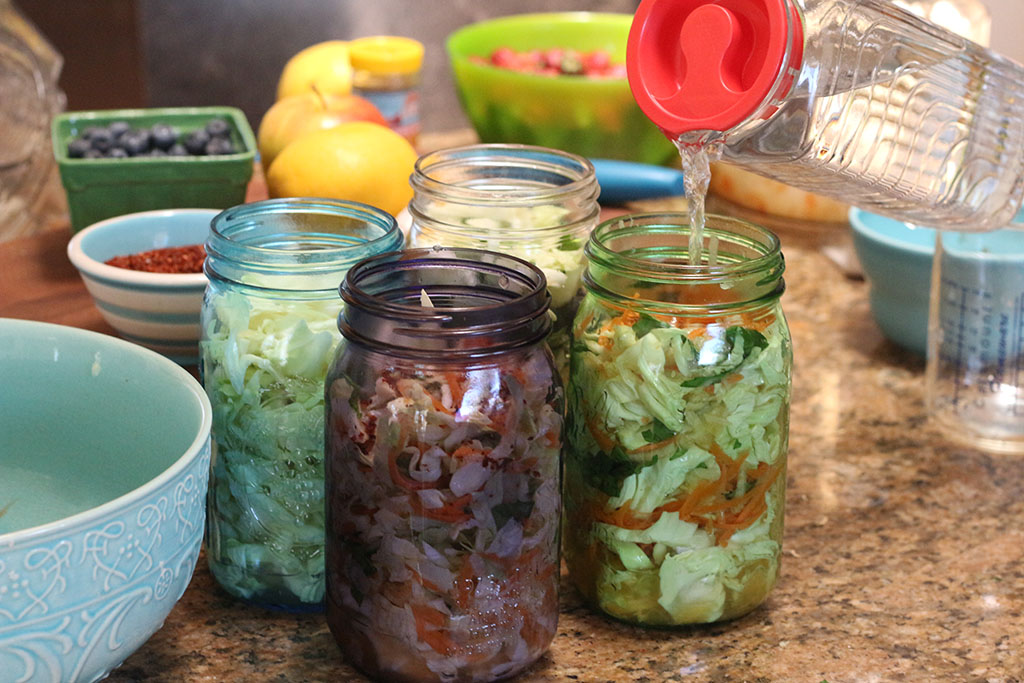 There is no better time to make cultured veggies than in the summertime! The fruits and veggies are abundant and when you ferment them they'll last nine months in your fridge! Culturing, or what can also be called fermenting, is a no-sweat endeavor. It's so much easier than canning and you'll get probiotics, enzymes, and increased vitamins in your veggies. Did you know if you ferment your veggies, the vitamin C increases from 60 milligrams to almost 700 milligrams? And that's not all - other vitamins and minerals, including vitamins A and B, increase too. And the minerals are easier to absorb since cultured foods are predigested foods due to the process of fermentation.  I haven't even begun to tell you about all the probiotics you get. One spoonful of cultured veggies contains more probiotics than an entire probiotic supplement bottle. I love the juice from cultured veggies. Sometimes we just drink the juice and we call them gut shots!
Fermenting foods is an art and it will be unique to you. You have different temperatures and bacteria in your kitchen that are special to you.  Fermenting may work slightly differently for everyone, but it still works and you will discover the magic of your own kitchen. In time, your foods will ferment better and better as you grow in your ability and confidence.  You have helpers in these unseen microbes that ferment the foods and make them safe for you. They are really doing the work.
This is much easier than you think and I'm here to help if you need it.  I have over 76 cultured vegetable recipes on my site not counting the ones in my three books and Ebooks for Biotic Pro Members. If you are new to all of this, first try store-bought versions to see what you like. You can buy cultured vegetables in the refrigerated section of most health food stores. Try them and see how you like them Then you can learn to make your own. The journey of learning new things is the best part, so don't miss it.
7 Tips For Making Cultured Veggies
1: Gather Your Ingredients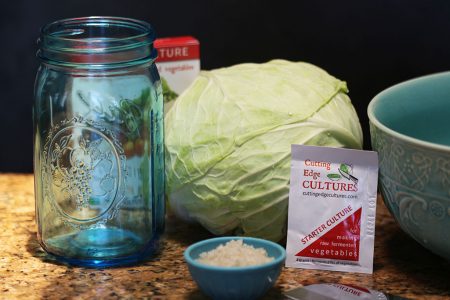 Buy the freshest veggies you can find - this makes summertime the ideal time to ferment veggies.  However,  I've cultured a lot of vegetables in the winter too. You'll get less kahm yeast which is harmless white yeast that can occur if your veggies aren't fresh. You'll want to remove it if you see it because it can make your veggies taste bad.
You can culture almost any vegetable. As a general rule of thumb, cabbage takes six days, while most other veggies like carrots, tomatoes, asparagus, etc., can take two to three days. Check out my recipes for more details.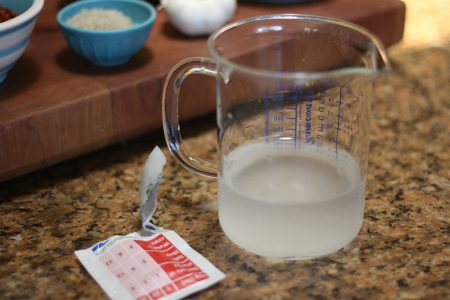 Cutting Edge Cultures: This is my favorite starter culture. It ferments my veggies perfectly every time and gives me tons of probiotics. I've tried making veggies in many ways using kefir whey, salt, and other cultures, and I found this product works the best. I actually helped design this product to give you more Lactobacillus plantarum (L. plantarum) (super bacteria) than anything else on the market. That being said, you don't have to buy my product to make cultured veggies. You can make cultured veggies with kefir whey, salt, or another brand of starter culture, but I've simply found that Cutting Edge Cultures works the best. I just want you to make really good cultured veggies so you can reap the many health benefits that they offer.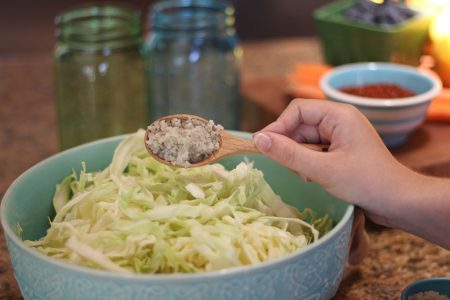 Without a starter culture:  The method of using salt to make cultured veggies has been around forever. Most methods using salt will ferment them for 3-6 weeks. I don't recommend fermenting them for this long since it diminishes the probiotics as the bacteria run out of food and the acidifying bacteria turns to a more vinegar type of brine over time.  It's important to use extra salt (3 tablespoons per gallon of veggies) if you're not using a culture. You need to drop the pH and without enough salt, you won't achieve the safe and proper balance to allow them to ferment properly. I also don't recommend fermenting other veggies with just salt. Cabbage works very well, but other veggies don't ferment properly and don't have the proper pH so I recommend only doing cabbage recipes.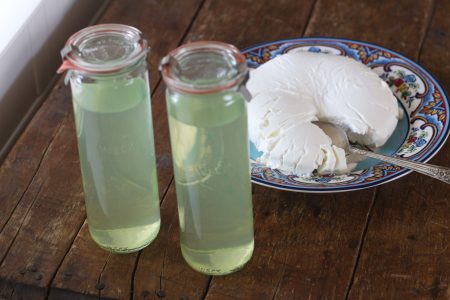 Kefir whey: If you make a lot of kefir cheese and have extra whey then you can use it to make cultured veggies. You need to make sure the kefir whey is freshly strained (within a day of straining) before using it. Otherwise, the culture won't have the proper bacteria strains to culture your veggies properly. One of the reasons I don't use kefir whey is because there are a lot of different bacteria in kefir that aren't specific to cultured veggies. L. plantarum is the one that you're looking to get the most of in cultured veggies. The diverse bacteria and yeasts in kefir whey compete for dominance as to which one will rule - making L. plantarum diminish. Sometimes this can change the taste of the veggies over time, but not always. It just depends on what's going on with the bacteria in your batch. Each batch has a mind of its own! Kefir whey still makes good cultured veggies, I've just gotten more picky over time and want to get the most L. plantarum I can. It's got superpowers!
Certain foods and sources available in the summer time have nutrients that super charge the immune system. Check out my favorite cultured recipes and summer foods that are fun, easy to make, and oh so good for you!