My dad's (Don) birthday is coming up in a few days. Several years ago he died suddenly. Three months before he passed, my mind was filled with loving and joyful thoughts about my dad. He died suddenly so I had no idea at the time that in a few months he would be gone. These thoughts seemed to fill my mind, and I would call my sister Danette, to tell her that I could not stop thinking of how much I loved dad. It wasn't that I didn't love him before, but it was as if I could see clearly all the things in his life that had caused pain and why they had been meaningful to him. My dad had an infectious laugh and was one of the most joyful people I know, and he was smart as a whip. A self-learner, he had thousands upon thousands of books that he read and underlined with highlighters. After his death all of us girls got packages and packages of highlighters. He always wanted to remember the important parts in his books.
About three weeks before he died I called him on the phone. He lived with my mom in Virginia and I live in Kansas City so I didn't see him very often. We had a conversation that we had often. We talked about the time when I was in second grade and he took me to a cheese shop.  I will never forget that moment when I walked into that store and the smell of pungent cultured cheese hit me. Most people find this smell offensive but I loved it. I was little, so they propped me up on a stool and they gave me sample after sample of strong flavored cheeses. They were so shocked that a little 7-year-old girl would love these types of cheese so much.  When we left the cheese store we went across the alleyway to the health food store. Once again the strong smell that accompanies most health food store filled my sinus and I was convinced that these two stores were the coolest places on the planet. My dad got me my first frozen yogurt from that store and the owners of that store were the youngest 65 year olds I had ever seen. Those store owners were so happy and hugged me a lot that day, and I never forgot how they made feel. I remember talking to my dad and telling him that I wanted to be like the owners of that shop when I was old. They were radiant and full of life, and so happy they couldn't help but hug the people who came into their store.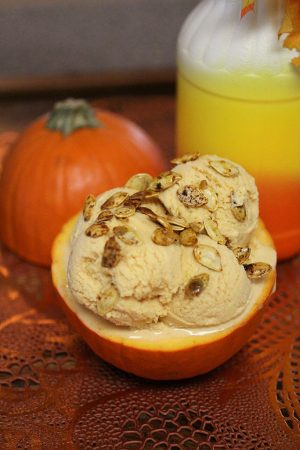 You never know how experiences can shape our lives but I never forgot those two times. My favorite food on the planet is cheese and yogurt and now kefir has taken its place as the number one food in my life. Interesting to me that they are both cultured foods and I have my dad to thank for these early experiences. I hope he is proud of me. I am thankful for the love of food, and the good books that he instilled in me. But it is the joy of life he demonstrated every day... that changed me the most.
Love you Dad. I know you can hear me. I am still your name sake and proud of that. This recipe was inspired by you. Hope you can feel my hug. ♥

Donna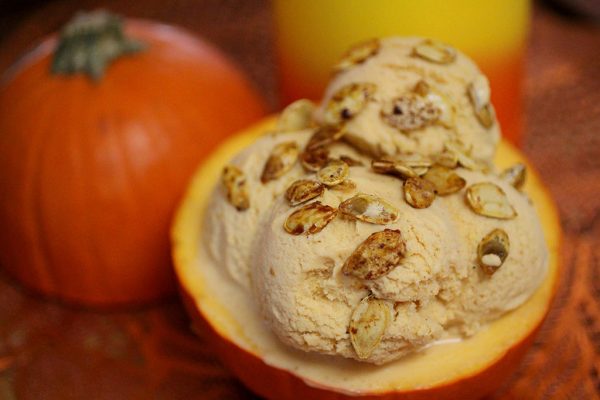 Pumpkin Kefir Cheese Ice Cream
I love, love pumpkin ice cream. Adding a little kefir cheese to the recipe makes it thick and creamy. Top it with cinnamon toasted pumpkin seeds for extra crunch and you have the perfect fall dessert.
Ingredients
Cinnamon Toasted Pumpkin Seeds
Every ingredient with a link was selected by me to make it easier for you. I may receive a small affiliate commission if you buy something through my links. Thank you! ❤️
Instructions
Place all ingredients in blender and blend for 20 seconds. Pour into ice cream maker and freeze according to manufacturer's instructions.

Top with cinnamon toasted pumpkin seeds.
Cinnamon Toasted Pumpkin Seeds
Wash pumpkin seeds by rinsing in a colander until the water runs clear, picking out any remaining pieces of pumpkin. Drain well and spread out on a cookie sheet. Pat dry with a paper towel.

Pile pumpkin seeds on the cookie sheet and drizzle melted butter over the pile of seeds. Sprinkle on the sugar, cinnamon, and a pinch or two of Celtic Sea Salt.

Gently toss seeds until evenly coated and spread the seeds out evenly on the cookie sheet.

Bake in 275°F oven for approximately 30 minutes or until lightly toasted, stirring seeds every 10 minutes and checking for doneness each time.

Remove from oven and let the seeds cool for a few minutes.

Remove seeds from cookie sheet and serve!

Are you on the list?
Sign up today and I'll send you my free Getting Started Guide!
Each week I'll send you updates, tips, recipes, and more! You might even be a winner of my weekly giveaway! (starter cultures, memberships, and more!)
Come be a part of my cultured food family!