Kefir for Breakfast ~ My Favorite Four
by
Your Body and Food. You can't win together if you don't work together.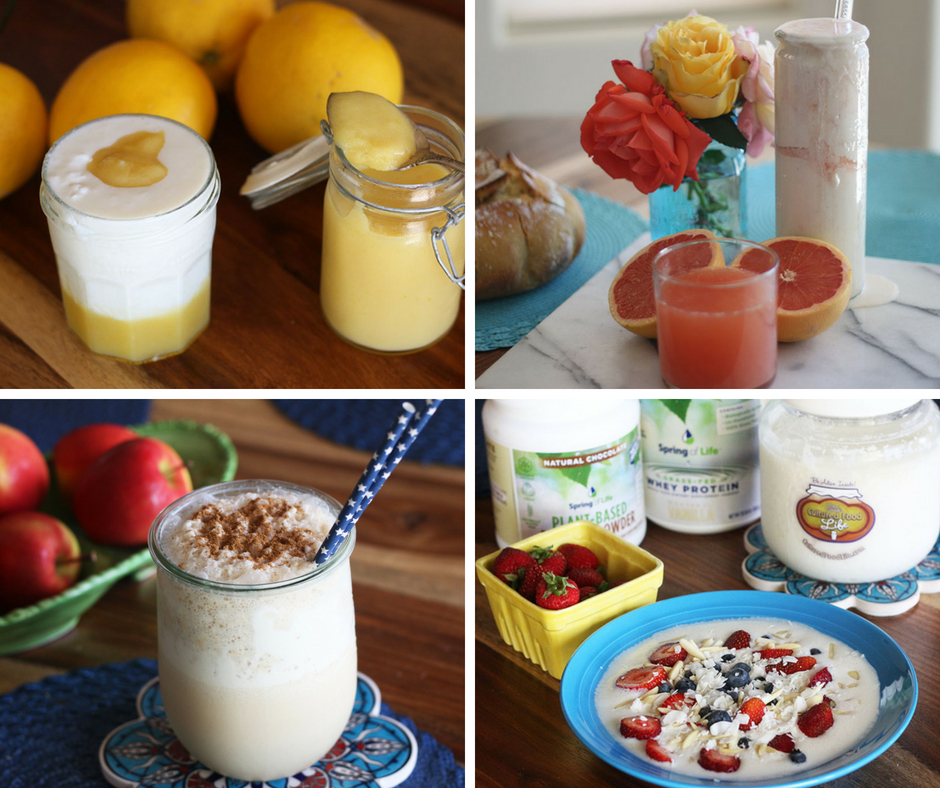 I learned a long time ago that if I wanted to feel good, I had to have kefir every day. It seems to work best for me to have kefir in the morning, but sometimes I have it other times too. I've kind of played around with different ways to have it and found these four breakfasts give me lots of energy. Each one has different components I use to give me the nutrients I need. I have many reasons I always consume kefir.
Kefir helps my blood pressure stay in the normal range 1,2
Kefir helps my blood sugar stay regulated 3
Kefir helps detox 4 me, and keeps my hormones in balance.
Kefir helps my digestion stay at peak performance and keeps my immune system running strong 5
Kefir gives me a crazy amount of nutrients and probiotics – 50+ probiotics – that's over 40 times the amount found in yogurt.6
Kefir keeps my skin looking great.7
I did an experiment and tried going without kefir for two months but cut it short when I started gaining weight, got indigestion,8 and experienced a host of other problems. Check out my article to learn more. I Stopped Eating Cultured Foods ~ Here's What Happened! Kefir has many transient bacteria strains which means they are strains that aren't permanent guests in your body, so having kefir regularly is a must for me.
These four recipes are the ones I use most, but this is always subject to change as the different seasons come about. Here are the reasons, recipes, and methods I use to make kefir not only taste good, but also supply my body with super nutrients to keep me running strong! Kefir is breakfast for champions!
My Favorite 4 Kefir Breakfast Recipes
References:
Y. Hata et al., "A Placebo-Controlled Study of the Effect of Sour Milk on Blood Pressure in Hypertensive Subjects," American Journal of Clinical Nutrition 64, no. 5 (November 1996): 767–71: ajcn.nutrition.org/content/64/5/767.full.pdf
J.Y. Dong et al., "Effect of Probiotic Fermented Milk on Blood Pressure: A Meta-analysis of Randomised Controlled Trials," British Journal of Nutrition 110, no. 7 (October 2013): 1188-1194: abstract at www.ncbi.nlm.nih.gov/pubmed/23823502
A. Everard et al., "Cross-Talk Between Akkermansia muciniphila and Intestinal Epithelium Controls Diet-Induced Obesity," Proceedings of the National Academy of Sciences 110, no. 22 (May 28, 2013): 9066–71: www.pnas.org/content/110/22/9066.full
Rodrigues, K. L., Caputo, L. R. G., Carvalho, J. C. T., Evangelista, J., & Schneedorf, J. M. (2005). Antimicrobial and healing activity of kefir and kefiran extract. International journal of antimicrobial agents, 25(5), 404-408
Missing Microbes: How the Overuse of Antibiotics Is Fueling Our Modern Plagues by Martin J. Blaser
https://www.ncbi.nlm.nih.gov/pubmed/19930765
Shawn Talbott, The Cortisol Connection: Why Stress Makes You Fat and Ruins Your health — and What You Can Do About It (Berkley, CA;Hunter House, 2007), 23-27.