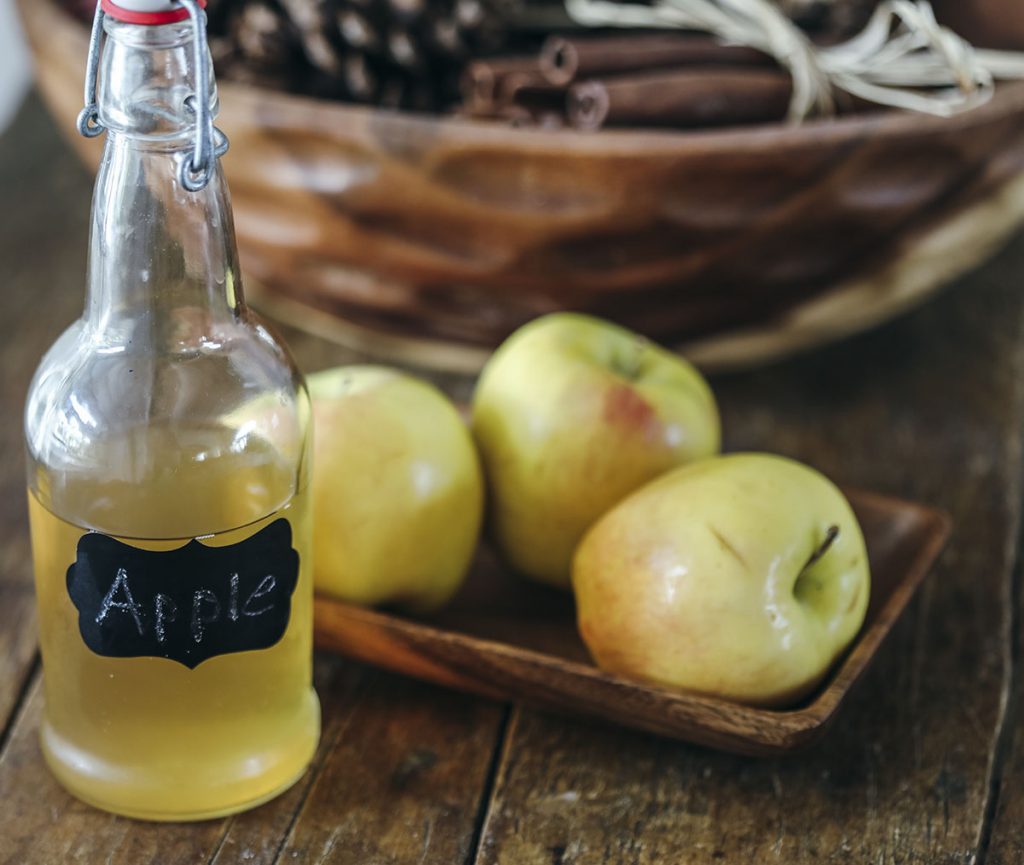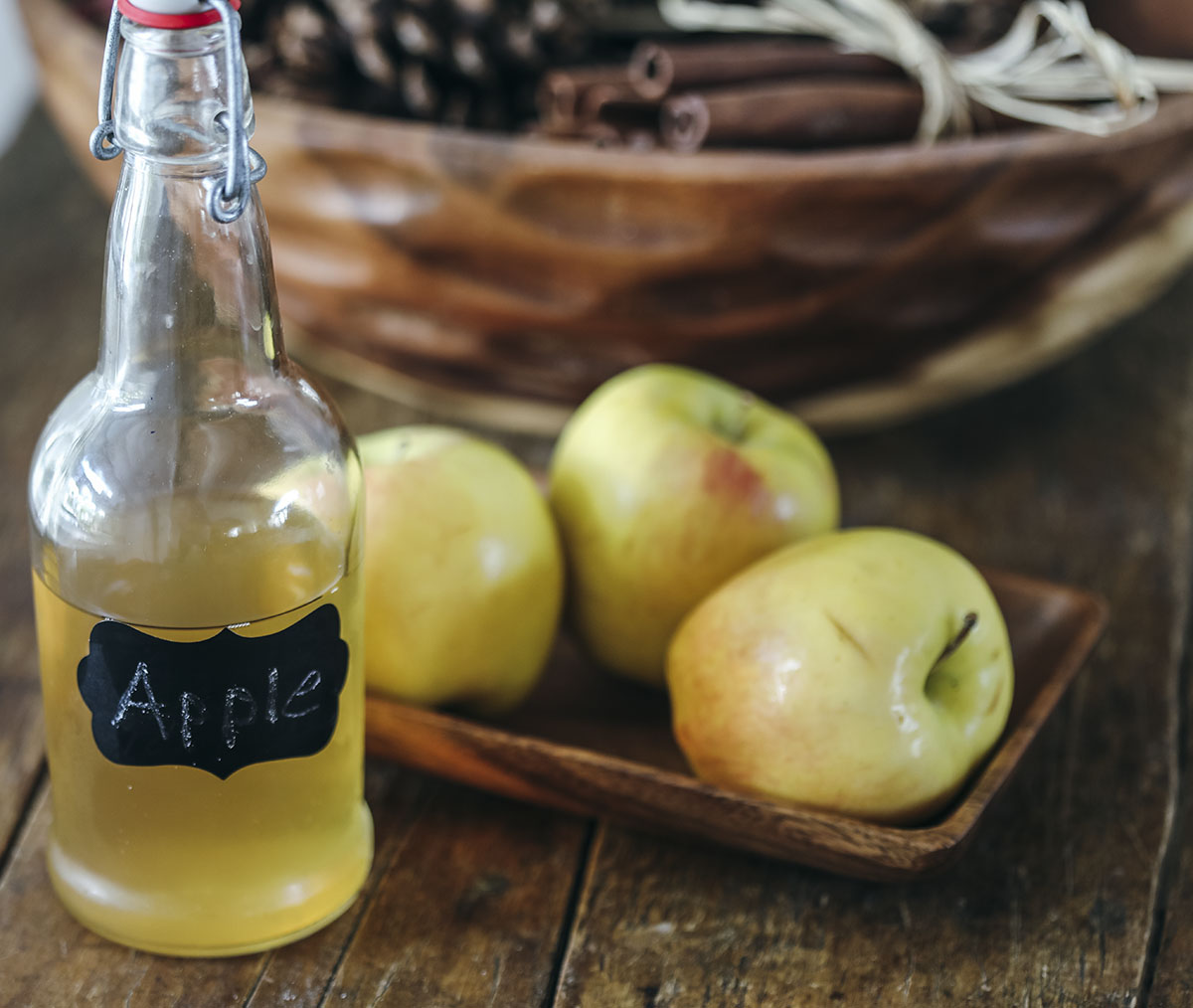 My daughter Maci got married and moved to a farm with her husband. She has a couple of apple trees and she's making tons of recipes with apples in them. Before her husband, the love of her life was kombucha. She has been making gallons of super fizzy apple kombucha and discovered something special. When you use freshly squeezed juice, as opposed to juice that's in a bottled or pre-made, your kombucha will get fizzier faster because of all the enzymes in the fruit. I have seen this when I add fresh fruit like strawberries to my kombucha. I have to watch it because it can ferment twice as fast and get really carbonated.
The bubbly kombucha wasn't opened yet. But there was an audience to watch I assure you. This is the process at my house.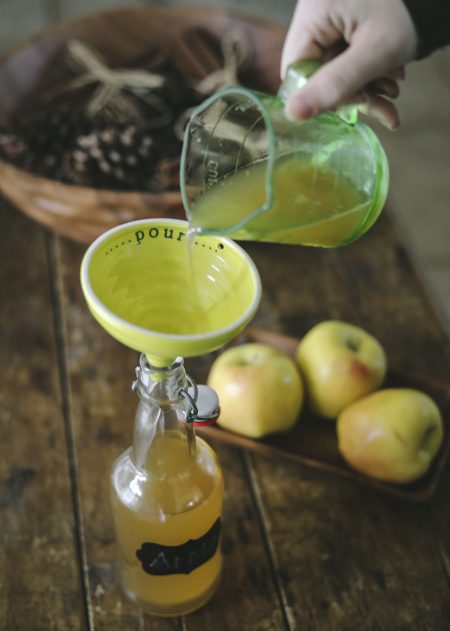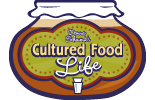 The secret to getting really fizzy kombucha is to NOT let the original batch get overly tart or vinegary before you second ferment it with juices or fruit. The good yeasts will die and it won't be active enough to second ferment your kombucha and make it fizzy. The probiotics are still in there, but you need the good yeasts to make it fizzy. This is why fermented foods taste tart or sour. The sugar is eaten by the bacteria and yeasts and they eagerly make probiotics from this, so you receive the probiotics and not a lot of sugar. Sounds like a divine plan to me, and one I am most thankful for. Whenever you eat a cultured food you will know that the sugars are reduced by the bacteria and yeasts by how tart or sour it is. If you're going to eat something sweet, have a cultured food with it and it will reduce its effect on you. I want to keep reminding you what these foods can do so that someday it will become common knowledge. Cultured foods, when eaten with a meal, will help you digest and receive more nutrients from the foods you eat and reduce the sugars in the foods you consume with them.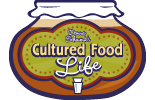 You're gonna love this apple kombucha. It's so, so good and super bubbly. Here's an easy recipe to make fresh apple juice, courtesy of my daughter, Maci. Sprinkle a little cinnamon on top of your apple kombucha and it tastes like October. October is one of my favorite months, for this was the month I fell in love with my husband Ron over 30 years ago. I shall never forget that crisp October day, when I knew he was the one for me. This was back when I wasn't a "health" person and Ron ate terribly badly. But see how it all turned out? And the first cultured food Ron ever tried and liked was kombucha. That day was Oct 14th 2002 - I had it written in my journal. This was also the day my book - Cultured Food for Life was released last year. Then three years ago in October we bought our boat and I found a place of  inspiration to write my books and blogs. So, October is special to me. It's where all good things come full circle and I found blessings I never imagined.
"I'm so glad I live in a world where there are Octobers." L.M Montgomery, Anne of Green Gables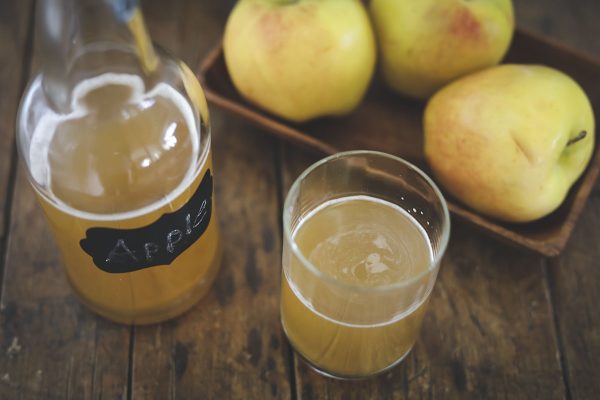 Fizzy Blender "Juiced" Apple Kombucha
Fresh juices make the fizziest kombucha! If you don't have a juicer this is an easy way to make fresh juice for your kombucha.
Ingredients
Fresh Apple Juice
4-5

whole

apple

1/4

cup

Water spring or filtered with minerals
Apple Kombucha
56

ounces

Kombucha

8

ounces

apple juice

-

Fresh
Every ingredient with a link was selected by me to make it easier for you. I may receive a small affiliate commission if you buy something through my links. Thank you! ❤️
Instructions
Fresh Apple Juice
Core apples and cut into slices. Place apple slices in blender.

Add water and blend on high until apples are liquified.

Place a coffee filter in a strainer and place strainer in a bowl to catch the juices. This only takes about 5 minutes.

Pour the apple juice into the strainer and let strain until all the juice runs through the strainer. You can use the leftover apple bits to make apple butter and it also works great in muffins or scones as a substitute for oil.

Remove the juice to use in the kombucha.
Apple Kombucha
Place 14 ounces of kombucha in each of your thick glass bottles.

Place 2 ounces of freshly squeezed apple juice in each bottle.

Seal the bottles and let these ferment for a day or two, or more if not done. Check them often and release the pressure. When they are bubbly they are done. The fermentation time will depend on how sweet your kombucha was to start with and the temperature in your house.

Place in the refrigerator when done fermenting.
Notes
Make sure to use bottles that are for brewing. If you are using glass bottles, you must beware because there may be flaws in the glass or the yeast might just go crazy and blow up your glass bottle!
You can use old GT Synergy Kombucha bottles, but my favorite are the clamp down bottles by Grolsch. You can also find bottles at home brew stores. The clamp down lids are safer and are thick glass appropriate for brewing.

Are you on the list?
Sign up today and I'll send you my free Getting Started Guide!
Each week I'll send you updates, tips, recipes, and more! You might even be a winner of my weekly giveaway! (starter cultures, memberships, and more!)
Come be a part of my cultured food family!