Kefir Sourdough English Muffins
Get extra Minerals from your Food
Making Cultured English Muffins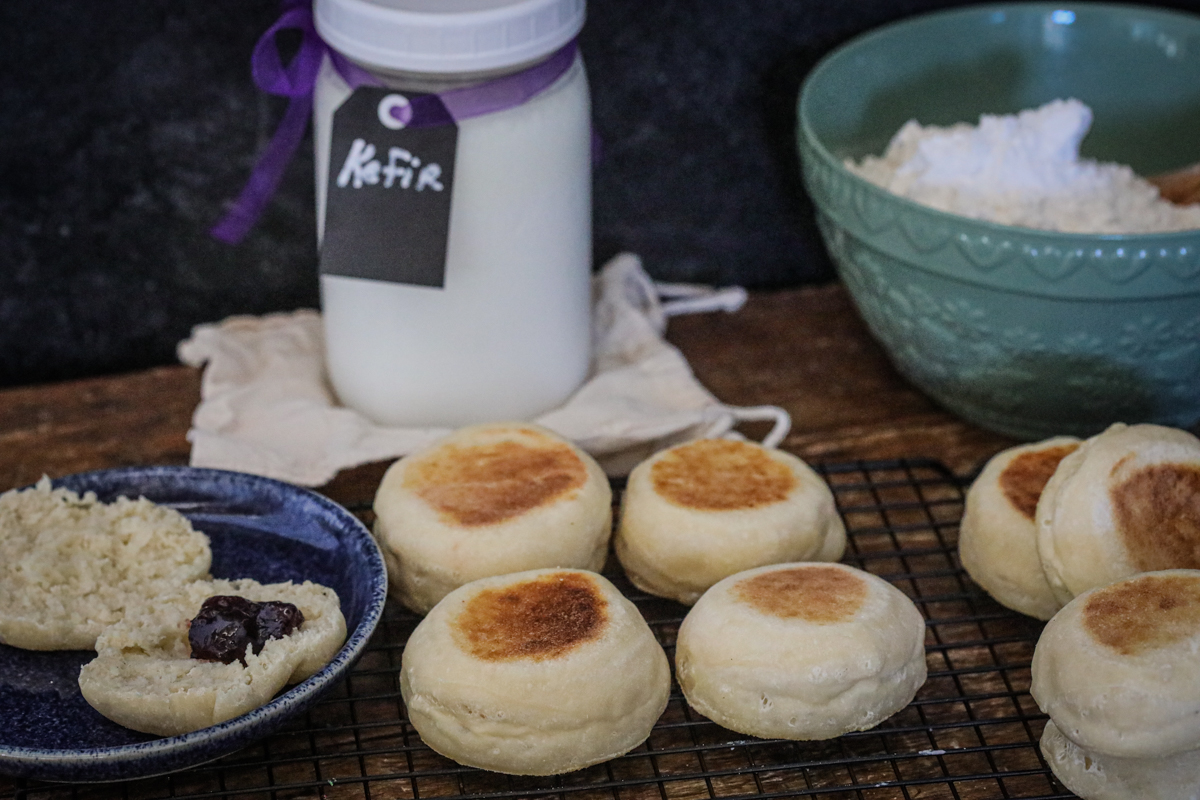 There is a famous bakery in Kansas City called Wolferman's that sells their gourmet baked goods to many distributors (like Harry & David's) and has been around since 1888. Every fall I used to drive thirty minutes to get their legendary super-delicious English muffins that were so incredible I just had to have them. That was before a sourdough starter and kefir found their way into my kitchen and changed all I knew about baking and being healthy. I was seeking to be healthier and the more I learned about how using a culture or soaking grains releases phytates in the flour, the more I wanted to eat only grains that used a sourdough culture or sprouted flours. Then I learned how to make sourdough English muffins with the addition of kefir and they became my favorite English muffins ever.
Unlocking Minerals that Keep Us Healthy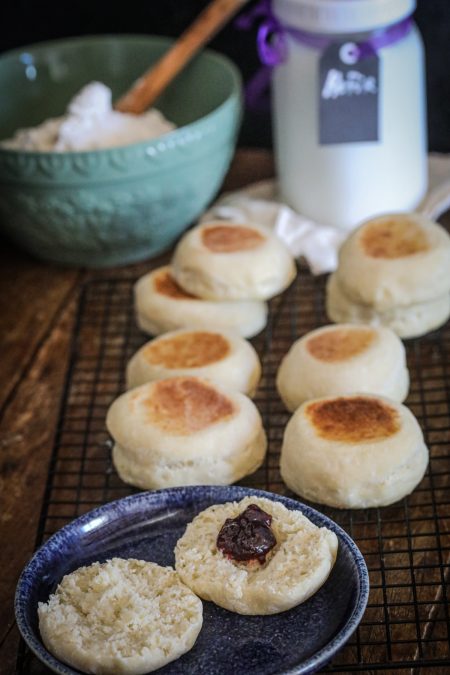 We have lots of minerals in our bodies but one of the most abundant is phosphorus, second only to calcium. Phosphorus works with calcium to keep your bones and teeth strong and healthy, but that's not all that phosphorus can do. It brings energy to every cell in our body and determines how we use carbohydrates and fats; and it is also needed for the body to make protein for the growth, maintenance, and repair of cells and tissues. It helps your kidneys filter out wastes and it is also a buffer that keeps the pH level in your blood balanced.
Plants like grains store phosphorus as a compound called phytic acid. However, phytic acid can be problematic as it binds with other minerals and locks up the phosphorus in the grain so the body can't use it. You need an enzyme called phytase to unlock the phosphorus and minerals so the body can use them. We have some of these enzymes in our gut but we really need extra help from microbes.
Adding a sourdough culture to the flour (and in this recipe also adding kefir)  and allowing it to slowly ferment is one of the best ways of breaking down these compounds. It's the lactobacillus in the culture that produces phytase.  The phytase effectively pre-digests the phytic acid during the extended fermentation. This neutralizes the effects of phytic acid, makes the bread easy for us to digest, and allows us to get all the minerals needed. Besides, these muffins are delicious and fun to make!
Overnight English Muffins
There are a lot of foods that need the help of fermentation to break down the enzyme inhibitors in them so we can absorb what we need to stay healthy. Digestive enzymes are released by the pancreas to break down our food; however, nuts, grains, seeds, and legumes all contain enzyme inhibitors that halt this breakdown process. Soaking and sprouting - or using a culture that's loaded with microbes - is key to getting all you need from these important plants.
This recipe has both a sourdough culture and kefir which allows for more nutrient bioavailability and it is so fun to make! You let these ferment overnight and the next morning you don't bake them in the oven.  Instead, you heat them up on a griddle or pan. You will love them for breakfast and everybody will be so impressed at the fact that you made your own English muffins. It feels like a great accomplishment but it's super easy.
Kefir Sourdough English Muffins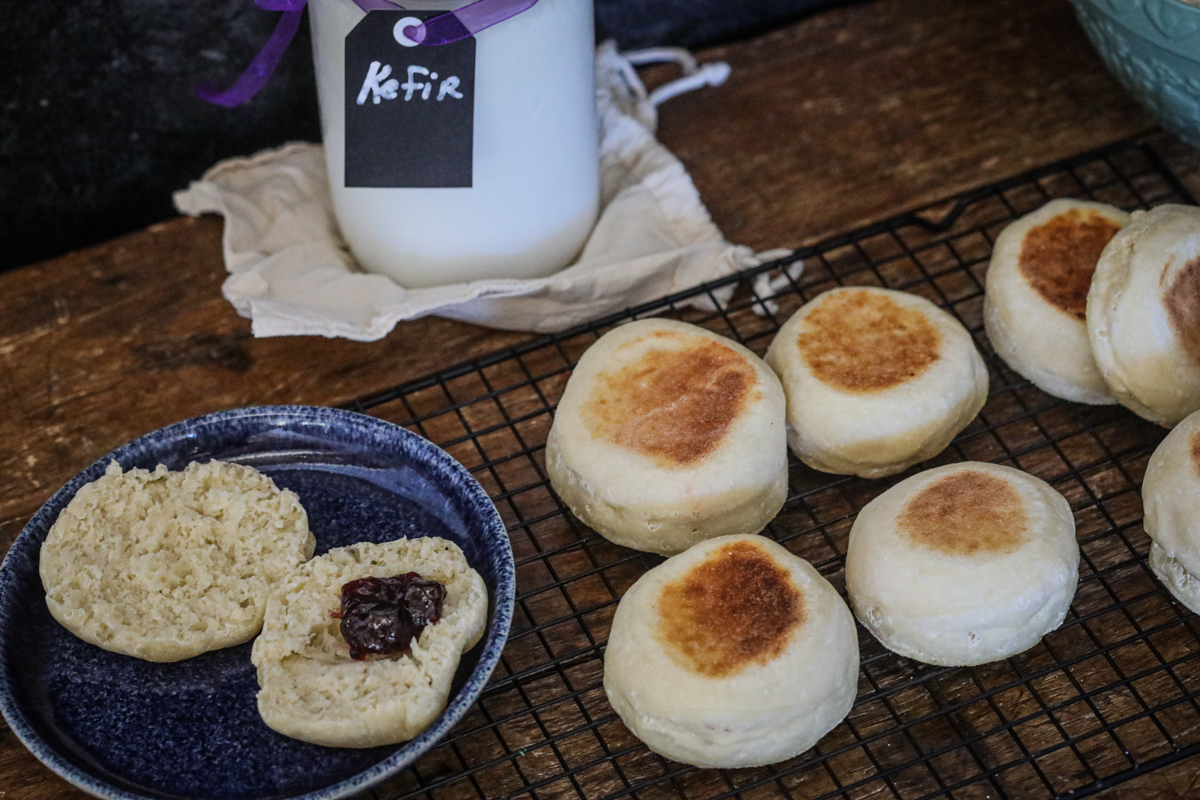 Kefir Sourdough English Muffins
Oh my, just you wait till you try this recipe. It's super fun and easy. You make them the night before, let them ferment, and cook them on a skillet in the morning. No oven baking required and they're so yummy you'd better double the batch. The first time I made them I ate three! I love how kefir makes them extra moist. Use a fork to separate them - this keeps the nooks and crannies to catch the butter!
Ingredients
½

cup

Bubbly Sourdough Starter -

100 grams

1

tablespoon

honey -

20 grams

½

cup

Kefir -

120 grams

½

cup

milk

-

120 grams (any kind of milk can be used)

3

cups

Flour -

360 grams — white unbleached flour, white whole wheat, or spelt. Whole wheat flour will be denser and won't rise as much as white flour. For your first few loaves, you'll have more success if you don't use whole wheat flour. Don't use gluten-free flours.

1

teaspoon

Celtic Sea Salt

¼

cup

cornmeal

-

(for sprinkling)
Every ingredient with a link was selected by me to make it easier for you. I may receive a small affiliate commission if you buy something through my links. Thank you! ❤️
Instructions
The night before you want the muffins
Make sure your starter has been fed and is bubbly before you use it.

Add the active bubbly starter and the rest of the ingredients (except cornmeal) to a large bowl and use your hands to mix until well combined. You can also use a stand mixer with a dough hook attachment to knead the dough. Mix on lowest speed for 5 minutes.

Cover and let the dough rest for 30 minutes. 

Turn the dough out onto a floured surface and knead the dough for 3-5 minutes.

Place the dough back into the bowl, cover and let ferment on the counter at room temperature 10-14 hours. It will look like it's risen in the bowl when it's ready.
In the Morning
Turn the dough out onto a floured surface that is dusted with the cornmeal as well. Flour the top of the dough and press it out using your fingertips until it is ½" in thickness.

Use a 3" biscuit cutter to cut rounds and place them on a parchment-lined baking sheet. Cover with a tea towel and allow to rise for 1 hour at room temperature. They don't need to double in size, they will expand more when you cook them.

Preheat your cast iron or non-stick skillet over LOW heat. Place 4 muffins into the skillet spaced 2" apart, and cook the first side for 4-6 minutes or until the bottom start to turn brown. Turn the muffins over and cook for an additional 4-6 minutes.
Notes
Store at room temperature for up to 5 days in a container.
Freeze for up to 3 months.

Are you on the list?
Sign up today and I'll send you my free Getting Started Guide!
Each week I'll send you updates, tips, recipes, and more! You might even be a winner of my weekly giveaway! (starter cultures, memberships, and more!)
Come be a part of my cultured food family!