Six Reasons (and Recipes) to Eat Fermented Pickles
by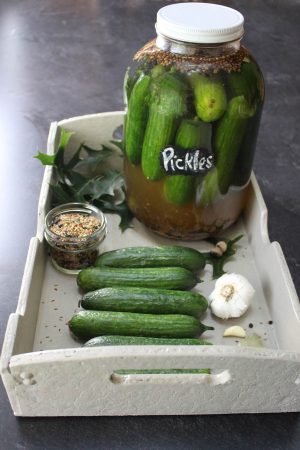 My 23-year-old son, DJ, called me from his home. He was very sick with a stomach flu and was in a considerable amount of pain with stomach cramps throughout the night. With a half cup of pickle juice in hand I went over to his home. I went into his room which was dark with no lights. There I found him in sorry shape. He said he hadn't slept all night because his stomach kept cramping. He was unable to keep anything down and also had a fever. I placed my jar on the counter and said, "DJ, take small sips of this juice every half an hour until the juice is gone. If you do this, you will be up watching TV and eating some rice by tonight." Later that evening when I came back over to check on him, he was sitting on the sofa watching TV and eating a bowl of plain rice. Nothing makes me happier than to see this happen. DJ is the kindest soul I know, and when he is in pain it kills me. These magical pickles had done their magic again as they had done many times before.
I have stories and stories about pickles, and how they have helped so many on the path to wellness. Let's face it, cultured vegetables are an amazing food, but there are not many pickles on the market that are lacto fermented. Making your own pickles is easy and fun and the benefits are many. Check out all the things fermented pickles and their juice can do.

Why you should eat Pickles
---
References:
Kaplan, JL et al., (2011) The role of microbes in developmental immunologic programming. Pediatric Research 69 (6), 465-472.
Hamad, M., Muta'eb, E., Abu‐Shaqra, Q., Fraij, A., Abu‐Elteen, K., & Yasin, S. R. (2006). Utility of the oestrogen‐dependent vaginal candidosis murine model in evaluating the efficacy of various therapies against vaginal Candida albicans infection. Mycoses, 49(2), 104-108.
Miller, K et al., (2010) Reflex Inhibition of Electrically Induced Muscle Cramps in Hypohydrated Humans. Medicine & Science in Sports & Exercise. 42 (5), 953-961.