Scary Delicious Seaweed Dip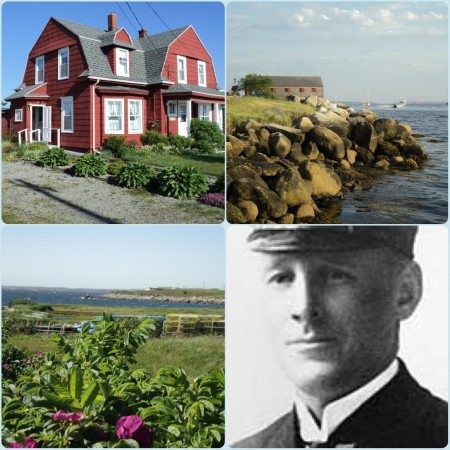 As a kid, I spent many summer vacations in Nova Scotia on a small island (Cape Sable) where my grandparents lived. Their home was right on the water and it was over 100 years old (see pictures). My great grandpa, Captain Horatio Brannen, was a sea captain and built the home there. He was also someone who sacrificed his life trying to save others in the Halifax Explosion in 1917. When an ammunition ship nearby his own ship caught fire, he stayed behind while many left and tried to put out the fire and tug it out of the Harbor. He left behind his wife and eight children and the home is still in our family today. I love courageous people who do things beyond the ordinary. I hope that some of my great grandpa's bravery and courage resides in my genes; and just maybe I, too, can do something meaningful with this life and serve others as he did.
"Courage is contagious. When a brave man takes a stand, the spines of others are often stiffened."Billy Graham
I have an obsession with water and boats and spend most of the weekends in the summer tucked away on our boat at the lake. I have always loved being near the water and as I child on this tiny island we spent a lot of our time down at the shore behind the house. There was seaweed and moss everywhere and it would get between my toes and it would squish and drive me crazy. I hated seaweed! Now, many years later, I eat seaweed all the time and add it to my cultured vegetables regularly.
Seaweed is Filled With Antioxidants and Vitamins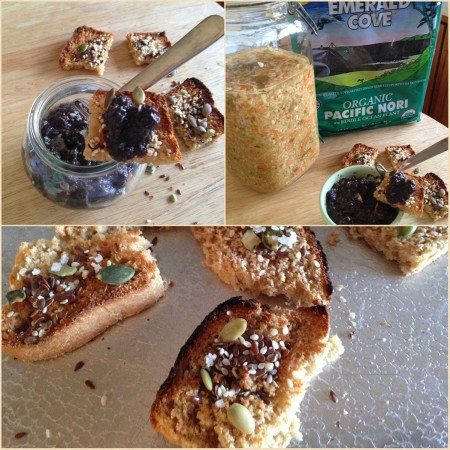 Seaweed is filled with antioxidants, calcium, and vitamins A and C. Seaweed's best-known benefit is that it is an extraordinary source of a nutrient missing in almost every other food: iodine. Iodine is important to maintaining a healthy thyroid. Eating seaweed is a great way to get the iodine your thyroid needs to function properly.
Research suggests that seaweed can also help regulate estrogen and reduce the risk of breast cancer. It is also know to reduce inflammation which can cause a myriad of diseases. Combine seaweed with cultured foods and it's not just a superfood, it's a Superfood X 10!
When I come up with recipes to post or put into my book they have to mean something to me. It is the same with everything that I do. When you put your heart into something and love it, the people who read your posts and make your recipes can feel that love that you put into it - and it will taste better. So, as scary as this dip looks, you won't believe how good and addictive it is. Even the pickiest eaters in my house devoured it, including my youngest daughter, Holli.  The first time I made it, I made three batches to keep up with the demand.  Seriously good, even if it looks scary! Try it, you will ❤️ it, I promise.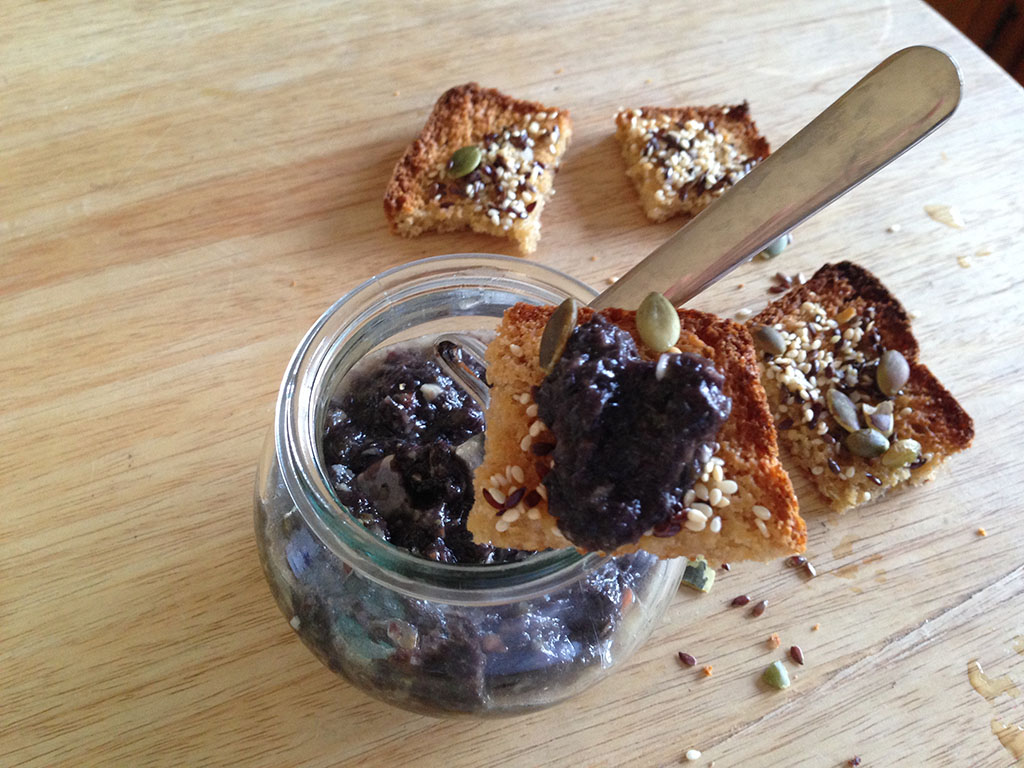 Scary Delicious Seaweed Dip
You can use any cultured vegetable, but Shelley's Cultured Veggies is the best and has extra seaweed cultured into it. Research suggests that seaweed can also help regulate estrogen and reduce the risk of breast cancer. It is also know to reduce inflammation. Use seaweed when making cultured foods and it becomes a superfood!
Instructions
Put the seaweed in a bowl with 1 cup cold water. Set aside to rehydrate for 30 minutes.

Drain the seaweed thoroughly, transfer to a food processor. Add the garlic, lemon juice, olive oil, toasted sesame seed oil, sesame seeds, salt, pepper and Shelley's Cultured Veggies. Pulse until finely chopped and scrape the sides of the bowl.

Serve with toasted sprouted bread or sprouted chips. You can also refrigerate it in a covered bowl and serve later.
Notes
This dip will last a week in your fridge.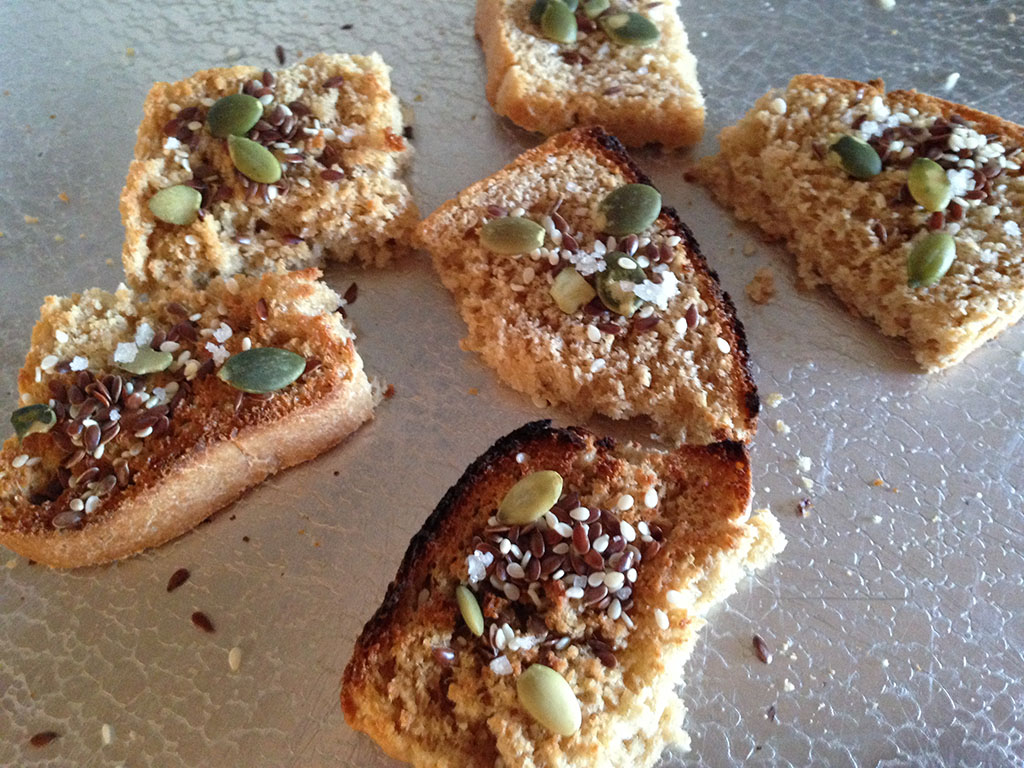 Toasted Sprouted Dipping Bread
I love to make this bread for bruschetta topped with
cultured tomatoes
, or for dipping hummus. Seeds are prebiotics so they feed the microbes in your gut and help them grow and multiply. Flax seeds are perhaps the most healthy seed out there. They're the richest plant-based source of the omega-3 fatty acid called alpha-linolenic acid (ALA). The reason ALA is important is because it can be transformed into DHA, which is a structural component of many parts of the body, including the brain and the male reproductive organs.
Instructions
Heat oven to 425 degrees.

Cut several slices of the sprouted bread and place on a baking sheet.

Combine together pumpkin, flax, and sesame seeds in a small bowl.

Brush each slice of bread with olive oil.

Sprinkle on the seeds and salt.

Bake for 10 minutes or until bread is crusty and has brown edges.

Top with Scary Delicious Seaweed Dip.

Are you on the list?
Sign up today and I'll send you my free Getting Started Guide!
Each week I'll send you updates, tips, recipes, and more! You might even be a winner of my weekly giveaway! (starter cultures, memberships, and more!)
Come be a part of my cultured food family!