Pumpkin Seed Sourdough Bread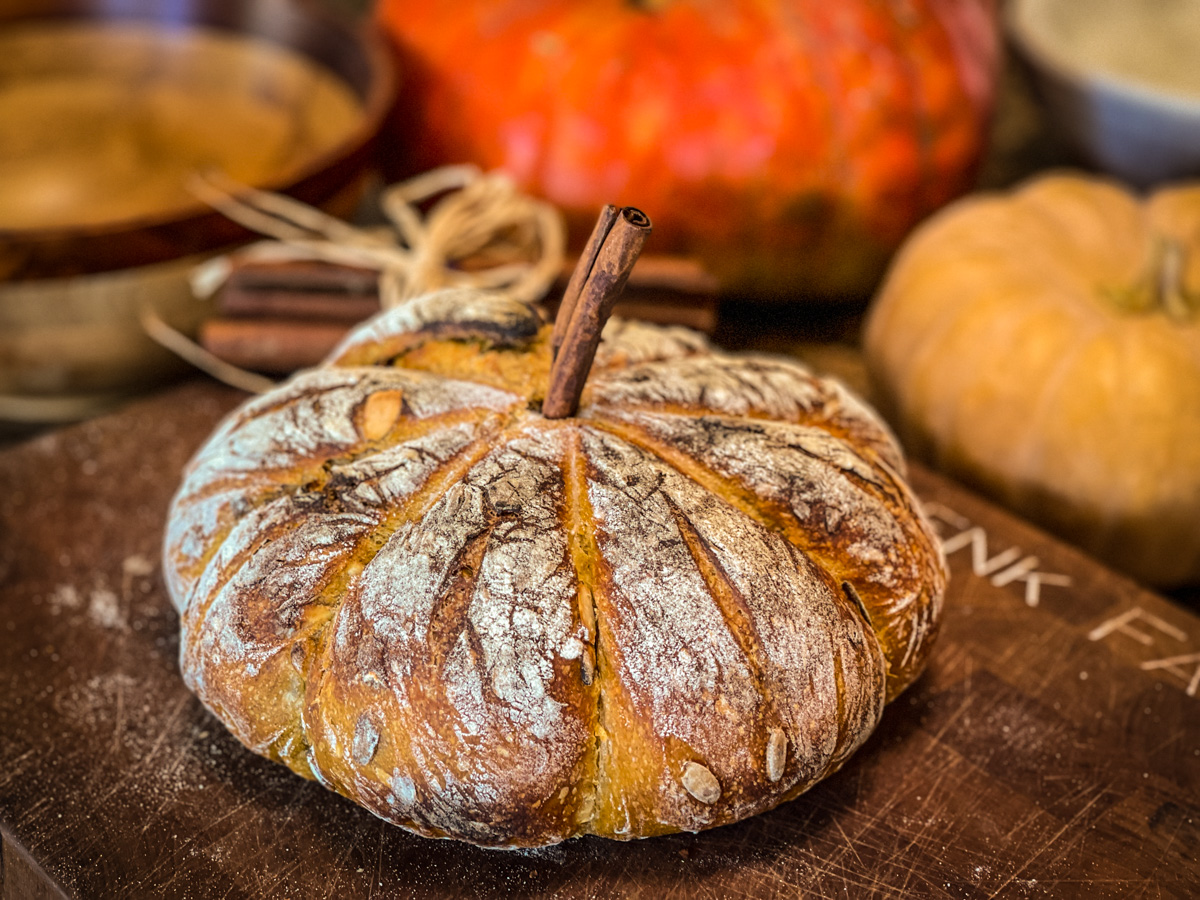 "I'm so glad I live in a world where there are Octobers." ― L.M. Montgomery, Anne of Green Gables
It's cool, misty, and foggy this morning as I write this blog. It truly feels like fall even though the temperatures will climb higher later in the week. It makes me want to make a loaf of pumpkin sourdough bread and a warm pot of tea. I've been gathering all the wonderful new fall products at Trader Joe's Market and there are some really good ones. They have a Maple Butter that is simply slow whipped maple syrup and nothing else, and I can't wait to try this on my pumpkin bread. I've learned a lot about pumpkins throughout the years, and I think it's always important to know the benefits of everything you eat. Your body is always listening to the things your mind tells it, so load up on pumpkin and wisdom and enjoy the benefits and the fun of making this special pumpkin sourdough bread. Your body will thank you!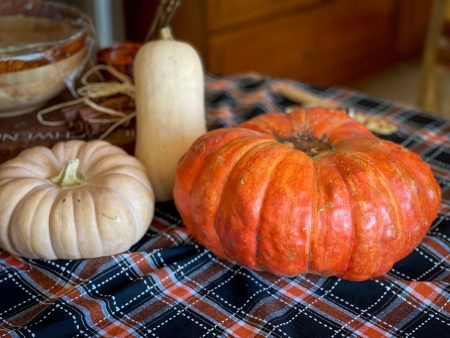 History Of The Pumpkin
The story goes that In 1584 the French explorer Jacques Cartier explored the St. Lawrence region of North America. This includes parts of Minnesota, Wisconsin, Illinois, Indiana, Ohio, Pennsylvania, New York, Vermont, and nearly the entirety of the state of Michigan. It was there he reported finding "gros melons." The name was translated into English as "pompions," which has since evolved into the modern "pumpkin."
One of the first American pumpkin recipes was published in the early 1670s. The recipe was for a side dish made from diced ripe pumpkin that had been cooked down in a pot over the course of a day, and then butter and spices were added, much like sweet potato casserole that we eat today.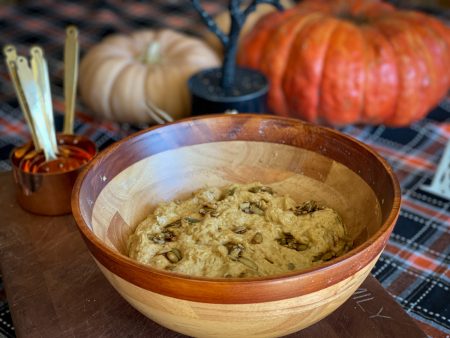 Pumpkin Has What Your Immune System and Eyes Need!
Pumpkin has more than 200 percent of your recommended daily intake of vitamin A. Vitamin A protects the eyes from cataracts and degeneration and helps improve night vision, according to the National Institutes of Health. One cup of pumpkin puree contains 1,906 micrograms of vitamin A. Your body needs between 700 and 900 micrograms of vitamin A each day. Many studies show that vitamin A can strengthen your immune system and help fight infections. Those people with a vitamin A deficiency can have a weaker immune system and struggle to fight off viruses and infections. [1]
Pumpkin is rich in beta-carotene and this is a powerful antioxidant. Research has shown that pumpkin has more beta-carotene than many other foods in your kitchen. This will help macrophages, a type of white blood cell that surrounds and kills microorganisms. It also removes dead cells, and stimulates the action of other immune system cells.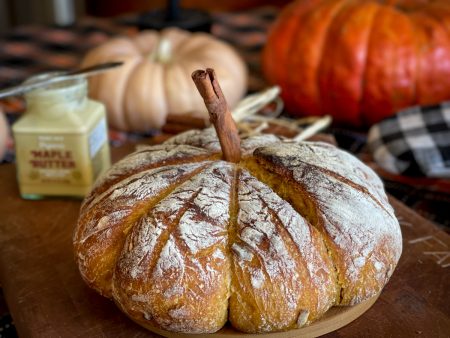 Pumpkin Soluble Fiber
Pumpkin sourdough bread is one of the most delightful sourdough recipes to make. The sourdough starter adores pumpkin and it feeds the microbes in a powerful way. Your bread will rise higher because of it.
Canned pumpkin (100% pumpkin, not pie filling) provides about 80 calories and 7 grams of soluble fiber per cup. There are two types of fiber. Insoluble fiber, which does not dissolve in water and is not fermented by the gut's bacteria, and soluble fiber, which does dissolve in water and is broken down and fermented by colon bacteria. While both are good, the soluble fiber feeds the good bacteria and does many jobs that promote health such as attaching to cholesterol particles and taking them out of the body, helping to keep blood sugar stable, and many other jobs. Insoluble fiber has benefits such as staying intact and providing bulk which keeps you feeling full longer and providing bulk for your stools.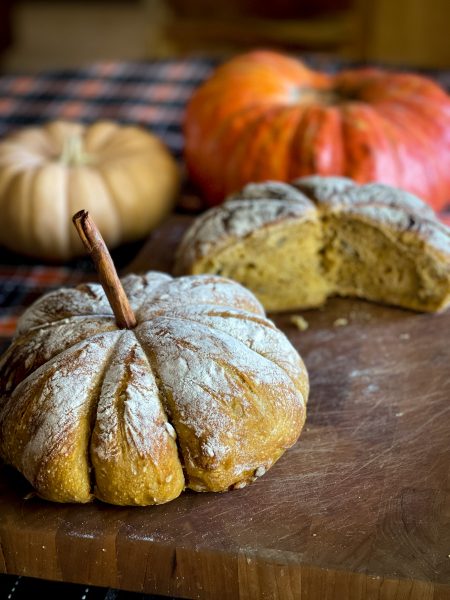 I hope you try this loaf of pumpkin bread and add some powerful nutrients to your diet. I think eating seasonally is really important. Produce that is purchased in season is more likely to be fresher, consumed closer to harvesting, and higher in nutritional value than foods that are out of season. Not only that, but it's fun to look forward to different foods that come at different times of the year. I love to get out a few fall decorations, add some pumpkins to my house, and then serve them up in different recipes. It's the little things that can bring a lot of happiness.
Life starts all over again when it gets crisp in the fall. ~ F. Scott Fitzgerald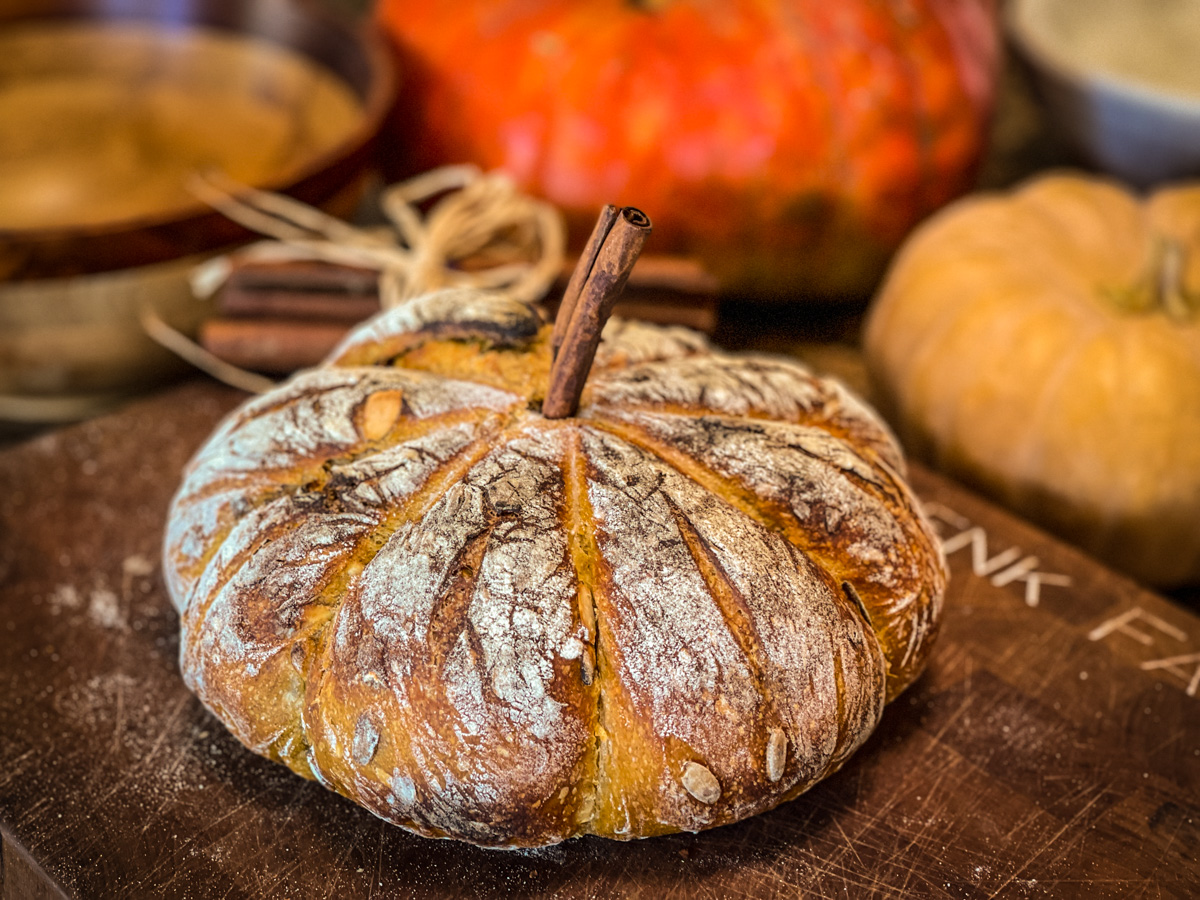 Pumpkin Seed Sourdough Bread
This sourdough bread will quickly become a fall tradition. A bread that looks like a pumpkin and has crunchy candied pumpkin seeds throughout is such a fun and tasty treat. Sourdough bread is filled with fiber and qualities that make it so much better for you than storebought bread. I added step-by-step pictures to help you and make it fun too. Pumpkin is loaded with tons of vitamin A which can often be hard to get unless you eat a lot of orange-colored veggies and fruits. Pumpkin has more than 200 percent of your recommended daily intake of vitamin A! We need these colorful foods in our diet and pumpkin has what you need!
Ingredients
Pumpkin Bread
50

grams

Bubbly Sourdough Starter -

(1/4 cup. See step 1 of instructions.)

250

grams

warm water (80°F)

-

(1-1/3 cups plus 2 tablespoons)

500

grams

Bread Flour -

(4 cups plus 2 tablespoons) You can use other flours, too: white unbleached flour, white whole wheat, spelt. Whole wheat flour will be more dense and won't rise as much as white flour. For your first few loaves you'll have more success if you don't use it. Don't use gluten-free flours.

184

grams

Pumpkin Puree -

¾ cup

½

teaspoon

Molasses -

blackstrap

½

teaspoon

Cinnamon

½

teaspoon

Vanilla

¼

teaspoon

Nutmeg

⅛

teaspoon

Ground Ginger

9

grams

Celtic Sea Salt (finely ground) -

(½ teaspoons) or Pink Himalayan salt

¾

cup

Candied Pumpkin Seeds -

see recipe above
Every ingredient with a link was selected by me to make it easier for you. I may receive a small affiliate commission if you buy something through my links. Thank you! ❤️
Instructions
Toasted Candied Pumpkin Seeds
When it turns evenly golden or amber, turn off the heat, add the toasted pumpkin seeds and salt, and stir to combine with a heatproof wooden spoon or spatula. When the seeds all clump together, transfer to a plate to cool. Once cool enough to handle, break into tiny pieces. Store at room temperature till ready to use. Store extras in an airtight container for two weeks.
Pumpkin Bread
Then add the flour and salt and combine together with a stiff spatula. You can also use your hands to get the flour fully incorporated. The dough will look a little scraggly, feel dense, and stick to your fingers. Try to scrape off as much dough from your hands as possible but don't over mix it at this point.

Then mix in the toasted seeds into the bread, folding over and kneading the bread a few times till well incorporated. Gently knead the dough for about a minute to incorporate the ingredients and work the dough into a ball. Do this by folding the dough over and pressing it into the center until the dough starts to turn into a ball.

Preheat your oven to 450°F. Cut a piece of parchment paper to fit your pot, leaving excess so you can grab the bread and take it out of the pot. Place your parchment paper on the counter and cut four pieces of string, about 24 inches long. Dip the string in olive oil and run between your fingers to get rid of excess oil. Place the strings on parchment paper as shown.

Are you on the list?
Sign up today and I'll send you my free Getting Started Guide!
Each week I'll send you updates, tips, recipes, and more! You might even be a winner of my weekly giveaway! (starter cultures, memberships, and more!)
Come be a part of my cultured food family!