Never Rinse Them in Water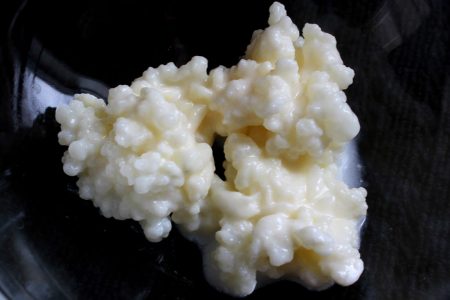 I get so many emails from people, who in attempt to help their kefir grains, will rinse them in cool water. You should NEVER EVER EVER do this. It damages them and rinses off the protective bacteria that makes them thrive. So many times they will either die, or stop reproducing or not make kefir very well after rinsing. Some kefir grains will survive this and be ok, but it still slows them down and damages them and gives me huge amounts of anxiety.
The coating of milk around the kefir grains protects them and makes them strong. Think of it this way. It is like walking around naked in a snowstorm. They need this coating to reproduce themselves, and protect themselves, because of the combination of bacteria and yeast they make up the composition of kefir grains. Rinsing them washes this away.
If you need to change milks then rinse them in the milk you are changing them too. You really don't need to rinse them at all, but if you want to rinse them. Rinse them in fresh milk. You can also give them a prebiotic like Prebio Plus which feeds them and makes them stronger and will also make your kefir more creamy especially if it is separating a lot.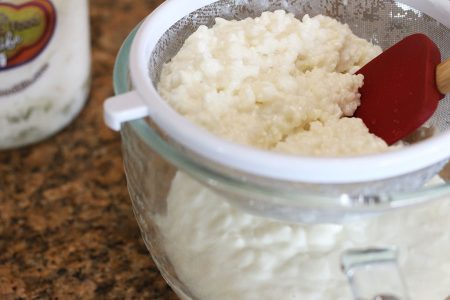 I am trying not to shout and put this in all caps, because I understand people just don't realize that this could hurt them. I am slightly overprotective of these microorganisms. I am trying to ensure that these little kefir grains stay around and thrive. We need them to help us live and thrive. I've been labeled the kefir police and decided I am ok with this. Somebody has to do it. These little kefir grains changed my life, and I will go to great lengths to protect them.
Resist the temptation to rinse them and tell your friends Donna said so. I will sleep so much better at night if you do. Tortures me when people tell me they've rinsed their kefir grains.
Are you on the list?
Sign up today and I'll send you my free Getting Started Guide!
Each week I'll send you updates, tips, recipes, and more! You might even be a winner of my weekly giveaway! (starter cultures, memberships, and more!)
Come be a part of my cultured food family!