Video – How to Make Kombucha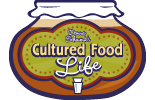 Here is one of the very first videos I ever made. The first half of the video explains why I started drinking kombucha and how much it helped my family and me. The second half shows the process of how to actually make kombucha. I hope you enjoy the video and you will learn not only how to make kombucha, but why you should. It's still my favorite beverage and I've been making and drinking it for 18 years. Come into my home and learn to make kombucha. Enjoy!
Are you on the list?
Sign up today and I'll send you my free Getting Started Guide!
Each week I'll send you updates, tips, recipes, and more! You might even be a winner of my weekly giveaway! (starter cultures, memberships, and more!)
Come be a part of my cultured food family!