Fermented Asian Salad Video! 📹
by
Cultured Asian Salad
Feed your Microbes
This salad is one of my very favorite cultured meals. It's perfect for summertime and a wonderful way to change your microbiome from the inside out. I try to eat fruits and veggies at every meal. It is one of the best ways to stay balanced and it's fantastic for lowering inflammation, balancing your hormones, and keeping those little microbes in your gut fed and happy. Microbes love the fiber in fruits and veggies and it makes them grow and multiply and this is a very good thing. So let's break down this meal. Prebiotics are food for your bacteria, think like fertilizer for your gut microbes. Probiotics are the different multi strains of microbes themselves.
In each ingredient, I'll let you know what you're getting in this tasty meal.
Kefir Nut Butter: prebiotics and probiotics
Soba Noodles: prebiotics
Zucchini: prebiotics
Red bell pepper: prebiotics
Cultured Carrots: prebiotics and probiotics
Green onion: prebiotics
Crunchy Rice Noodle: resistant starch, a different type of prebiotic
Every ingredient is feeding your microbiome! Enjoy your food and let it work for you. You are what you eat, every last bite!
"The food you eat can be the safest and most powerful form of medicine or the slowest form of poison." ~ Ann Wigmore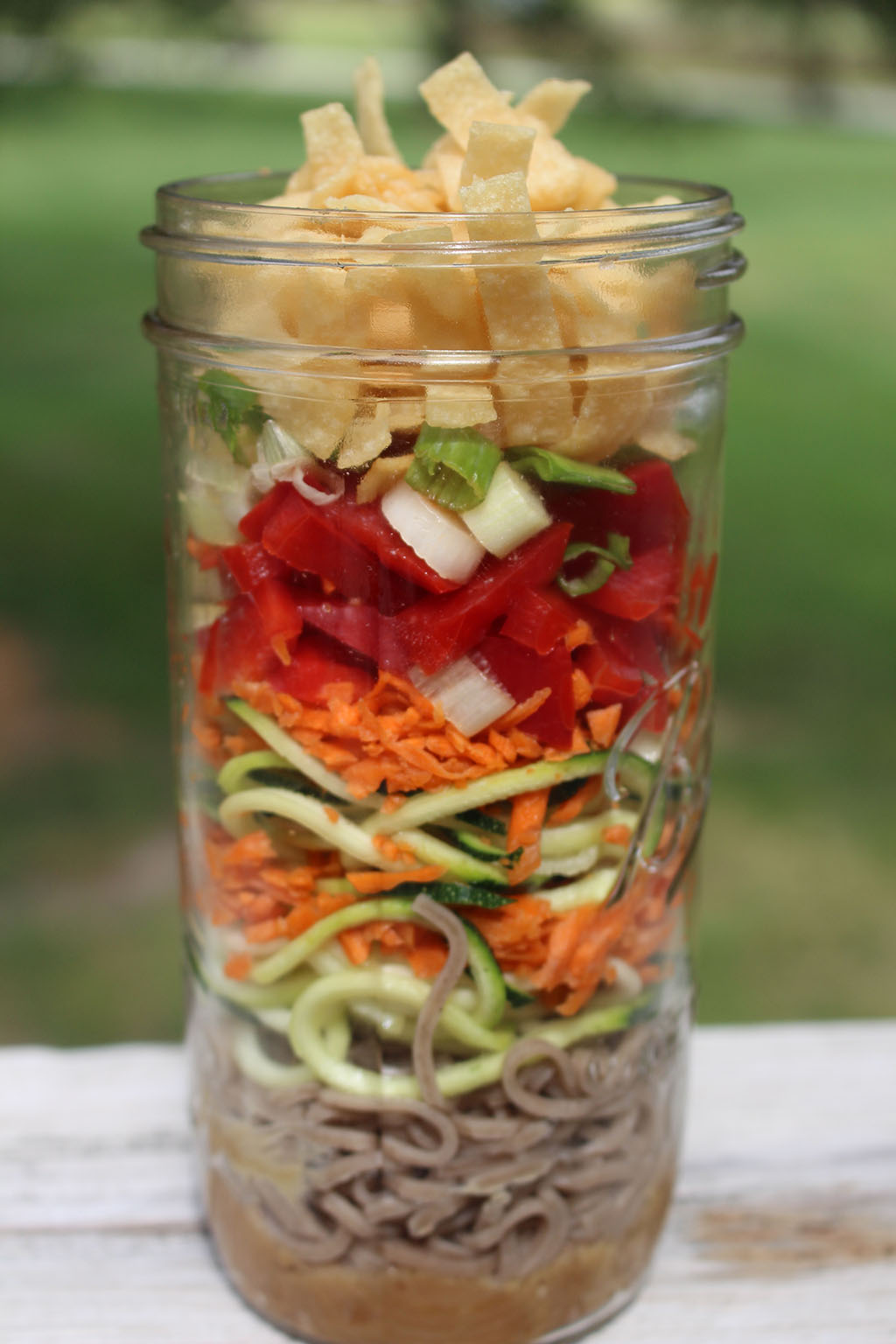 You're going to love this fresh fermented salad. Loaded with tons of probiotics and fresh and fermented veggies, this is heaven in a jar. Kefir nut butter sauce makes everything taste fantastic. Make this ahead of time, take it with you in a jar, and you'll have the most satisfying lunch or dinner. Soba noodles are made from buckwheat, which is a gluten-free seed. Buckwheat has been consumed in Asian cuisines for centuries, and it's becoming more popular around the world, partially because of its health benefits. It has been shown to lower the risk of developing high cholesterol and high blood pressure, plus it's a good source of many healthy nutrients such as manganese and magnesium.
~Donna
Ingredients
3

ounces

Soba Noodles

or you can substitute your favorite pasta

1

cup

zucchini

thinly sliced or shredded or spiralzed!

1/2

cup

red bell pepper

chopped

1

small

green onions

thinly sliced

1/2

cup

Crunchy Rice Noodles
Instructions
Whisk all ingredients together, stirring until smooth.

Store in an airtight jar.
Pour 1/4 cup of your Peanut Dipping Sauce into a quart jar.

Add the cooked soba noodles to the jar.

Add the zucchini, pepper, Cultured Carrots, green onion, and then rice noodles.

Top with a lid and put it in the fridge for later, or shake vigorously to combine the dressing with the vegetables and enjoy!
Do you like recipes? Become a Biotic Pro member and get access to lots of different recipe ebooks! You'll get a different one each month. Here is the schedule: