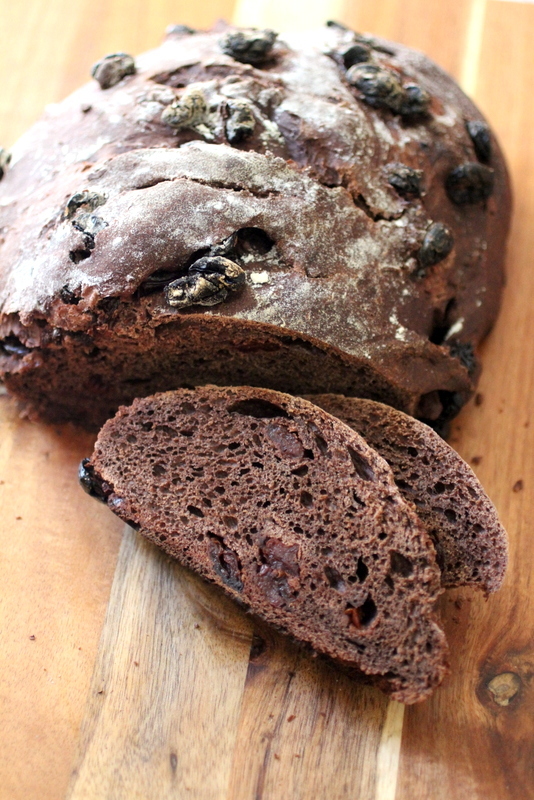 I have this theory that chocolate slows down the aging process.... It may not be true, but do I dare take the chance?
Sourdough is my favorite bread to make in the fall and winter. It is loaded with Lactobacillus bacteria that transforms the wheat into incredible properties. It unlocks all the zinc and minerals along with the B vitamins that make this into something incredible to eat.
Did you know that sourdough is considered a medium low glycemic food? It's the bacteria that create this while you are letting the bread rise. Unseen microbes that make bread into something far better for you than can understand. It gathers wild yeast from your kitchen that forms the sourdough starter and makes your bread rise uniquely to your home. The kitchen and area that you live in, has wild yeast that is native to your area, and your sourdough bread will always have your unique taste from your home put into your bread.
This bread is so good that it will wow your guest. With hints of chocolate and bites of cherries, it really is to die for and easy to make. One of my favorite ways to use this bread is chocolate paninis. Sliced the bread in thin slices and place small amounts of dark chocolate in the middle and then heat in your panini press or skillet until the chocolate starts to melt. It is heavenly. You can also serve it with fruit and cheese and honey. Ok, now I have to stop writing because it is making me hungry. Chocolate and I have a love affair.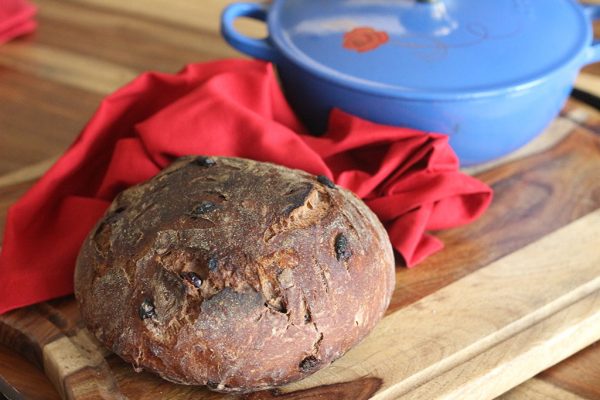 Chocolate Cherry Sourdough Bread
This is the bread I make during the holidays. If you have leftovers it makes fabulous french toast. If it lasts that long! You will love the taste of chocolate and the tartness of the fruit. It's fun to make and boy, does the house smell great!
Every ingredient with a link was selected by me to make it easier for you. I may receive a small affiliate commission if you buy something through my links. Thank you! ❤️
Instructions
Place the starter and water in a bowl along with honey in a heavy-duty electric mixer or a large bowl.

Mix with dough hook (or knead by hand) for 10 to 12 minutes.

Add dried cherries and mix again about 2 minutes.

Transfer dough to a lightly greased bowl and cover with plastic wrap.

Let rise in a warm place for about 5 hours or until double in size.

Punch dough down and shape into a round loaf or 2 small loaves in the shape of your choice.

Place in loaf pans or baking dish. (I used a large souffle dish)

Cover with a cloth and let rise 1½ to 2 more hours

Bake at 425°F for about 40 to 45 minutes or until crust is a dark brown.

Are you on the list?
Sign up today and I'll send you my free Getting Started Guide!
Each week I'll send you updates, tips, recipes, and more! You might even be a winner of my weekly giveaway! (starter cultures, memberships, and more!)
Come be a part of my cultured food family!