Thanksgiving Weekend Special! Become a new Biotic Pro Member and I'll DOUBLE your membership for free!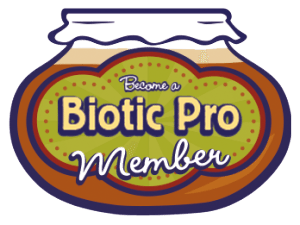 Thanksgiving Day through Cyber Monday only.
If you sign up to become a new Biotic Pro member, I'll double your membership time! That means if you purchase a recurring 1 month membership, I'll give you an extra month before it renews. If you get a 6-month membership, it'll be extended an extra 6 months. If you sign up for an entire year, that's right! You'll get an extra year for free 🙂
This deal is for new member signups only and is only valid if you become a member from 12:00 am Pacific Time on Thursday, November 24th through 11:59 pm Pacific Time on Monday, November 28th.
Note: When you sign up for the membership, on the checkout page it won't show you the doubled membership length. But don't worry, we will manually go in and adjust the renewal date after you complete the purchase.

New and Existing Members Can Get These Three Recipe eBooks

Also, through Cyber Monday, My Live Cultures Are 15% Off!!!
Get 15% off all my Live Cultures now through November 28th when you use coupon code CULTURED15.
But wait, there's more! Remember, Biotic Pro Members will still get their 10% member discount, so if you sign up to become a member and purchase my live cultures, you'll get a total of 25% off!!!
These cultures can last your lifetime if you take care of them. I've had all of mine for over 20 years!  Hopefully, they can help you stay in balance during stressful times, and just maybe you will fall in love with the millions of microbes that call you home.

Lastly, FREE GOODIES!
If you order at least $125 worth of products now through Monday, (excluding Biotic Pro Memberships), I will include the following free gifts with your order: