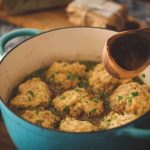 Sourdough Dumplings
These dumplings are wonderful on just about any type of stew. It's a great way to use up extra sourdough starter. You can spice them up with different herbs for extra flavor.
Stir together all ingredients, except pepper, until thoroughly combined. Batter will be thick and spongy.

Drop spoonfuls of dumpling mixture on top of your stew which should be simmering on low on the stove.

Top with freshly cracked pepper.

Cover pot with a lid and simmer until the dumplings have doubled in size, about 15 minutes.