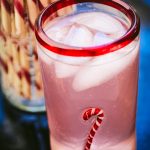 Candy Cane Water Kefir
This is one of the easiest water kefir recipes and boy does it taste like Christmas!!
Place 16 ounces of Water Kefir in a thick glass bottle.(Make sure you use bottles such as Grolsch or Bormioli thick glass bottles. Bottles bought at craft stores can explode.)

2nd Ferment Water Kefir only needs to sit 1-3 days or until it becomes bubbly. Check it often by opening it to see if it is bubbly. (Warmer homes take less time)

Serve immediately or refrigerate. Drink within 1 week for maximum taste and probiotic benefit!